Looking Back
January 1, 2002, by Bill Cawthon

Happy New Year! I hope you had a wonderful holiday season; I know we are all hoping for 2002 to be a better year.
Before getting to a new topic, I want to update a couple of earlier columns.
My first column ("The Silver Arrows" - March 2001) dealt with the new silver German police cars. Apparently, change is not stopping there. The member countries of the European Union are moving toward uniform blue-and-red graphics for police vehicles. Countries like France and the Netherlands already use these colors and several experimental schemes have been displayed for use on German cars. Unfortunately, there is not enough contrast between the silver paint and the traditional large areas of green. The situation with the new graphics is even worse. Since the switch to silver cars was based on their higher resale value, it's unlikely the German states will want to go back to white cars, so there is going to have to be some experimentation in order to make the blue and red stand out.
In June, I wrote about the Boeing 717-200, the last new plane designed by McDonnell-Douglas before the company became a part of Boeing. As everyone knows, the aircraft industry has been hit hard in recent months. The 717-200 program was almost terminated, but last-minute lobbying by customers and others saved it. Boeing has scaled back production, but the 717 is still a successful survivor. On the other hand, the Sonic Cruiser ("Return of the Cool Airplane" - April 2001) may be in trouble. Boeing says it is still committed to the program, but it will take a renewal of early commitments from potential customers to keep Boeing on track.
(Editors Note: In April 2001, Bill also wrote about the release of the Space Shuttle, Columbia which was quickly sold out before publication of his article. Dragon has since released the Columbia's sister, Atlantis and both are now available with their SRB's - Solid Rocket Boosters.)
Citroën and Renault have been featured in earlier columns. In recent months, the chairman of PSA-Peugeot, which includes Citroën, has announced that the company may return to the United States. More recently, Paul Leinert, an automotive columnist said he believes Renault may be poised to re-enter the American market. Nothing definite so far, but the timetable in both instances looks to be 2004-2005. This means products that are now coming into production may someday be seen at dealerships in North America.
In September, I attended the International Hobby Exposition in Chicago. Wonderful as that experience was, the really big show comes at the end of this month. Spielwarenmesse, the International Toy Fair, will be open from January 31 to February 5 in Nürnberg. If Chicago was "A Little Slice of Heaven," Spielwarenmesse is a major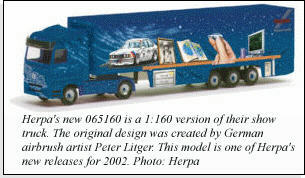 piece of the pie. It is the largest toy and hobby exhibition in the world. More than 2,800 exhibitors from 57 countries will be showing their newest lines to 55,000 buyers from distributors and retailers all over the world. Over the next 30 days, look for some exciting new product announcements. Of course, Herpa has already announced their new products for January and February and they are listed right here on Promotex Online. The new items include a 1:160 version of the Herpa show truck. That's definitely going to be on my "must have" list for 2002.
In addition to being the home of the world's biggest toy show, Germany is the birthplace of the plastic HO scale model vehicle, as we know it today. While HO vehicles were originally targeted at the model railroad community, collectors now make up the majority of customers for companies like Herpa, Brekina, Busch and Wiking. In Germany, HO has been the most popular collectible vehicle scale for a number of years. Emergency vehicles are especially popular with German collectors, which is one reason why you see models of almost every type of fire truck or ambulance. There is a growing collector community in North America, but here HO scale vehicles are still most frequently associated with model railroading.
Today's high-quality HO scale vehicle models trace their history back more than fifty years to a young man who really wanted to make ship models.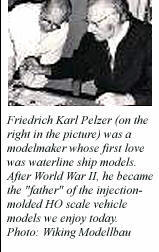 Friedrich Karl Pelzer was born in 1903, the son of an Imperial Navy officer. Not surprisingly, ships fascinated him. While still a boy, he began building waterline ship models as a hobby. He became well known for the quality of his work and his hobby ultimately became his career. In 1938, he introduced his first cast-metal scale model vehicle at the Leipzig Autumn Fair. By this time, he was also making plastic airplane models. In December of 1939, Pelzer officially entered "Wiking Modellbau Pelzer & Pelzer" in the business register of Greater Berlin.
Wiking spent World War II engaged in making training models for the German Army. After the War, Pelzer rebuilt Wiking and resumed making models, this time adding plastic vehicle models. Some of Wiking's earliest commercial products were 1:40 promotional models for Volkswagen.
After World War II, HO became the dominant scale in model railroading. As hobbyists expanded their empires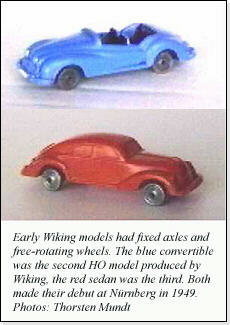 beyond just trains and track, the market for scenery accessories grew as well. Pelzer decided to try producing plastic vehicles in HO. The first model was an American military jeep, introduced in 1948. Wiking followed that up with cars including a generic "USA Sedan" in 1949. It had a solid body, no window openings and fixed axles with rolling wheels. Today that model is worth hundreds of dollars. Other car and truck models, often based on American vehicles were introduced. By 1952, Wiking had begun producing scale model vehicles with separate chassis and free-rolling axles with attached wheels. Clear plastic "windows" were introduced in 1957 and made mandatory for all new models in 1959. Interiors were added in 1966 (the year I bought my first Wikings). In 1969, recognizing another opportunity, Wiking began producing scale model vehicles in N scale. As I mentioned in an earlier column, Wiking produces the largest variety of 1:160 scale vehicle models in the world.
It is interesting to note the N-scale models conformed to a specific scale before the HO models. From the beginning, German and American N-scale was 1:160. Products claiming to be HO scale ranged from about 1:76 to 1:100 with most clustered around 1:90 (actual model railroad scales are supposed to be derived from the ratio of prototype to model track gauges). Worse, sometimes scales varied within a manufacturer's line. That's why I have been using "HO" instead of "1:87" in most of this column. Wiking's first models were about 1:100 scale, but later releases quickly moved to the 1:90 scale more popular at the time.
Friedrich Pelzer died in 1981 and for a time the company was run by the conservator of his estate but there was much uncertainty about the company's future. In 1984, the future was assured when the Sieper Group acquired Wiking.
The Sieper Group was founded by Richard Sieper in 1921 and is still a family-controlled business. It is probably best known to most Germans as a manufacturer of bathroom fixtures and plastic parts, but Sieper has been in the toy business for forty years. The company had produced plastic models in the 1960s but had turned to the popular cast metal toys and models it still produces under the SIKU name. Although comparatively rare in the United States, in northern Europe, SIKU toy vehicles are more common than Matchbox toys or Hot Wheels. Sieper changed the company name from "Wiking Modellbau Pelzer & Pelzer" to "Wiking Modellbau GmbH & Co." and began making a number of investments, including a new manufacturing facility in Berlin.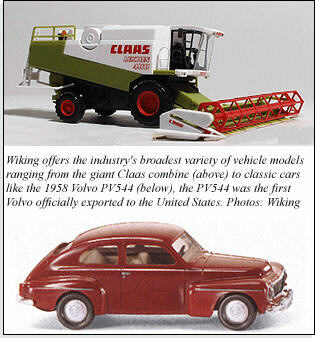 Sieper Werke is an ISO-9000 manufacturer and it decided Wiking's approximations of HO scale were not enough to meet the legendary Teutonic standards of precision. Of course, the fact that Herpa, Wiking's main competitor, had been producing high quality vehicle models in exact 1:87 scale since 1978 may have also influenced that decision. As a result, in 1987 Wiking upgraded their production standards to ensure all new models were exact 1:87 scale in every detail.
In 1994, Sieper Group acquired Roskopf Modellbau, a small company that made scale models of military and classic vehicles. After the acquisition, the military vehicles were discontinued, but Roskopf's beautiful Mercedes Stuttgarts and old-time trucks stayed in production until last year.
In order to keep its products competitive, Sieper Werke continues to make investments in new equipment. During the past two years, the improvements have included upgraded painting facilities capable of incredible detail. The results are already being seen in new models that are a quantum leap ahead of the older Wiking products in both quality and detail.
In addition to world-class quality, Wiking's success relies on the wide range of products it offers. No other producer of injection-molded scale models can beat Wiking when it comes to variety. Everything from a tiny BMW Isetta to a huge Claas combine can be found in the Wiking catalog. Cars, trucks, buses, farm and construction equipment are all represented. There's even a helicopter. While modelmakers like Kibri produce a wider range of construction equipment and Wiking's limited range of Bundeswehr models won't cause any anxiety at Roco, Wiking makes it easy to add their models to almost any type of 1:87 scale vehicle collection.
The only current fly in the ointment is North America. Wiking has not been as successful here as it would like. Part of the problem is the fact that Wiking has directed its energies and selection of prototypes to model toward satisfying the German customers who have been their bread and butter for so many years. Not that there is anything wrong with that; Herpa and Busch do the same. However, Herpa and Busch have both also produced products that American hobbyists want and American distributors and retailers are willing to buy. This is something that Wiking has resisted. As a result, Wiking gets much less exposure and few North Americans are familiar with the full range of the company's products. That's too bad, because a large number of Wiking models are perfectly prototypical for use on American model railroads and some expert modelers consider Wiking's Peterbilt model to be the best mass-produced version of a Model 359. Wiking is currently exploring ways to increase awareness of their product line on this side of the Atlantic, so we'll see what happens over the months to come.
See you next time!
- Bill Cawthon
Bill Cawthon is an award-winning modeller and collector. His primary modeling interests are model railroading and vehicle models in 1:87 and 1:160 scales. He has written numerous articles for regional and division NMRA publications and is a contributor to the newsletter of the 1-87 Vehicle Club. He follows both the automobile industry and the European scale vehicle industry.
In real life, Bill is a full-time marketing and public relations consultant for the high-tech industry. He lives in Houston, Texas with his wife and four children.
Bill writes bi-weekly for Promotex Online. To learn more about him, click here.