Clubs Enhance the Hobby
March 14, 2001, by Bill Cawthon
1:87 scale vehicles are fun. They're big enough to have lots of detail and small enough to have a large collection or use in a layout or diorama. And they seem to get better every year. Whether you like ready-to-run or kits, there's a wonderful variety of products to enjoy. Here are a couple of ways to have even more fun with the hobby.
The 1/87 Vehicle Club is hundreds of people from youth to not-so-young who have one common interest: HO scale vehicles. It doesn't matter whether you like cars, trucks, military vehicles, farm or construction equipment, you'll find Club members who share your interest. There's a great newsletter three times a year, swap meets, one of the best-maintained web sites on the Internet and an online forum where folks exchange news, ideas, tips and opinions about the hobby and related topics. You can even photograph a prized model and have your work displayed in the Internet's biggest gallery of 1:87 scale vehicle models. You'll find information available nowhere else and enjoy the opportunity to interact with Club members around the world.
To learn more about the 1/87 Vehicle Club, visit their web site at www.1-87vehicles.org. Another way to get more out of the hobby is to learn more about the real thing. For almost any car or truck you can imagine, there is a group of fans.
One of my particular interests is collecting models of foreign cars that were imported to the U.S. I had some questions about Renault models, like Herpa's R4 and Busch's new 4CV. I found the Renault Owners Club of North America on the Internet. These people are experts. They gave me information I c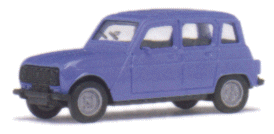 ouldn't have gotten from the Regie itself. Turns out the R4 was never officially imported into the U.S. but that a number of them made their way north from Mexico. They also filled me in on the 4CV "Cremeschnittchen" or "butter pat." Any doubts I may have had about the model's prototypically were banished when Harrold Cooke of the ROCONA sent me a copy of their newsletter. In it is a member's ongoing story of rebuilding his 1958 "Butter Pat." Another member wrote to tell me Renault sold the Porsche-designed 4CV in the U.S. from 1948 to 1961. The club's web site is easy to remember: www.renaultownersclub.org.
Enthusiast groups and marque clubs are a gold mine. Not only are their web sites and publications a source of good information, the members are wonderfully helpful. If there is a particular brand or type of vehicle that fascinates you, why not see if there is a prototype group you can join? The wealth of information they can provide will amply repay the small investment.
Oh, one more thing. Sharing is best when it works both ways. You'll find that sharing your hobby will add a wonderful dimension to your own enjoyment. If a someone takes an interest, take a minute to answer questions. If they ask for advice or help, do what you can. This is especially true with young people. I always have some inexpensive models sturdy enough for older children to handle. I have never had one damaged, but even if something happened, the models are easily replaced and I consider it an investment in growing the future of the hobby so all of us can enjoy it more.
See you next time!
- Bill Cawthon
Bill Cawthon is an award-winning modeller and collector. His primary modeling interests are model railroading and vehicle models in 1:87 and 1:160 scales. He has written numerous articles for regional and division NMRA publications and is a contributor to the newsletter of the 1-87 Vehicle Club. He follows both the automobile industry and the European scale vehicle industry.
In real life, Bill is a full-time marketing and public relations consultant for the high-tech industry. He lives in Houston, Texas with his wife and four children.
Bill writes bi-weekly for Promotex Online. To learn more about him, click here.