Boeing's 717-200: The Successful Survivor
June 1, 2001, by Bill Cawthon
On April 13, 2001, the Boeing 717-200 set a record. One after another, four new airliners took off from Long Beach Municipal Airport, did a low-level pass over Boeing's Long Beach facility and then flew east to their new home with TWA in St. Louis. This was the first time a commercial airliner had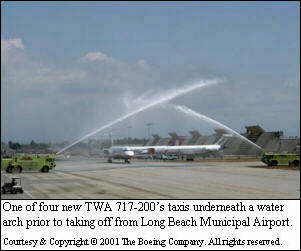 accepted delivery of four new planes on the same day. Earlier that same week, Midwest Express signed a letter of intent for 50 new 717-200s to be used in their fleet modernization program. This was quite a coup for Boeing as Midwest Express is highly rated by traveler's surveys, taking the number one spot in both the Zagat and Condé Nast reports.
Not bad for a plane the analysts said would never survive.
It began production in 1995 as the McDonnell-Douglas MD-95. When McDonnell-Douglas and Boeing merged in 1997, most industry observers felt the new plane would be dropped in favor of existing Boeing products. Instead, it has established a firm niche for itself in the Boeing lineup.
After the merger, the MD-95 was redesignated the 717-200. The first flight was on September 2, 1998. A total of five test planes were built, including a fully outfitted customer production model that flew at the Paris Air Show in 1999. On September 1, 1999, the 717 became the first commercial airliner ever to receive joint and concurrent certification from the FAA and the European Joint Aviation Authorities.
The 717 is the smallest of Boeing's commercial airliners and is designed for regional service. It has the long, slender fuselage typical of a McDonnell-Douglas design and is similar in both size and configuration to its predecessor, the DC-9 Series 30. It has a non-stop range of 1,580 statute miles and can carry over one hundred passengers, depending on seating arrangement. Power is provided by a pair of

Rolls-Royce BR715 engines each rated at 18,500 to 21,000 pounds of thrust. The Rolls-Royce engines not only use less fuel than engines on comparable aircraft, the noise and emissions levels are also reduced. This is an important factor for many of the smaller airports served by regional carriers.
Orlando-based AirTrans Airways was the launch customer for the 717. Boeing delivered the first plane on September 23, 1999. The airline now has 50 717-200s on order. Other domestic customers include TWA, Hawaiian Airlines and Midwest Express. Foreign carriers Olympic Aviation of Greece, Sydney, Australia's Impulse Airlines, Spanish airline Aerolineas Baleares and Bangkok Airways have all placed orders.
Boeing's newest 717-200 customer is Turkmenistan Airlines. Turkmenistan is a member of the Commonwealth of Independent States and was formerly part of the Soviet Union. The new 717-200s will replace older Russian aircraft. The first delivery is scheduled for next month.
The 717-200 currently enjoys a solo spot in its market. It is larger than the planes produced by Bombardier, Embraer and Saab that generally carry 32-50 passengers, and Airbus does not yet offer a competing aircraft.
Regional service is an important market. Last year, 84 million passengers used regional service to travel between 729 cities in North America. Boeing predicts it will sell 3,000 717-200s in the next 20 years. It already has commitments for 313, including 149 firm orders.
Herpa makes a 1:500 scale model of the 717-200. Model No. 512251 is decorated for Olympic Aviation. Olympic was the first European airline to fly the 717-200, taking delivery of the first two of five planes in December 1999. Among June's new Wings models is Herpa's second 717-200, No. 512374. This model wears TWA livery and bears registration number N402TW. TWA has ordered fifty 717-200s, with options on 50 more. Boeing delivered the first of the TWA planes in February of 2000. (TWA is now part of American Airlines, which completed acquisition of most of TWA's assets in April 2001.)
No doubt, more models will be forthcoming. Not just as more airlines buy the 717-200, but as other manufacturers like Dragon Wings or Wooster join Herpa in producing models of McDonnell-Douglas' successful survivor.
- Bill Cawthon
Bill Cawthon is an award-winning modeller and collector. His primary modeling interests are model railroading and vehicle models in 1:87 and 1:160 scales. He has written numerous articles for regional and division NMRA publications and is a contributor to the newsletter of the 1-87 Vehicle Club. He follows both the automobile industry and the European scale vehicle industry.
In real life, Bill is a full-time marketing and public relations consultant for the high-tech industry. He lives in Houston, Texas with his wife and four children.
Bill writes bi-weekly for Promotex Online. To learn more about him, click here.