Happy Anniversary, Columbia!
April 17, 2001, by Bill Cawthon
When Bill Brillinger, proprietor of Promotex Online, was adding the Dragon Wings line to his catalog, he directed my attention to their 1:400 model of the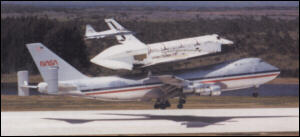 OV-102 Columbia mounted on NASA 905, the ex-American Airlines 747-100 Shuttle Carrier Aircraft. Since last Thursday was the twentieth anniversary of the Columbia's first flight, as well as the fortieth anniversary of the first human space flight, I thought it might be a good time to talk about America's oldest in-service spaceship.
Note: Before I go any farther, I must tell you the Dragon Wings model is already sold out at Promotex Online. And no more are coming. If you want one, you'll have to watch e-Bay and the swap meets. Hate to say it, but that's both the good side and bad side of collectibles. Having been on both sides of the equation, I can tell you from experience that when you see a limited-run model that looks good, you need to act quickly.
The only good news I can offer is there's a rumor Dragon Wings is considering a release of the OV-102 model as a solo piece, without the SCA.
The Columbia is named for the Boston-based sloop that Robert Gray sailed around the world on a fur-trading mission. When he returned to Boston in 1790, Gray and his crew had become the first Americans to circumnavigate the globe. The same ship was used in Gray's later expeditions to the territory that is now Washington and Oregon. The Columbia River is named for Gray's ship.
Construction began on Orbiter Vehicle 102 on March 27, 1975 at the Rockwell International plant in Palmdale, California. Four years later, on March 5, 1979, final tests were completed and Columbia was delivered to Edwards AFB. On March 9, Columbia took to the air, mounted on the 747-100 Shuttle Carrier for another series of tests. It was delivered to Kennedy Space Center on March 24, 1979.
After many tests and inspections, Columbia became the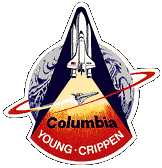 first orbiter to reach space when John Young and Robert Crippen flew it on Space Transportation System Flight One (STS-1). During their two-day flight, the crew flew over a million miles and circled the Earth 37 times, a feat that would have astounded Robert Gray, who took three years to do it once. In fairness to Captain Gray, it must be admitted that Young and Crippen didn't stop to do any trading.
Since that first flight, Columbia has flown 25 more times. Only Discovery (OV-103) has more flights with 29.
Columbia has its share of shuttle records. In addition to being first into space, Columbia was the first orbiter to make an extended flight (STS-50) and still holds the record for the longest flight (17 days, 15 hours, 54 minutes and 20 seconds on STS-80).
On flight STS-93 in July of 1999, Columbia again made history when Eileen Collins became t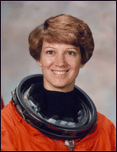 he first woman to serve as a mission commander. Columbia also set a record for both the heaviest liftoff weight (almost 270,000 pounds) and heaviest payload. It carried 43,420 pounds including the 5-ton Chandra X-Ray Observatory. The Chandra X-Ray Observatory is the third of NASA's Grand Observatories that include the Hubble Space Telescope and the Compton Gamma Ray Observatory.
STS-93 was Columbia's last mission to date. After its return from space, it was returned to Rockwell's Palmdale plant to be outfitted with new equipment, including some new instrumentation.
Columbia is now back at the Kennedy Space Center, waiting for its next flight. STS-109 is scheduled for November 19, 2001. Mission commander Scott Altman and pilot Duane Carey will fly a team of mission specialists on the third service mission to the Hubble Space Telescope.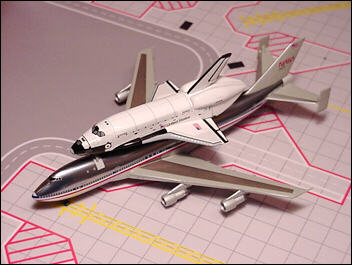 At 6:30 A.M. on April 12, 1981, twenty years after Yuri Gagarin made the first manned space flight aboard Vostok 1, Columbia lifted off. 2 Days, 6 hours, 20 minutes and 53 seconds later, it validated the concept of a reusable spacecraft and fulfilled Rockwell's promise to build "The Spaceship That Lands On Earth." Now, twenty years later, Columbia and her sister ships continue to help turn mankind's dreams into reality. Whether you're a collector, a space buff or a student of 20th Century history, Dragon Wings 155244 is a model you'll want to add to your collection.
If you want to learn more about the Columbia and its flights, NASA has the information. Missions, crews, payloads and specifications are all available on-line. A good place to start is http://www.ksc.nasa.gov, the Kennedy Space Center's web page.
See you next time!
- Bill Cawthon
Bill Cawthon is an award-winning modeller and collector. His primary modeling interests are model railroading and vehicle models in 1:87 and 1:160 scales. He has written numerous articles for regional and division NMRA publications and is a contributor to the newsletter of the 1-87 Vehicle Club. He follows both the automobile industry and the European scale vehicle industry.
In real life, Bill is a full-time marketing and public relations consultant for the high-tech industry. He lives in Houston, Texas with his wife and four children.
Bill writes bi-weekly for Promotex Online. To learn more about him, click here.