The Return of the 'Cool' Airplane
April 1, 2001, by Bill Cawthon
Illustration courtesy of Boeing. All rights reserved.
After years of being relegated to the covers of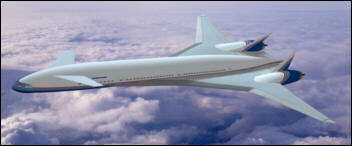 popular technology magazines, the cool commercial aircraft may finally be making a comeback. Rather than developing higher capacity versions of its 747 and 767, Boeing will take a new direction with a dramatically different plane that flies faster and higher than any current airliner except the Concorde.
The first public announcement was made on March 29 and the project is so new, there's not even a name or model number. Alan Mulally, CEO of Boeing Commercial Airplanes, has dubbed it "The Sonic Cruiser" which sounds pretty good.
With its cranked delta wing configuration, forward canards and twin rear-mounted engines, the Sonic Cruiser will carry 175 to 250 passengers at Mach .95 or about 740 mph and operate at altitudes of up to 41,000 feet. Range is estimated to be about 9,000 nautical miles. This would allow the Sonic Cruiser to fly from the U.S. to Southeast Asia or from London to Australia without refuelling, cutting hours off current flight times.
Advanced materials and production techniques promise to keep the price tag in line with current Boeing products. Rather than being entirely new designs, the engines would be based on those used for the 777. Mulally says Rolls-Royce, GE and Pratt & Whitney have already expressed interest in the project. Boeing estimates development of the Sonic Cruiser will cost about $9 billion, over a billion dollars less than Airbus says it will spend on the A380.
Airbus, which has no competing aircraft in the works, is delighted to have the ultra-high capacity market to itself. The company already has 66 orders for the 555-seat A380. However, Airbus' delight may be short-lived. Market analysts believe the Sonic Cruiser could siphon business travelers from the big Airbus due to reduced travel times. UAL, British Airways and Singapore Airlines have all expressed interest in the Sonic Cruiser. Influential Singapore Airlines is especially important as Airbus is counting on it for a significant number of A380 orders.
Right now, the Sonic Cruiser exists only on paper, but Boeing believes it could have the aircraft flying sometime between 2006 and 2008. Plenty of time for Herpa, Herpa Wings and Wooster to tool up models as the design takes on its final form.
One of the best things about Boeing's new plane is that it will generate more popular interest in commercial jetliners, something which can be a great benefit to fans and model collectors. As the Sonic Cruiser progresses through the development process and airlines place their orders, models in a variety of scales and liveries will appear on the market. With such a new aircraft, there are bound to be some really great paint schemes.
Beyond the Sonic Cruiser, Boeing says it can develop both larger and smaller jetliners based on the same design. Even more models, right?
And success for the Sonic Cruiser will mean competition in new aircraft development. If the industry analysts are right about the all-important business market, Airbus will certainly develop its own design. This just keeps getting better and better.
Check out that picture again. I think you'll agree the cool airplane is definitely back. And it's welcome news for all of us.
See you next time!
- Bill Cawthon
Bill Cawthon is an award-winning modeller and collector. His primary modeling interests are model railroading and vehicle models in 1:87 and 1:160 scales. He has written numerous articles for regional and division NMRA publications and is a contributor to the newsletter of the 1-87 Vehicle Club. He follows both the automobile industry and the European scale vehicle industry.
In real life, Bill is a full-time marketing and public relations consultant for the high-tech industry. He lives in Houston, Texas with his wife and four children.
Bill writes bi-weekly for Promotex Online. To learn more about him, click here.