The Silver Arrow
March 14, 2001, by Bill Cawthon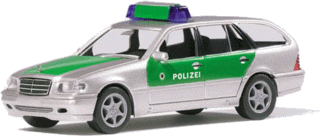 If you follow the products of the German model makers like Herpa, you know there have been some new German police car models in a decidedly different color scheme. It's not a mistake; the models are faithful to their prototypes. Thanks to a pair of helpful Germans, Ray Kippig, a German police car fan, and Ralf Grote, a skilled 1-87 scale vehicle model builder, I can tell you how this came about.
Green is the traditional color used by German police. This helps to differentiate police units from those of other emergency agencies, like the red vehicles of the fire brigades and the dark blue of the THW, Germany's disaster relief agency. Each state decides the design and markings of their vehicles, but in 1975 the interior ministries of all the states in what was then West Germany settled on green and white for improved visibility. Most German states have settled on a white car with green doors, hood and trunk lid. Bavaria is the major exception. Their cars have a green stripe on the side and the Bavarian green is a lighter shade than that used by all other German states.
With the development of self-adhesive polyester films, German police agencies, like their American counterparts, began using large panels of these films on doors, hoods and t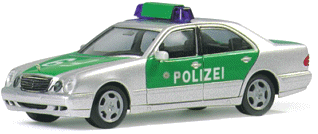 runks. Not only is this less expensive than painting, when the car is ready for disposal, the film can be removed, leaving a white car that is worth more at trade-in time.
Unfortunately, white is not popular among European consumers. Shades of silver and gray are favored by more than 2-to-1. Last year, the police in the German state of Baden-Württemberg decided to try using a silver car in hopes of increasing resale value. A number of Mercedes E-Class sedans and C-Class station wagons were leased from DaimlerChrysler. These cars have all the upscale accessories, including air-conditioning (Mercedes police cars do not normally have the luxury equipment North Americans associate with the brand). They are also equipped with sun roofs, which are opened and then filled with a special weatherproof insert that supports the light bar. This eliminates the need for drilling holes for supports and wiring.
Eventually over three thousand of the new vehicles will be leased by the Baden-Württemberg police. Despite the fact they are all equipped with diesel engines, the new cars were quickly dubbed "Silberpfeil" or "Silver Arrow," the nickname of Mercedes' legendary racing cars.
The practice seems to have really taken root. Now the police in Hesse have begun leasing the silver C-Class wagon, but with a Bavarian-style stripe instead of the large green panels and the police in Brandenburg are driving silver Volkswagen Passat station wagons.
To see some excellent pictures of the Baden-Württemberg Silver Arrows, visit Ray Kippig's web site.
By the summer of 2001, there will be a total of five Silver Arrow models on the market. Herpa is the leading supplier with three. Their first model, No. 044691, is a C-Class T-model or station wagon and is already available from Promotex Online. The second model, No. 044899, is an E-Class sedan introduced this month. April will see the debut of No. 044950, a model of the V-Class or "Vito" minivan. All of these are in the livery of the Baden-Württemberg police. Wiking introduced their own E-Class sedan in B-W colors, model 104 13 28, last August.
At the Nürnberg Toy Fair this year, Busch introduced a new twist with a tiny silver and green Smart City Coupe wearing the markings of the Hamburg police. Perhaps they use it for parking patrol. In any event, Busch model 48910 will be available in late July. Busch has also announced production of a C-Class T-Model for later this year, so another Silver Arrow is a real possibility.
The products I have seen are all nicely done, adding prototypically correct markings and equipment to well-made basic models. Herpa's models also have the large unit numbers found on cars assigned to patrol the autobahn.
Consider adding some of the Silver Arrows to your collection. They are truly nicely-made models. Besides, Volvos and other European brands are finding their way into North American police fleets and some New York City police officers are already riding Mercedes bicycles. Who knows what could be next? The possibilities might make an interesting modeling project!
See you next time!
- Bill Cawthon
Bill Cawthon is an award-winning modeller and collector. His primary modeling interests are model railroading and vehicle models in 1:87 and 1:160 scales. He has written numerous articles for regional and division NMRA publications and is a contributor to the newsletter of the 1-87 Vehicle Club. He follows both the automobile industry and the European scale vehicle industry.
In real life, Bill is a full-time marketing and public relations consultant for the high-tech industry. He lives in Houston, Texas with his wife and four children.
Bill writes bi-weekly for Promotex Online. To learn more about him, click here.