Three in one
June 1, 2004, by Bill Cawthon
This time, I want to briefly cover three short topics in one column. The first two are some interesting new products coming from Herpa; the third is an overdue acknowledgement of some assistance I received from a reader.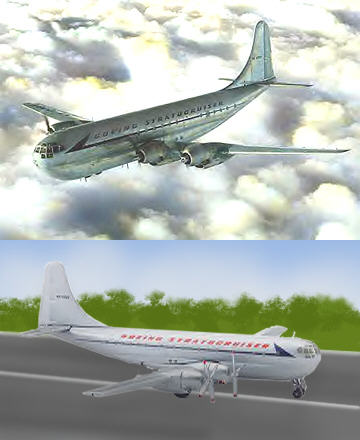 Top: Boeing's 377 Stratrocruiser set a standard for luxurious air travel. Image courtesy of Boeing Media. Copyright © 2004 The Boeing Company.

Bottom: Herpa 513869 is the latest in the their Milestone series. Model image courtesy of Herpa/Promotex.
Coming later this summer is the newest member of Herpa's 1:500 Milestone Series, the Boeing 377 Stratocruiser. First flown on July 8, 1947, the Stratocruiser was based on the C-29 military cargo plane which, in turn, was based on the B-29 bomber that first flew in 1942. Powered by four 3,500-horsepower Pratt & Whitney R-4360 Wasp Major engines, the Stratocruiser was the last propeller-driven airliner developed by Boeing and set a new benchmark for luxury in air travel. It had an extra-wide body and a lower-deck lounge where passengers could enjoy a drink as they flew at 300 mph from San Francisco to Hawaii or other routes suitable to the Stratocruiser's 4,000-plus mile range. Like Boeing's pre-war airliners, the Stratocruiser could be configured with sleeping accommodations and there was a real on-board galley where meals were prepared.
Pan American was the launch customer for the 377, ordering twenty planes, the first of which went into service on the North Atlantic route in 1949. Pan Am was soon joined by American, BOAC, Northwest and United. However, despite the early enthusiasm, the Stratocruiser was not a commercial success. The engines were difficult and costly to maintain and there were no major follow-up orders. In the end, Boeing built only 56 of 377s from 1947 to 1950. Pan Am, the last major carrier to keep the Stratocruiser flying, retired its fleet in 1960 as the carrier moved to the new Boeing jets for its passenger fleet.
With the coming of the Space Age, the Stratocruiser got a new lease on life. Retrofitting them with turbo prop engines and new, larger fuselages, Aero Spacelines turned several Stratocruisers and C-29s into transports for spacecraft and rocket engines in the 1960s. The ungainly looking planes became known as Guppies and were used through the Apollo program. In the 1970s, Europe's Airbus Industrie also used Guppies to transport prefabricated wings and fuselage sections between the consortium's various assembly plants.
While they were few in numbers, the Stratocruisers lasted a long time, carrying passengers on secondary and regional air routes well into the late 1980s. Five of them were in use with the Israeli Air Force from 1964 to 1978. The last unmodified 377 was scrapped in the early 1990s.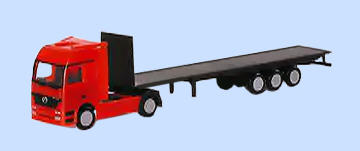 Herpa 065207 is a Z-scale (1:220) version of the newest Mercedes-Benz Actros tractor. Image courtesy of Herpa/Promotex.
Ever since I was a kid, I have been fascinated by small-scale vehicle models; the smaller, the better. Outside of a few diecast cars, the largest models in my collection are 1:87 scale. I also have a couple hundred N scale and Z scale models, along with a few 1:400 airport support vehicles and a handful (literally) of assorted 1:500 cars and trucks.
So I was very interested when Herpa announced some micro-sized vehicles would be among the new releases for July and August. One of these is Herpa's first-ever Z scale vehicle model. It's a 1:220-scale version of the latest-generation Mercedes-Benz Actros tractor with a new flatbed trailer. Herpa promises a box-style van trailer as a future release.
Z scale is the youngest of the major model railroad scales. It was introduced in 1972 by Märklin, one of the world's oldest and best-known toy train manufacturers. Z is also the smallest of the major scales. At a ratio of 1:220, an inch represents over eighteen feet. A Z scale replica of a 75-foot-long locomotive measures just over four inches in length, about the size of a man's palm. It takes only twenty-four feet of track, or once around the perimeter of a four-by-eight sheet of plywood, to equal a Z-scale mile.
As you might imagine, such a small size opens up a whole new range of possibilities. Complete Z scale layouts have been built on bookshelves and in briefcases and desk drawers. Some years back, my friend Loren Neufeld built a beautiful Z scale replica of John Allen's original Gorre & Daphetid layout in a coffee table. For a number of years, Noch, a German model railroad product manufacturer and distributor, has offered a holiday advent decoration that included a Z scale railroad.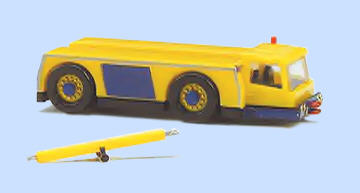 Herpa says this Kögel KAMAG Tow Bear is first in a series of support vehicle models designed to be used with the 1:200 scale Wings models. The part number is 550796. Image courtesy of Herpa/Promotex.
Herpa is hardly the first with Z-scale vehicles. I built some tiny Kibri trucks almost 20 years ago, back in the days before bifocals, and there are also models from Noch and Märklin, which now has a small selection of different cars and trucks. However, Herpa is the first of the major scale vehicle model producers to venture into Z. It will be interesting to see if this is the start of a new trend for the folks in Dietenhofen.
Another new micro-model from Herpa is the 1:200-scale Kögel KAMAG Tow Bear TT70 airport tug. Herpa says it is the first of a line of accessories for their 1:200 Wings models. If so, we may have quite a line of vehicles to come. Herpa already probably has the most extensive line of 1:500 airport accessories of any of the miniature plane manufacturers. They even have some American vehicles. With any luck, we may see a variety of support vehicles such as fuel and catering trucks, crew buses, baggage trains and public safety vehicles.
Incidentally, if your preference is 1:400 scale, Promotex has several different sets of Dragon Wings support vehicles in stock.
Although I am glad to see that Herpa is creating models in new scales, I would very much like to see them produce some new products in one of their current scales. It has been years since Herpa introduced any new tooling in 1:160 scale. Although Herpa's N scale models are nice, we still have just the one truck, a first-generation Actros with a few different trailers, and three sets of passenger cars.
One of the pleasures of writing these columns is getting notes from readers. Not only is it enjoyable to read the comments, oftentimes I will learn something more about a topic I had covered.
Not too long ago, Dean Milano wrote to me, saying that I had made an error in my "3-in-1:87" column from 2002.He told me that, contrary to the information I had used for the column, AMT and Jo-Han did not switch from acetate to styrene plastic until the early 1960s. AMT completed the changeover in 1962 and Jo-Han followed two years later. Many thanks for the correction, Dean.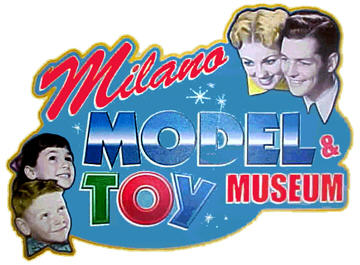 Dean Milano is not only an expert on scale model kits, he runs a museum devoted to classic kits and toys in Elmhurst, Illinois. Image copyright © 2004 by Dean Milano. Used by Permission.
Dean also sent me the link to his website toys-n-cars.com, and he's a definite expert on kits from the Golden Era and has had a fascinating career. A former member of the pop group, the New Seekers (remember "Georgy Girl"?); he has been a car and model nut since he was a young boy in Wisconsin. These days, he has a full-time job with Revell-Monogram in Morton Grove, Illinois. Gee, I wonder how I could persuade him to bring up the idea of the 1:87-scale 3-in-1 model kit to the powers-that-be at Revell-Monogram?
In addition to his day job, Dean owns and operates Milano's Model & Toy Museum in Elmhurst, Illinois. I took a "virtual" tour of the museum, which is loaded with neat stuff. I recognized a number of models I built when I was young, as well as toys and memorabilia that take me back forty or more years. I hope to be able to visit the museum in person next time I am in Chicago. If you live in the area, you might enjoy a visit. The museum is open evenings and weekends, except Monday, and directions are available at the website.
See you next time!
- Bill Cawthon
Bill Cawthon is a modeler and collector. His primary hobby interests are vehicle models in 1:87 and 1:160 scales and model railroading. He is senior editor of Route 1-87, the magazine of the 1/87 Vehicle Club, and a columnist and product reviewer for Model Railroad News. He is one of the creators of the award-winning "Grimy Gulch" model railroad layout.
In real life, Bill is a marketing and public relations consultant for MARK III Systems, a successful information technology company. He also writes for just-auto.com, an international auto industry publication, reporting on the U.S. light vehicle industry.
He lives in Houston, Texas with his wife, Marge, and their children.
Bill's columns appear twice monthly on Promotex Online. To learn more about him, click here.