3-in-1:87
December 15, 2002, by Bill Cawthon
Like many boys who grew up in the late 1950s and early 1960s, I spent a lot of my adolescent hours building model car kits. Those kits are still around today, but not in the variety in which they were offered back then. By the early 1960s, practically every make of American car was being produced in 1:25 scale.
They all got their start in 1948, when successful Detroit attorney West Gallogly, Sr. created a scale model of a Ford sedan. This first model was made of cast aluminum, painted in factory colors and available only through Ford dealers.
Gallogly set up shop on Eight Mile Road in Detroit and opened Aluminum Model Toys. Due to family connections, Gallogly's company was able to create a productive relationship with Ford and became the company's primary source of promotional models.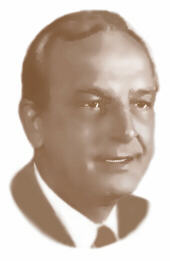 George Toteff was the driving force behind AMT's early success and the founder of MPC.
A year later, there was a major change. Modern techniques for injection-molding plastics became available. Plastic could be molded in a variety of colors, meaning the expense of painting could be eliminated. Some small metal parts were still used well into the 1950s, but the aluminum body was quickly replaced and Gallogly changed the name of his company to AMT.
As I mentioned, West Gallogly was a successful attorney with a practice to run. As the company began to grow in the 1950s, he turned the operation of the company over to George Toteff, an experienced pattern maker who became one of the major names in scale model vehicles. Toteff kept the model design and assembly in-house but farmed the actual molding out to firms like Continental Plastics, a Fraser, Michigan-based company that still makes plastic components for the auto industry.
In 1958, AMT had a brilliant idea for increasing sales. Take an unassembled promotional model, add some extra parts, and sell it in kit form to the hobby market. The new product was marketed as a 3-in-1 kit. It was designed so a modeler could build the car in one of three different ways: stock, competition or customized with the add-ons popular in the late 1950s: fender skirts, continental tires and spotlights.
To say the kits were well received would be an understatement: an early Buick kit sold over 600,000 copies.
In 1959, AMT offered ten kits including a Corvette, Lincoln and Edsel. Both hardtop and convertible versions were produced. The 1959 Ford Hardtop was my first 3-in-1 kit. I believe it cost $1.39, a price my Dad thought was outrageous.
By this time, AMT was not alone in the market. A few years earlier, John Hanley had begun producing his own promotional models. Hanley was a toolmaker and skilled model builder who got into the model business in 1947, a year before Gallogly opened AMT. Hanley started with model aircraft and scale models of industrial products, including a scale model of a kitchen.
In 1955, Hanley won contracts from Chrysler and GM to produce promotional models of their cars. To handle the business, he formed a new enterprise called the Ideal Toy Company; a name that had to be changed quickly due to the act there was already a major manufacturer by that name. Taking the first parts of his first and last names, he renamed his firm "Jo-Han."
Early Jo-Han promotional models were made of acetate, a material that works well, but warps over time. In 1959, Jo-Han followed AMT's example and began to switch to polystyrene plastic, which is much more stable over time. That same year, Jo-Han introduced its own version of the 3-in-1 kit.
Every year, both AMT and Jo-Han produced models of the current new cars. While the promotional models came first, the kits usually began to appear on hobby shop shelves by late fall or early winter.
AMT capitalized on the rising popularity of customizing by enlisting some of the leading names in the field to design new kits. George Barris, Bill Cushenberry and Dean Jeffries were all brought in and Gene Winfield actually closed his California shop to work with AMT. Smaller Jo-Han moved in a different direction, concentrating on superdetailing the kit and its components. In 1964, Jo-Han introduced the first kit with markings for a specific stock car: Richard Petty's Plymouth that won the Daytona 500. AMT quickly followed suit.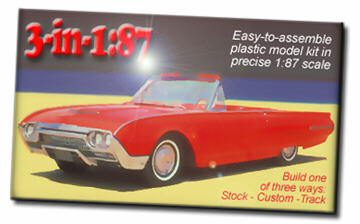 The 1:87 Scale Three-in-One Kit would be an easy-to-build model that would let the hobbyist choose the color and make any desired modifications without disassembling a ready-to-run model.
In 1963, George Toteff left AMT to form his own company, MPC, bringing Dean Jeffries with him. MPC moved beyond the basic kit to produce models of cars like the Monkeemobile (groan if you want: it was one of the most successful kits in model car history).
Throughout the 1960s, the 3-in1 kits were among the most popular types of plastic models. However, by the 1970s, the boys who had been the mainstay of the business were growing up and the economics of the market changed. The cost of plastic was rising dramatically along with the price of oil and American car companies were eliminating promotional models. As the 3-in-1 kits were based on the promotionals, the number of new kits declined.
In 1977, Lesney, the company that originated the "Matchbox" models in the 1950s, bought AMT. This did not work out, especially when AMT was moved from Detroit to Baltimore, Maryland. AMT was sold to Ertl in the early 1980s, not long before Lesney itself went into receivership. That proved to be a lucky move and AMT/Ertl model kits are still produced today.
General Mills acquired MPC during its diversification days. George Toteff continued to run MPC and was also in charge of Lionel, another General Mills acquisition, for about three years until he left to form another new company. When General Mills started shedding the companies a few years later, Ertl purchased MPC. Later, when Ertl bought AMT, MPC was folded into AMT/Ertl.
Jo-Han wasn't so fortunate. The company lasted until 1991 by re-releasing models based on earlier tooling. Then it was bought by Seville, a plastics manufacturer that made components for the auto industry. As with AMT's purchase by Lesney, the Seville program didn't work out and the Jo-Han models disappeared. In 2000, Jo-Han was purchased by Okey Spaulding who is trying to produce new runs from the original tooling.
In the mid-1980s, there was a resurgence of interest in model cars. The boys who built them in their youth have grown up and are buying them again. Scale model car kits have now become an adult hobby.
For a couple of years, I have thought the same concept would work well in a smaller scale. A 1:87 scale "3-in-1 kit" could be molded in white or a light pastel shade. Wheels, grilles and bumpers could be chrome-plated on a single sprue, as could the "glass" and headlight insert.
Packaging could be as simple as a polybag or a small "generic" box with the actual contents stamped on the end. AMT and Jo-Han both used this type of packaging in their early days.
Yes, there are plastic kits on the market today, but they generally lack the ease of assembly offered by the larger kits of my youth. That's a crucial point: the more time or skill it takes to build, the fewer people will buy it.
People built car models before the AMT kits, but they were more complex undertakings and demanded a higher level of craftsmanship. The true Golden Age of the model car was born when a ten-year-old with no particular modeling skills, like me, could build one with a minimum of tools.
This product would work well for 1:87 scale model fans and for model railroaders, who may not care about customizing, but would like a model they could paint in several different colors to add to their layout.
Depending on the prototype, different body styles could be offered. In the glory days of AMT and Jo-Han, two-door hardtops and convertibles shared many of the pieces. No reason that couldn't work in a smaller scale. For '50s-era light trucks, the same chassis, grille, etc. could be used for a pickup or panel delivery truck.
The major modelmakers are currently engaged in a competition to see which one can produce the most detailed model. Perhaps going the other direction might open a whole new market.
This is my last column for 2002, so let me thank you for stopping by Promotex again and wish you a Merry Christmas and a happy and safe New Year.
See you in 2003!
- Bill Cawthon
Bill Cawthon is an award-winning modeller and collector. His primary modeling interests are model railroading and vehicle models in 1:87 and 1:160 scales. He has written numerous articles for regional and division NMRA publications and is a contributor to the newsletter of the 1-87 Vehicle Club. He follows both the automobile industry and the European scale vehicle industry.
In real life, Bill is a full-time marketing and public relations consultant for the high-tech industry. He lives in Houston, Texas with his wife and four children.
Bill writes bi-weekly for Promotex Online. To learn more about him, click here.