Wheels for Wheels
March 1, 2004, by Bill Cawthon
Exactly two years ago, I wrote a column about the world's most expensive cars. Since Herpa has scheduled delivery of its new model of one of these for next month, I thought it might be a good time to check on the current state of rides for the super-rich. Once again, I started with Forbes, a recognized authority on things that appeal to the people to whom we all wish we were related.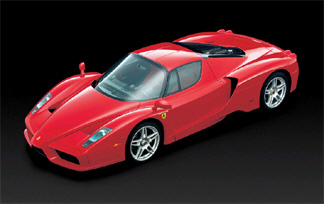 Ferrari Enzo: Still the one everyone wants to be. Definitely not for those on a budget: Oil changes run over $700. Picture Copyright © 2004 Ferrari. Used by permission.
Ferrari Enzo ($650,000) Named to honor the founder of the feast, Enzo Ferrari (1898-1988), this car has been called the greatest Ferrari ever. It is also currently both the most expensive and, depending on how you look at it, the hottest new car available to American buyers. The Saleen S7 claims a slightly higher top speed (220 mph vs. 218 for the Enzo), but the Ferrari is over two seconds faster to 100 mph and quicker through the quarter mile (11.1 seconds at 133 mph). Floor the gas pedal and you'll hit 60 in about 3.3 seconds and 50 yards. By comparison, a Ford P71 Crown Victoria Police Interceptor with the 3.55 rear end does 0-60 in 8.25 seconds and 0-100 in 22.52 seconds, according to the 2004 Michigan State Police tests. Of course, there's always that 186,000 mile-per-second radio and all those other Crown Vics...
The Enzo is definitely a car for the habitually rich; handing over 6,500 C-notes to your friendly Ferrari dealer is just the beginning. In addition to Hummer-like fuel economy, an oil change calls for a bit over twelve quarts of special, factory-required oil at $60 a quart. A brake job costs about the same as a well-equipped VW Passat. In spite of that, every one of the 400 Enzos that will be built is already sold, including the 80 earmarked for the U.S.
Porsche Carrera GT ($440,000) According to comedian Jerry Seinfeld, the new Carrera GT is not just the new benchmark for a sports car; it's the new bench. Porsche's new mid-engined supercar is being built at Porsche's Leipzig plant, one of several facilities that have been built over the past few years in what used to be East Germany. Designed to be a street-legal racecar, it has a 605-horsepower V10 engine, which will propel the Carrera GT to about 205 mph. Sixty comes in 3.9 seconds and six seconds later, the Carrera is doing 124 mph. As of the end of February, Porsche had delivered Carrera GTs to four happy owners. Word is that Jerry Seinfeld, a Porsche fanatic, hopes to get one of the 1500 scheduled to be built.
Saleen S7 ($440,000) When we checked two years ago, the S7 was about $45,000 less expensive (with prices like these, one doesn't say "cheaper") but I think you still get the custom luggage. The S7 is still the only American exotic, just as Steve Saleen said it would be. It's faster and more refined than a Dodge Viper SRT-10, which is good considering you could have the Viper and a garage with pretty nice attached house for the price of the Saleen.
Maybach 62 ($357,000) If you want the world's most expensive regular production sedan, this is it. At more than 20 feet long, 5 feet high and 6.5 feet wide, it's also probably the world's largest 4-passenger car, but it's hard to imagine a more luxurious ride. British auto journalist Andrew English remarked, "...the 62 is the real deal and it is not hyperbole to describe it as the best limousine in the world. Mere travel becomes voluptuous peregrination, a sybaritic pilgrimage." The rear seats recline like the good seats on an airliner and almost any amenity you can imagine can be included. Amazingly, the 3-ton Maybach is also fast, reaching 60 mph in just 5.4 seconds and topping out at over 150 mph. In its first year on the market, the Maybach outsold the new Roll-Royce Phantom. Now DaimlerChrysler hopes it can knock the Roller off the top of the snob index.
By the way, in my column of two years ago, I thought Wiking would be producing the Maybach model. As we now know, the rumor mill had it wrong and Herpa has been producing some very nice replicas of the Maybach 57, although we still haven't seen a model of the 62. Perhaps it won't fit in the PC box?
Rolls-Royce Phantom ($320,000) While the Phantom's styling is controversial, BMW prefers to blame a sales shortfall last year on production problems. Perhaps 2004 will be a better indicator of how well the new look will be received. Of course, owners will spend more time looking out from a luxurious interior and enjoying a ride and driving experience many have described as superior to previous cars. And there's always that winged lady on the grille.
Lamborghini Murciélago ($282,000) Like the Maybach and Saleen, the Murciélago was on the 2002 list. Even though it's now a few years old, this is still the exotic I would most like to see offered in 1/87 scale. It's not quite as fast as the newer Enzo or Carrera, but it will top 200 mph and is still guaranteed to inspire frequent conversations with the local gendarmerie. The blend of Italian flair and German engineering seems to have paid off - the Murciélago and its budget-priced sibling, the Gallardo, have brought Lamborghini back to profitability.
Bentley Arnage RL ($256,990) Among the last of the traditional cars from Crewe, this is a big, stately sedan that deserves a chauffeur. Bentley has benefited from BMW's changes to the Rolls. When it came time for another royal limousine, Queen Elizabeth decided on a second Bentley State Limousine. Perhaps BMW might want to can the radical styling next time 'round and give a close look at the classy royal coach for some styling cues.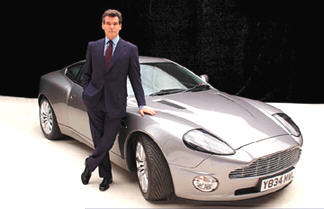 Actor Pierce Brosnan poses with his Aston-Martin Vanquish in this Ford PR photo. Copyright © 2004 Ford Motor Company-Wieck Media Services. Used by permission.
Aston-Martin Vanquish ($236,000) It's $8,000 more expensive than it was in 2002 and still doesn't have any of the James Bond tricks. But it's still the ultimate expression of the British grand touring sports car. Exquisite leathers and sumptuous wool carpets produce the kind of welcoming interior that only the English seem to know how to make and the powerful V12 engine will allow you to cruise comfortably at extra-legal speeds.
The other cars on the Forbes list are two more Ferraris, the 575M Maranello at $228,339 and the Ferrari 360 Modena Spyder, bargain-priced at $193,150, but they are going to be bumped before the end of the year as some new products appear.
Bugatti EB 16/4 Veyron (€1 million) After a five-year development period, the first deliveries of the new king of premium rides are currently scheduled for delivery this fall. The product of former VW CEO Ferdinand Piëch's towering ego, the Veyron is all about excess. To begin with, it will be priced at about $1.25 million at the current exchange rate. It will have a 16-cylinder engine with four turbochargers that pumps out close to a thousand horsepower, even in U.S. trim. It will be incredibly fast; less than three seconds to 60 and a top speed of over 250 miles per hour, assuming VW engineers figure out how to keep everything together, controllable and stuck to the road at that speed.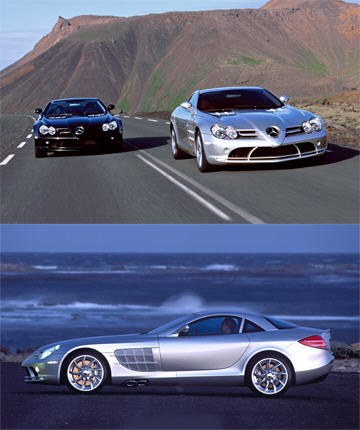 The newest exotic supercar comes from Mercedes-Benz and McLaren. The long hood is to accommodate the front-mid-engine layout. Photos shot during the media presentation in South Africa last November. Copyright © 2004 DaimlerChrysler AG. Used by permission.
Word is that about forty conspicuous consumers have plunked down their cash for the first year's production, even though it's possible the first deliveries will be pushed back to spring 2005.
Mercedes SLR McLaren ($400,000-$440,000 est.) The other new member of the top ten is result of the collaboration of Mercedes-Benz and McLaren and is based on their joint Formula 1 racing efforts. With its supercharged, 626-horsepower engine, the new SLR is ready to run with the Porsche Carrera and Saleen S7. The new SLR has a top speed of 207 mph and can hit 62 mph is 3.8 seconds.
The Mercedes SLR McLaren was inspired by the 300 SLR racecars of the 1950s. Created by legendary Mercedes' design engineer Rudy Uhlenhaut, these were the cars driven to victory in 1955 by some of the world's most famous drivers, like Juan Manuel Fangio and Stirling Moss.
The current car was designed by McLaren's Gordon Murray, who also created the McLaren F1 which, with apologies to Jerry Seinfeld, is still the benchmark supercar. The SLR's long hood was dictated by the Murray's front-mid-engine concept, where the engine is located behind the front axles for better weight distribution.
The SLRs will be built by McLaren in a new factory in Woking, England. Plans call for 3500 to be produced over seven years and it's reported eager customer have already spoken for the first two year's worth. First deliveries should begin this summer.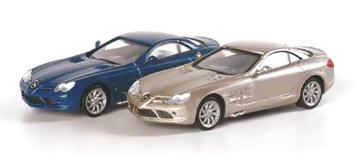 Herpa's new Mercedes SLR McLaren models are due next month. They're small, but much less costly than the real thing. Original image courtesy of Herpa Miniaturmodelle GmbH.
One of the things I like best about the newest Mercedes is the fact it is available in 1/87 scale. Herpa has created a beautiful model that captures the sleek look of the full-size McLaren in miniature. It's been available for a while as a promotional model from German Mercedes dealers; now it's going to be available from Promotex.
The SLR really is one of Herpa's better efforts with lots of great details, including a truly nice reproduction of the SLR's wheels. I could go on about the nice touches that abound, but I think you'll be happier discovering them for yourself. They're coming next month, so reserve yours now.
023207 Covellin Blue, Standard finish
033206 Coronadite Gray, Metallic finish
Quick note: Due to a delay in getting some of the photos I had planned to use, the column I had planned for this time will appear later this year.
See you next time!
- Bill Cawthon
Bill Cawthon is a modeler and collector. His primary hobby interests are vehicle models in 1:87 and 1:160 scales and model railroading. He is senior editor of Route 1-87, the magazine of the 1/87 Vehicle Club, and a columnist and product reviewer for Model Railroad News. He is one of the creators of the award-winning "Grimy Gulch" model railroad layout.
In real life, Bill is a marketing and public relations consultant for MARK III Systems, a successful information technology company. He also writes for just-auto.com, an international auto industry publication, reporting on the U.S. light vehicle industry.
He lives in Houston, Texas with his wife, Marge, and their children.
Bill's columns appear twice monthly on Promotex Online. To learn more about him, click here.