The Cars Dreams Are Made Of
March 15, 2002, by Bill Cawthon

From the time we are young, most of us dream of owning the ultimate car. Whether it's the fastest, the most luxurious, or just the one that will turn the most heads, there is some car we believe represents the pinnacle of the automaker's art.
In the March 4, 2002 edition of Forbes, senior editor Mike Frank presented the "Ten Most Expensive Cars in the World." While I used his list as a basis, my list is composed of a dozen cars. I took the liberty of adding the most expensive Rolls-Royce sedan, just in case a convertible is not your cup of tea. I also added a couple of brand new cars not on the Forbes list.
The list includes only cars that are, or will be, for sale in the United States. Wherever possible, I checked prices either through the manufacturer or through one of the online services. And, other than the second Rolls-Royce, only one car per brand is included. Since everyone has their own definition of a dream ride, I divided the list into sports cars, grand touring cars and sedans.
Sports cars (Perfect for meeting new people – often in uniform):
Saleen S7: Steve Saleen is famous for his work with the Mustang, but other than a cast aluminium Ford block, you won't find any pony car pieces on the awesome S7. Saleen describes the S7 as the first true American supercar. With a zero to sixty time of less than four seconds and a top end somewhere above two hundred, he may be right. The company says it will build only about eighty S7s a year. Price is in the very fancy neighborhood of $395,000, including the custom-fitted luggage.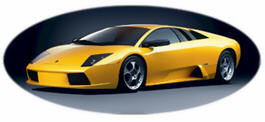 Lamborghini's Murciélago is the latest exotic from Sant' Agata.
Photo: Automobili Lamborghini Holding Spa
Lamborghini Murciélago: On October 5, 1879, a bull named Murciélago fought so bravely in the ring that famous bullfighter Raphael Molina spared his life. In September 2001, Audi's Italian subsidiary introduced their own Murciélago, one of the world's most desirable supercars. If you have about $273,000 and a bit of patience, you can own a car that will take you from a standing start to sixty in 3.5 seconds and not run out of steam until you have passed 205mph. Of course, even without speeding, the Murciélago's looks alone guarantee you are going to be chatting with every state trooper who sees it.
Aston Martin Vanquish: You don't often hear about Aston-Martin in the U.S. these days. However, this may soon change. Pierce Brosnan will be driving the $228,000 Vanquish in the next James Bond movie. Sadly, despite its huge price tag, the consumer Vanquish won't come with all the tricks of the movie cars. However, the rotating license plates from Bond's old DB5 might come in handy. Like the Murciélago, cruising in the Vanquish is going to attract cops faster than fresh doughnuts. And while you can get from a standing start to 100mph in ten seconds, making a chase a losing proposition even for the B4C Camaro, there's always that 2-way radio.
Ferrari 575 M Maranello: Shell out $215,000 and you'll get a bigger V-12 engine and a new suspension as well as a new tire pressure monitor that warns you if the air pressure is too low for the way you're driving. Zero to sixty in four seconds and a top speed of 202 are no trouble for the new 5.75-liter engine. One warning: You might want to pick up something else to keep you amused for a while. Ferrari waiting times are measured in years for some models and 575M production is probably already booked well into 2003.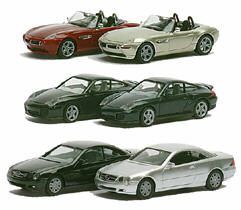 Herpa offers models of three of the world's most expensive cars.
Top to bottom: BMW Z8, Porsche 911 Turbo and Mercedes CL600.
Photos: Herpa
Porsche GT2: In one of his few defeats at the hands of the feds, Bill Gates was unable to convince the EPA to let him import his 959. Now, the fastest Porsche can be yours with no hassles other than the $180,665 price tag. The GT2 is a lightweight 911 Turbo emphasizing gut-wrenching performance over everything else. It currently holds the lap record for a street-legal production car at the Nürburgring. It's strictly rear-wheel-drive, so all of the classic Porsche driving techniques will be required to prevent a thrilling ride from becoming too exciting.
BMW Z8: It doesn't come with the Stinger missiles or Sophie Marceau, but this is another James Bond car you can own. If you dream of being a secret agent, but the Vanquish costs a bit more than you want to pay, the Z8 is a comparative bargain at $130,000. Even if you're not a fan of spy movies, the Z8 is an impressive car. Its styling was inspired by Albrecht Graf Goertz's classic 1955 BMW 507 and it has the same V8 engine as the high-performance M5.
Grand Touring (make that hundreds-of-grand touring):
Bentley Azure Convertible Mulliner: At $369,990, the Azure is the sporty alternative to the Rolls-Royce Corniche. While Bentleys are traditionally less expensive than Roll-Royces, the Azure includes some performance features not found on the Corniche. If you prefer a hardtop, select the Continental T Mulliner Coupe at only $328,990.
Rolls-Royce Corniche Convertible: The top-of-the-line Roller will set you back $363,990. For all the competition's technological superiority, the Rolls-Royce is still the gold standard and everyone else is just a pretender. Incidentally, one does not do anything as crass as "buying" a Rolls-Royce. One "commissions" the construction. One may "enquire" online about the Rolls-Royce, but the form is a bit daunting. It starts with a blank for "Title" and doesn't supply the usual "Mr., Ms., Mrs.," choices. I get the impression if you can't put something like "Sir," "Lord," or at least "Dr." in the box, you should go back to the pictures because that's as close as you're going to get. The form also supplies spaces to describe up to five of your other automobiles. And I don't think they would be impressed by that rusted-out '58 Rambler the dog sleeps in.
Mercedes-Benz CL 600: For just over $120,000, you can drive what teenage boys only dream about: a car that actually attracts women. After watching other women literally chase her husband while he was test driving this ultra-luxury coupe, auto writer Anita Lienert called the CL600 a "personal Temptation Island" and said the car should come standard with marriage counseling and a private detective. Not surprisingly, CL sales are up almost 10% this year. The CL600 is more a grand touring car than an all-out performance vehicle. However, its V-12 takes less than six seconds to get you to sixty and the car is equipped with enough gizmos and controls to keep a 747 pilot happy
Sedans (The way to arrive when you've already arrived):
Rolls-Royce Park Ward: At $262,990, the Park Ward is currently the world's most expensive regular production sedan. The name comes from one of the exclusive coachbuilders who created custom bodies for Rolls-Royce cars in the glory days. It is everything traditionalists expect from a Rolls: big, long and heavy with a fuel appetite that rivals a Saturn V. It's also very exclusive; fewer than fifty are built each year.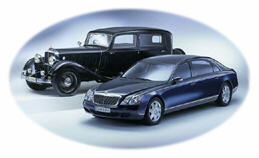 A pair of Maybachs. The name comes from Wilhelm Maybach, the man who created the first Mercedes car. Together with Horch, cars from Maybach, like the classic Zeppelin in the rear, were considered the finest German automobiles of their day.
Photo: DaimlerChrysler AG.

Maybach: For years, Mercedes-Benz has coveted Rolls-Royce's crown as the most prestigious luxury car in the world. Even though Mercedes have long been technically superior to the Rolls, that all-important perception has eluded the German automaker for almost a century. The Maybach could be the car that finally does the trick. Beginning this fall, DaimlerChrysler will build up to fifteen hundred four-door Maybach sedans each year. Customers may select a standard Maybach or the longer-wheelbase version designed for those who have a chauffeur. All will be equipped with a Maybach-only V-12 engine and all will feature two-tone exterior paint. DaimlerChrysler has said prices will start around $250,000, but some auto writers say it will be closer to $300,000 in the U.S., bumping it ahead of the Park Ward.
Volkswagen Phaeton W12 4Motion: The Phaeton is a car of many questions. Like, "Is the world ready for a Veedub that costs as much as a house?" "Are they really going to keep that name even though U.S. dealers hate it?" And, "Why isn't this an Audi?" So far, the company's answers seem to be, "We think so," "Yes," and "Audi is our sporting brand."
Priced at about $95,000 in Germany, the Volkswagen describes the Phaeton W12 its technology flagship. You can get a basic 6-cylinder Phaeton for around $59,000, but simply adding the W12 engine and the 4Motion AWD package will get you well on your way to the stratosphere.
There you have them. A dozen cars few of us will ever see in our driveway, unless we win the lottery or have a very rich uncle. However, the point of this column is not to highlight the impossible, but to point out what we can own and enjoy.
Three of these cars are available right here at Promotex Online and a couple of others are probable in the future. You probably already know about the BMW Z8. It's available in four versions, including a Private Collection model of an Alpina-modified Z8. Herpa also offers the Mercedes-Benz CL600 Coupe. I am fudging a bit on the third model, because if you want to turn Herpa's 911 Turbo (996) into a GT2, you will need to do a little work on the front end and add a modified spoiler. Perhaps Herpa will offer a GT2 later this year.
Chances are also quite reasonable that Herpa will get the next-generation Rolls-Royce when the brand shifts to BMW. Of course, even without the Rolls, BMW's 760Li will make its debut in 2003 and it would be a real surprise if Herpa did not produce that model. From reports I have seen, the 760Li will easily top the $100,000 mark and bump the Phaeton off next year's list.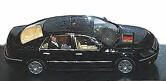 A special "Chancellor's Edition" of Wiking's new Phaeton model was on display at the 2002 International Toy Fair in Nuremberg.
Photo: Wiking Archive

Wiking is already producing the Volkswagen Phaeton. There are only promotional models now, but the Phaeton will probably join Wiking's regular line later this year. The rumor mill says Wiking also has the contract for the Maybach (this is strictly grapevine, nothing official whatsoever). Wiking's paint shop is second-to-none, so their producing the two-tone Maybach makes sense.
Sadly, we probably won't see any 1:87 models of the Ferrari. Mattel owns the exclusive merchandise rights to the Ferrari name and logo and has no interest in producing models in our favorite scale. The same is true for Jaguar. Aston-Martin is owned by Ford, which would probably happily license the production of a Vanquish model, but is not going to make the same arrangements that BMW, Mercedes or Volkswagen would.
VW, through Audi, owns Lamborghini, so a Murciélago model is conceivable. So is a Bentley Azure, which is now another VW brand. However, I am not sure Volkswagen sees the need for promotional models of these cars, however welcome they might be.
In case you would like to read Michael Franks's excellent article, it is available online at the Forbes web site. Please note that free registration is required and that Forbes can be highly addicting reading.
http://www.forbes.com/2002/03/04/0304feat.html
See you next time!
- Bill Cawthon
Bill Cawthon is an award-winning modeller and collector. His primary modeling interests are model railroading and vehicle models in 1:87 and 1:160 scales. He has written numerous articles for regional and division NMRA publications and is a contributor to the newsletter of the 1-87 Vehicle Club. He follows both the automobile industry and the European scale vehicle industry.
In real life, Bill is a full-time marketing and public relations consultant for the high-tech industry. He lives in Houston, Texas with his wife and four children.
Bill writes bi-weekly for Promotex Online. To learn more about him, click here.