Syd Mead: A 20/20 Visionary, Part II
December 1, 2003, by Bill Cawthon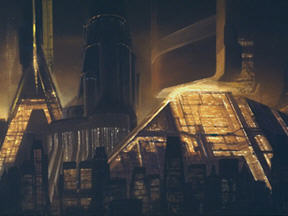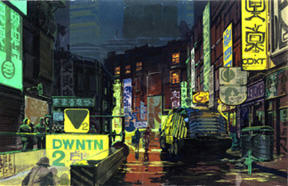 Two of the conceptual images Syd created for Blade Runner. Top: Cityscape of Los Angeles. Bottom: detail of Chinatown. Click on images for a larger view.
An artist striking out on his own can be a risky proposition, but Syd Mead had built a nationwide reputation and his talent quickly opened the door on new opportunities. From the beginning, Syd Mead, Inc. was successful and early assignments included collaborations with Raymond Loewy. In 1975, he left the Motor City and moved to Capistrano Beach, California.
Soon after moving to California, Syd began branching out. Sentinel, a book published by Roger and Martyn Dean, was followed by work in the movie industry. Beginning with Star Trek: The Movie, Syd found his talents in demand by directors and producers.
At the same time, Syd's work was becoming increasingly popular in Japan. In 1983, he had his first one-man show in Tokyo, followed by a second show two years later. In 1985, Syd formed Oblagon, Inc. to market his work. The first product of the new company was a new book, entitled Oblagon. In its first 35 days on the market, Japanese consumers bought 25,000 copies.
In 1987, Syd ventured into yet another field when he designed the battleship Yamato for a Japanese animé feature. More animé work followed. Most recently, Syd designed all the robot characters for the Turn-X generation of Sunrise-Bandai's Mobile Suit Gundam series.
I asked Syd which was his favorite field, industrial design, film or animé.
"Wrong question, Bill," was the reply. "The field is creative design. That is my favorite field. Whatever the problem is, that is the task... the field part stays the same. I have applied my particular methodology to wide bodied aircraft interior design, super yacht design, both exterior and interior, cruise ship design, a variety of 'marine' designs including air cushion vehicles and SES (surface effect ship) designs, both exterior and interior. I have completed presentation (for funding) master plans for five theme parks and lots and lots of corporate graphics, product designs and promotional designs only intended to 'get things started.'"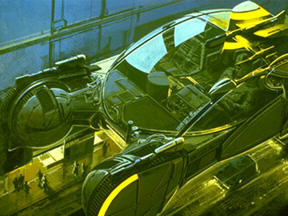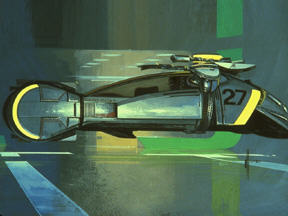 Two views of the "Spinner" police vehicle. Syd based his vehicle designs for Blade Runner on the jerry-rigged vehicles seen in some third-world nations. Click on images for a larger view.
Over the past quarter-century, there have been too many projects, ranging from movies to yacht designs to rides for EuroDisney, to list here. I urge you to visit the Syd Mead website for more information on his life, film and anime work.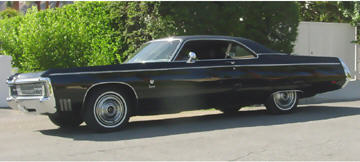 Among Syd's favorite modern automobiles is the 1970-1972 Imperial. The car in the picture is one of two Syd owned. Click on image for a larger view.
Considering Syd's early professional work and training, I wanted to learn more about Syd's experiences with automotive styling and what designs he considers good and bad.
I was surprised to learn Syd does not cite any automotive stylists as being influential on his style. Of course, Syd lived a fair distance from Detroit in his youth, so it was the cars, not the artists, that caught his attention. He recalls being impressed by the bullet-nosed Studebaker Starlight Coupe and witnessing a demonstration Tucker do exhibition runs up and down the main street in Gunnison, Colorado.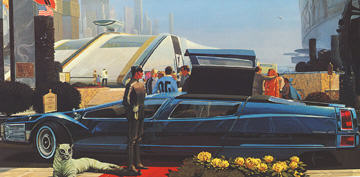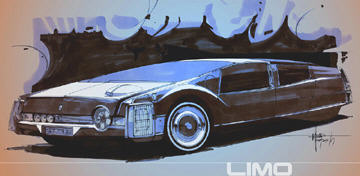 he Sentinel 400 was originally an illustration created for one of the U.S. Steel brochures produced while Syd was with Hansen in Detroit. It was this picture that inspired Nathan Proche of Hot Wheels to contact Syd about making a model of the sleek limousine.
Bottom: Drawing of the limo design. Syd noted, "I only had done the gouache painting back in the sixties, so I had to review the design, visualize and create 3D data for them to construct the beta machette." Click on images for a larger view.
Syd divides his favorite designs by era. Among early or "Noble" cars, he likes the Rolls-Royce Silver Ghost, early Voisins (a French brand built from 1919-1939), Dusenbergs and the custom-bodied 16-cylinder Cadillacs. From the 1930s and 1940s, favorites include the 1937 Lincoln Zephyr and 1942 Cadillac "Continental" sedan. In addition to classic lines, Syd also appreciates technical advancements, like the Zephyr's unit-body construction.
Among more modern cars, the big American luxury cars like the 1967 Lincoln Continental four-door convertible and 1970-1972 Imperials are Syd's picks. He owned two of the Imperials and still remembers the features and power of these big cars from the Golden Age of the big American automobile.
He also likes the styling of some of Chrysler's newer products, including the Dodge Intrepid and Chrysler 300M. He recently bought a Chrysler Sebring convertible to go with his 47-year-old Mercedes 300SL, which he had completely restored in 1999.
The new Aston-Martin coupe and convertible are other modern cars he considers good designs.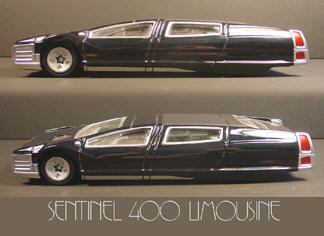 Photo of the one-of-a-kind 1:24-scale model Hot Wheels presented to Syd on his 69th birthday. Click on image for a larger view.
On the other hand, he says the bulge below the rear bumper of the Jaguar roadster reminds him of a toy's battery case and the Audi TT reminds him of a "giant Hasbro pull toy."
"I can easily envision an 85 foot tall tike pulling one along on a string," he said of the Audi.
Syd says some modern premium cars leave him cold. He said, "The Maybach is possibly the most expensive boring car design on the market."
Others don't fare that well. Under "THEY'RE HORRIBLE; AN AFFRONT TO THE WHOLE NOTION OF 'DESIGN,'" Syd lists the Rolls-Royce Phantom, He said, "The new 'BMW' Rolls Royce is a monstrosity. I would expect it to come with agricultural attachments optional."
Syd also takes a dim view of Mark LaNeve's "Arts & Science" movement. "I think the current crop of Cadillacs, the Escalade, the Escalade XT, the CTS, the XLR and the smaller 'sport ute' models are devastatingly ugly, naive and an affront to the long history of the Cadillac marque."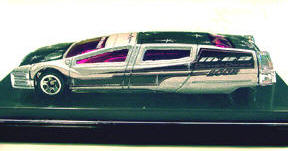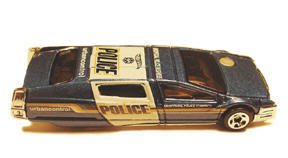 In addition to the basic model, there have been three other versions. Top: Special run for a Mattel employee function. Bottom: Police version. Not shown is the "Halloween Highway" 2-pack. Click on images for a larger view.
He goes on to describe the Toyota Scion and Honda Element as, "(N)utty marketing experiments aimed at a young demographic who can't afford them and will be an expensive, short-lived phenomenon. You could duplicate the Scion, in particular, over a weekend with a sufficient supply of foamcore board and tape."
I asked Syd if his vision of the "car of the future" changed over the years.
"Not much, really," he replied. "I was 'designing' and illustrating cars then (in the '60's) that look contemporary today, just over forty years later. I designed a running, fully functional prototype pickup truck for Ford in 1963 that does exactly what the current crop of 'new' variable sport pickups do today. That's exactly forty years later."
It's hard to deny that his designs are contemporary. In Tron and Blade Runner, the vehicles were fresh and innovative.
"These vehicles were designed to fit the story," Syd explains. "In Blade Runner, the word was 'retro-fit.' The society (in the story and script) was expending all of its effort in off-world activity, leaving the terrestrial consumer market lean. This meant that things were made to work possibly past their 'normal' marketing lifetime. I used the third-world model of the Philippines, Cuba and east Europe; This gave everything a jerry-rigged look that was mechanically intense, visually intricate and completely logical. In effect, I walked through the classic industrial design track in reverse. You design the vehicle and then progressively 'age' it into its own dotage."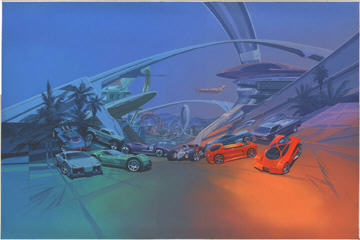 Syd created this promotional art for Hot Wheels. Featuring several popular models, it's been used in the Hot Wheels catalog and promotional pieces. Click on image for larger view.
"For Tron, the vehicles were programs. Therefore, they were really three-dimensionized graphical icons. That ran the entire concept from inception to eventual digital rendering."
These days, Syd is working on a new project.
"I am now embarking on a suite of illustrations...for myself...that depict my current theoretical vehicle called a HYPERVAN. This vehicle is a true paradigm concept in that the format, the morphology can be varied to suit various specific uses and still be recognizable as a HYPERVAN type vehicle. I have already completed number one, number two is in final trace-down line drawing stage and numbers three and four are sketched out. The idea is to complete about seven of them as if I'm completing views of a 'real 'vehicle for a promotional brochure. And we may produce a 'faux' (sounds so much better than 'fake,' huh?) brochure as a gallery promotion piece."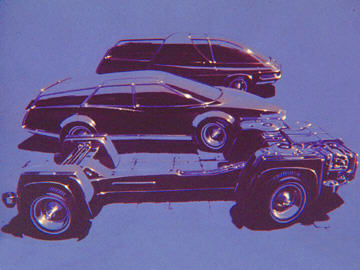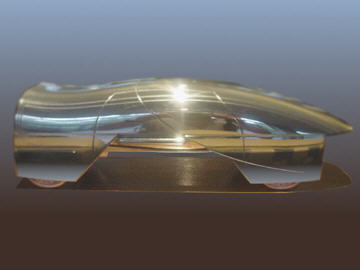 Top: In the early 1970s, Syd designed a common chassis that could accept different body styles according to need, foreshadowing GM's recent Autonomy concept.
Bottom: Syd's current project is the Hypervan, shown in scale model form above. Over time, he will complete a series of illustrations and combine them into what he describes as a "faux" brochure.
Click on images for larger view.
Syd does work with a computer, but his favorite medium for color illustrations remains Winsor & Newton gouache.
As you know, I usually manage to work in a model connection in these columns. While there have been models of some of Syd's movie vehicles in the past, I am happy to say you can still get a model of a Syd Mead design at a very nice price. Hot Wheels offers a replica of the sleek Sentinel 400 limousine that originally appeared in an illustration done for U.S. Steel. Syd told me about the process:
"I was contacted by Mr. Nathan Proche. He had one of the U.S. Steel series and had always been fascinated by that one vehicle. Also, it had all the right 'moves' for a Hot Wheels car; it was long and low and had a certain outrageous appeal. When I got the call from him, we agreed on compensation and rights of approval, I proceeded to complete three-dimensional data; that was transferred to their factory facilities overseas and voila! The bare metal beta came back, I approved the detail, shape and other considerations and it went into production."
"There have been, to date, three other variations or 'tampos' for the car. They are: a special 'prom night' version done as a very limited series for give-aways at last year's Mattel corporate affair (some of those went on e-bay within three days and were bid up to the $200.00 mark!), a police car version and a Halloween version in a dual pack."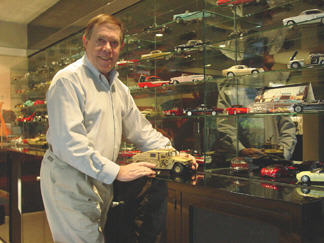 Syd Mead with a portion of the extensive scale model collection he and Roger Servick have assembled over the years. Click image for larger view.
You can still find the original Sentinel 400, but you will have to look. It was No. 054 in the 2002 Collector Series and is also No. 42 in the 2002 First Editions. The Halloween version will be part of the "Halloween Highway" series that can be found at various retailers.
For more information about Syd Mead and to look over some of his limited-edition books and collections, I suggest a visit to the Syd Mead Website.
I want to express my sincere thanks to Syd Mead for sharing his time and thoughts. I also want to thank Roger Servick, Syd's partner and business manager, for his help in getting everything set up and facilitating selection of the images used. Both Syd and Roger have some scale models. Syd likes the larger scales and has a one-of-a-kind 1:25-scale model of the Sentinel. Roger's collection numbers in the hundreds and runs the gamut of scales. I'll have to send them some Herpas and see if I can get some more opinions from Syd.
Wonder what he thinks of the "Bangle Bustle" on the new 7-Series?
See you next time!
[Author's note: Thanks to the efforts of Bill Brillinger, Promotex's webmaster, and Bruce Penner, Promotex's manager, you can now enjoy the images in both installments in a larger size by simply clicking on the smaller image. Thanks also to my good friend Jackie Dryden for her help. Bill C.]
- Bill Cawthon
Bill Cawthon is an award-winning modeller and collector. His primary modeling interests are model railroading and vehicle models in 1:87 and 1:160 scales. He has written numerous articles for regional and division NMRA publications and is a contributor to the newsletter of the 1-87 Vehicle Club. He follows both the automobile industry and the European scale vehicle industry.
In real life, Bill is a full-time marketing and public relations consultant for the high-tech industry. He lives in Houston, Texas with his wife and four children.
Bill writes bi-weekly for Promotex Online. To learn more about him, click here.