Syd Mead: A 20/20 Visionary
November 15, 2003, by Bill Cawthon
Updated December 1, 2003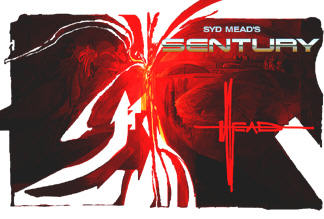 The cover of Syd Mead's newest book bears his distinctive signature. For more than a half-century, it has been found on hundreds of fantastic visions. For information about ordering Syd Mead's Sentury, visit Syd's website www.sydmead.com
Of all the artists creating visions of the future, few have had more influence on popular culture than Syd Mead. If his name is not familiar, you are still likely to be acquainted with his work through films like Tron, Blade Runner, Aliens and 2010: Odyssey Two.
Syd Mead describes himself as a visual futurist as well as a designer. What he does is blend the skills of an accomplished illustrator with the imagination of the legendary "grand" industrial designers like Norman Bel Geddes. The result is a unique cohesive vision of the future in which his marvelous creations exist and interact.
My first encounter with Syd Mead's work came in 1961, when my Dad passed along a brochure from U.S. Steel. Concepts was actually a beautifully bound book containing a lot of information on various types of steel, which I didn't care about, and a number of illustrations, which captured my attention and never let it go.
Of course, it helped that the book focused on the use of steel in automobiles and the illustrations featured some of the most fantastic vehicles I had ever seen. There were cars and trucks and spaceport tugs rendered with incredible clarity. There were also accompanying sketches that showed how various features might work.
In those days, the Sunday supplements were filled with pictures of futuristic cars, but Syd Mead's illustrations went beyond the vehicles to fill in a world in which they existed. Never before, or since, for that matter, had I seen such work.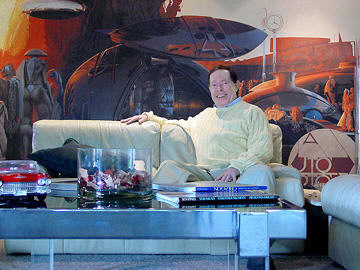 Syd Mead at home in California. The picture in the background is actually a mural of his "Pebble Beach 2000" illustration. Roger Servick photo. Click for a larger view.
That book remained one of my most cherished possessions for almost twenty years, becoming worn through repeated visits. Unfortunately, it was lost in a move and I have never been able to replace it.
Fortunately, I have been able to reacquaint myself with the art of Syd Mead and am now the happy owner of some new books, equally fantastic and equally beautiful. I was also able to learn more about Mr. Mead and enjoy an exchange in which he shared some personal insights.
Sydney Jay Mead was born in St. Paul, Minnesota on July 18, 1933. His father, Kenneth Ray Mead, was a Baptist minister who had married, Margaret Ann Stover, his college sweetheart. Almost four years later, the family, which now included a younger brother, Gerald, moved to Canton, South Dakota, where Rev. Mead began work on a college degree while serving as the pastor of a local church. One of Syd's recollections from those days perhaps explains his later fascination with the future.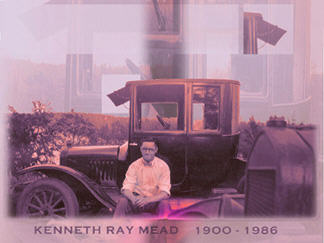 Kenneth Mead with his "Tin Lizzie." The stories he read to his older son helped shape a vivid imagination. Family photo courtesy of Syd Mead. Click for a larger view.
"Here's a fascinating memory, unexplained to this day. My father was a Baptist minister. When I was about four or five (before I learned to read in the first and second grades), I remember very well him reading to me from what were called 'BigLittle' books. These were back-to-back thick books featuring Superman, The Green Hornet and notably, Flash Gordon and Buck Rogers. Why would a 'serious' Baptist minister read these stories to his young son? I have absolutely no idea. But I vividly remember the expertly drawn frames."
About the same time, Syd began drawing. In an interview with Designophy, a Turkish publication devoted to industrial design, Syd said he began creating what he called "scenic" views. These included houses, trees, people and, not surprisingly, cars.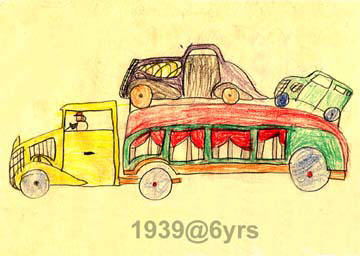 From the time he began drawing, Syd's style was advanced. Wonder if any of his teachers thought he would someday create beautiful renderings like the LeMans sports car concept below? Pictures courtesy of Syd Mead. Click on images for a larger view.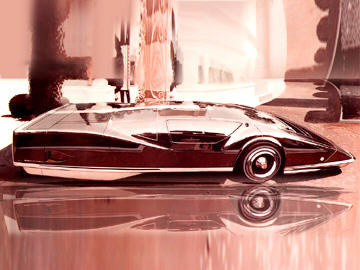 After graduating with honors from the prestigious Art Center School, Syd Mead went to work for Ford's Advanced Styling Studio. Ironically, some of his most creative work for the company came after he left. He designed this advanced concept for a pickup in the mid-1960s.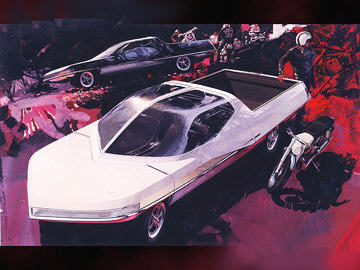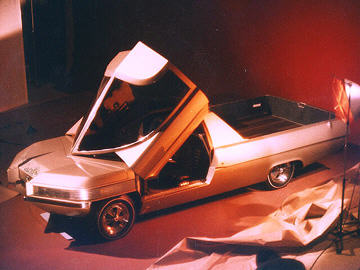 A full-size evaluation model of the pickup. According to Syd, "This was designed to mount onto a '63 Ford station wagon frame. It was fully operational with A/C, radio and a fully operational top conversion. The small rear 'cab' roof slid back, a rear seat unfolded and a 'filler' section with window rose into position. This meant that, sacrificing bed length, the vehicle converted electrically from a bench seat, three-passenger vehicle into a five-passenger close-coupled club sedan/truck. The vehicle was toured for about two years." Illustration and photo courtesy of Syd Mead. Click on images for a larger view.
"I knew by the time I was in the fifth grade that I would make my living drawing," he stated in the interview. "I've always been somewhat of an introvert, not being blessed with good looks or athletic ability. As time went on and peer comparison became more of a big deal, my internal world view became even more of a 'place to be.' Being able to fabricate exact views of my worlds was enormously satisfying, made me 'interesting' to my peers, and somehow 'evened' the score."
One of the elements that adds an important dimension to Syd's work is the inclusion of people interacting with the products he is designing.
"I have always put people in the picture, from the time I was four years old. I always figured that objects do not exist independent of users. From the very early days when I had mastered shading, picture composition and coloration, scenario was always a critical element of any visualization. When I went to Art Center and could refine my drawing skills further I continued to create imaginative visual 'trips' into my imaginary worlds. The result is a visceral link to the observer."
As often happens with members of the clergy, Syd's family moved several times during his school years. By the time he graduated high school in 1951, the family was in Colorado Springs. While in high school, Syd learned more about art and was developing his style.
"I was inspired at the high school age (17 & 18) by Chesley Bonestell. My parents gave me his book, Concepts in Space, which I still have. Later, when I was exposed to a wider range of 'art' books, Maxfield Parrish and from some of my father's art books, the classic masters: Rubens, Chiroco, Van Dyke, etc."
"By the time I was at the high school age, I could draw human figures of both sexes very, very well. In fact, I knew the human anatomy well enough to caricature and developed a voluptuous 'calendar girl' style for females and the 'Boris Valejo' look for males. In addition, I became very proficient in animal draftsmanship, from horses to dogs and others. My favorite mythical 'animal' is the Centaur."
Soon after graduation, Syd was working for the Alexander Film Company, inking animation cells and doing character origination and background illustration. With his new job came independence; he bought a 1948 Ford coupe and got an apartment.
In 1953, Syd joined the Army and was posted to Okinawa with the 590th Engineering Corps Company. During his tour of duty, he rose to the rank of training sergeant for a company of 150 men.
While he was on Okinawa, Syd sent some drawings to John Mueller Reinhart, then chief designer at Ford. Reinhart returned the drawings saying that if Syd was interested in automotive styling, he should go to the Art Center School in Los Angeles (now the Art Center College of Design in Pasadena), one of the nation's foremost training grounds for automotive stylists and designers.
Following his discharge in 1956, Syd presented his portfolio to the Art Center School and was accepted. In 1959, at the age of 26, he graduated with great distinction. He had already been offered and accepted a job with Ford's Advanced Styling Studio in Dearborn, Michigan.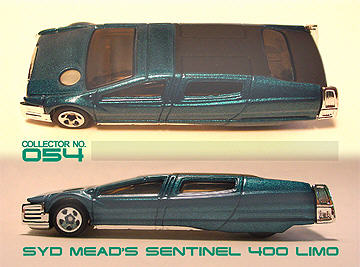 This Hot Wheels model started as a picture for one of the books Syd Mead illustrated for U.S. Steel while he was at Hanson Company in Detroit. Nearly forty years separated the illustration and the model. Image courtesy of Syd Mead, Inc.
While at Ford, Syd worked on a variety of projects, including the launch exhibit for the Mercury Meteor, a "space garden" complete with space flowers. He also had a hand in the early stages of the design of the Lincoln Continental Mark II (originally a Thunderbird concept). In terms of automotive styling, Syd says his contribution was the "wedge" taillight for the Ford Falcon Futura. [Author's note: If you are not familiar with the automotive styling process, it is a collaboration involving a number of people working on different aspects of the total design.]
Contrary to what has been reported elsewhere, Syd did not design the 1961 Gyron concept car. He did work on the development of a gyroscopically-stabilized car, along with Bill Dayton (Dayton later went to Chrysler where he designed the interior of the Lamborghini Diablo, among other things), but the four-passenger vehicle they created was replaced by a two-seat design from Elwood Engel.
Even after he left Ford, Syd did major work for the company. He created the initial proof of concept for the entire revamped corporate logo series, a project later expanded and implemented by Lippincott & Margulies, and designed the "Future" section of the Ford exhibit at the 1964 World's Fair. He also created a design for a convertible Ford pickup, similar to the new Chevrolet SS-R, and a futuristic camper based on Ford's full-size van chassis.
In 1961, Syd left Ford and joined the Hansen Company's Detroit office. In going with Hansen, he turned down an offer from legendary industrial designer Raymond Loewy to become design manager of Loewy's New York office. Hansen tripled the salary Ford was paying and offered Syd complete creative freedom.
1961 was the year in which Syd produced the illustrations, page layout and typography for Concepts, the first of his books for U.S. Steel. It was also the year he bought the 1956 Mercedes-Benz 300SL Gullwing Coupe he still owns today.
During the five years Syd was with Hansen, he produced illustrations and designs for major companies like U.S. Steel, Celanese Corp. and Allis-Chalmers. A number of the Hansen books containing his work are now highly prized collector's items. In 1964, he bought a house for his parents in San Marcos, California.
In 1966, Syd followed his former account boss to the Detroit office of New York-based Intergraph. Less than two years later, Intergraph downsized and his position was eliminated.
Syd and a former Ford executive formed their own company but, by 1970, a financial dispute finally led to Syd leaving and striking out on his own. He never worked for anyone else again.
Next time, we'll follow Syd Mead's fantastic career as an independent designer and get some insights into how he approaches his assignments.
See you then!
- Bill Cawthon
Bill Cawthon is an award-winning modeller and collector. His primary modeling interests are model railroading and vehicle models in 1:87 and 1:160 scales. He has written numerous articles for regional and division NMRA publications and is a contributor to the newsletter of the 1-87 Vehicle Club. He follows both the automobile industry and the European scale vehicle industry.
In real life, Bill is a full-time marketing and public relations consultant for the high-tech industry. He lives in Houston, Texas with his wife and four children.
Bill writes bi-weekly for Promotex Online. To learn more about him, click here.