Your own dog and pony show
July 15, 2002, by Bill Cawthon

Last weekend, Marge and I took Wendy and Will, our younger children, to see the Weller Brothers Circus perform at the Houston Farm & Ranch Club, a small arena not far from where we live in western Harris County. It was my first experience with a real dog and pony show.
While its meaning has changed over the years, "dog and pony show" was originally a term applied to small circuses. The Weller Brothers Circus certainly qualifies as small, and had both a dog and pony, but what it lacked in spectaculars it made up in accessibility and immediacy. Our kids had a great time. In fact, all the kids in the audience had a great time.
The Weller Brothers Circus is based in Clearwater, Florida and travels across the country, putting on shows in small arenas. It's only a one-ring show, but there are clowns, a snake charmer, acrobats, a couple of animal acts and even an escape artist. In the best tradition of the traveling show, everyone does a number of jobs. Some work the concession stand and then run "backstage" to get ready for their act. Even the ringmaster sets up props between acts. After the show, everyone packs the props and apparatus into an assortment of well-worn trucks, travel trailers and recreational vehicles, and convoys to the next show.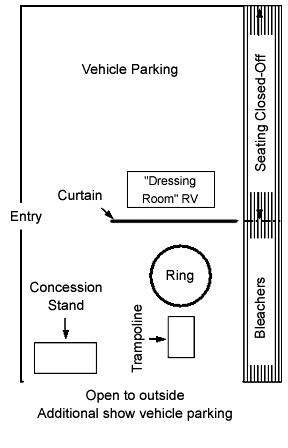 While the kids watched the show, I was looking at the set-up. I realized this would make a great small scene for a model railroad or diorama.
When most of us think of circus models, we think of the big German kits with the associated carnival rides and sideshows. To do a big circus right takes a lot of space and even more money. To create a show like the Weller Brothers Circus requires neither.
To start with, the scene is simple. The Farm and Ranch Club arena is essentially a very basic building with a dirt floor and one side open to the elements (see diagram). It is most often used for livestock shows. A couple of Pikestuff #20 Tri-Star Industries kits spliced together back-to-front and some I-beams from Plastruct or Evergreen styrene will reproduce it very nicely. Use real dirt or light-colored ground foam to simulate the dirt floor. Build the bleachers from strip styrene or scale lumber from Kappler or Northeastern.
The ring used by the Weller Brothers is about thirty feet in diameter and about a foot high. In 1:87 scale, that works out to about 4-1/8" by 1/8". You can make it out of styrene or you can look at the cheap plastic bracelets for one that looks right.
The concession stand at the Weller Brothers Circus was just an open box with a serving area and some shelves. You can buy concession stand kits from Walthers that will do just as well.
The curtain was suspended from a bar hung from the arena roof supports. A brass or styrene rod and some tissue paper soaked in diluted white glue will give you a curtain that drapes nicely. The curtain was tall enough to hide a truck (14-15') and was about forty feet wide.
Preiser makes all the figures you could need. Clowns and other circus performers are available pre-painted, as are several different animals. Don't go too big: an elephant is too much for the Weller Brothers Circus. For the audience, I would recommend buying a set of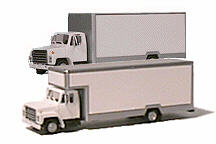 Preiser unpainted figures. They're a lot less expensive and easy to paint (see "Cheap People" February 1, 2002).
Several RVs and travel trailers were hidden behind the curtain. More vehicles were parked outside. One RV, used as a dressing room, was parked immediately behind the curtain's opening. Two straight trucks with dry van bodies were also in the circus' fleet.
The trucks are easy. You can use Promotex's International straight trucks just as they come from the box.
The ones used by the Weller Brothers Circus were white and had no graphics. The part number for the moving van version is 006226; for the straight van, it's 006206.
Unfortunately, I haven't been able to find any large travel trailers in 1:87 scale. Winnebagos are also in short supply. Wiking does have a Dethleffs 530 travel trailer, model no. 092-01, but it is a bit on the small side. The travel trailers I saw at the circus were longer 2-axle versions. These generally run anywhere from 24' to 30'. Kibri offers a larger trailer as kit no. 10934, but it still isn't quite right. The options are to use one of these or scratchbuild your own from Evergreen Styrene scribed siding. Since it is basically a box, it is not terribly hard to make and you can use an undercarriage and drawbar from one of the small trailers made by Herpa or Busch. Personally, I would go with the Wiking or scratchbuild.
Rietze offers a model of a Hymer motor home. It's model No. 10070.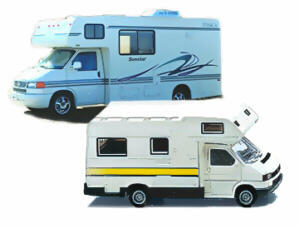 Rietze does not export to the U.S., but Noch, which does export to the U.S., includes the Hymer model in its mini-scene 11881. Walthers and E-R Models both import Noch and you may be able to find one of these sets in your local hobby shop. You will probably want to repaint the factory version (top in picture) with the beige more common on American RVs (bottom). You will also want to change the wheels: Winnebagos are built on truck chassis and have dual rear wheels.
When it comes to smaller RVs, you are in luck. Promotex offers a camper version of the VW Eurovan as a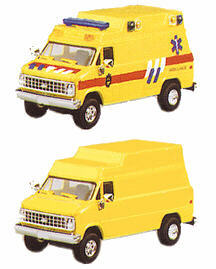 "California Coach." It's model 006266. There is also a small RV on a VW T4 chassis. It is Wiking No.268-01 and is actually a Karmann body, but as you can see from the picture, it also works pretty well as an Itasca SunStar. Winnebago makes a similar version.
I also toyed around with a Trident No. 90098, a Chevy Van ambulance. After a bit of modification, it looks like one of the aftermarket camper van conversions offered in the U.S. You'll need to fill the holes for the warning lights and do a bit of sanding, but it's not too hard. Strip the paint with Poly S Easy-Lift-Off and re-paint in another color. The high roof is an add-on piece, so it can be transferred to a passenger van and be even more convincing.
As I mentioned earlier, the Weller Brothers Circus trucks didn't have any graphics, but you needn't let that stop you. Decals can be made right on your computer. Even a carefully trimmed self-adhesive label would work just fine. Use your imagination and have some fun. With a bit of easy kitbashing and some imagination, you can have your own dog and pony show.
See you next time!
- Bill Cawthon
Bill Cawthon is an award-winning modeller and collector. His primary modeling interests are model railroading and vehicle models in 1:87 and 1:160 scales. He has written numerous articles for regional and division NMRA publications and is a contributor to the newsletter of the 1-87 Vehicle Club. He follows both the automobile industry and the European scale vehicle industry.
In real life, Bill is a full-time marketing and public relations consultant for the high-tech industry. He lives in Houston, Texas with his wife and four children.
Bill writes bi-weekly for Promotex Online. To learn more about him, click here.