Monster Truck
September 15, 2004, by Bill Cawthon
Americans love big trucks, especially the big pickups that are almost totally unique to North America. As of the end of August, buyers in the U.S. had bought 1,614,545 full-size pickups from Dodge, Ford, GM, Nissan and Toyota. That's one of every seven light vehicles sold in the United States so far this year.
While they are popular just about everywhere, Texas is the undisputed pickup capital of the United States, accounting for about fourteen percent of all pickups sold.
That's why it is appropriate that International Truck and Engine Corporation chose Garland, Texas, a suburb of Dallas, as the production location for the biggest American pickup, the International CXT, which will be officially unveiled on September 16, 2004.
"CXT" stands for "Commercial Extreme Truck" and it was developed by grafting a pickup bed onto an International 7300-Series 4X4 severe-service truck frame.
International claims the CXT is the world's largest production pickup, but I believe that honor still belongs to the Unimog, which beats it in every measurement except overall length. Of course, DaimlerChrysler quickly backpedaled from their original claims for the Unimog as a private sport-utility vehicle when environmentalists raised a ruckus, but International has no such hesitation, so I guess we should give them a pass on this one.
"International built the CXT to make a bold statement," according to Rob Swim, director of International's vehicle center marketing strategy. "While we have been building trucks for more than 100 years, International is a company focused on bold growth. The International CXT tangibly demonstrates our brand's evolution by bringing customers an unmatched innovation that can drive success - on the road and in their business."
The CXT will certainly make a bold statement. The nation's baddest all-wheel-drive dually is over twenty-one feet long and a shade over nine feet tall. It's almost five feet from the ground to the floor of the pickup bed and forget about loading from the side unless you play in the NBA. Needless to say, it won't fit in the average residential garage. In fact, it might have trouble fitting in the average residential driveway.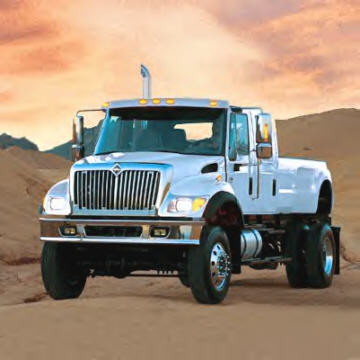 The International CXT: America's most outrageous production pickup. Image courtesy of International Truck & Engine Corporation.
The CXT dwarfs not just the new Hummer H2 pickup, but the larger Hummer H1. Nick Matich, an International vice president, claims you could put the H2 pickup in the back of the CXT and take it with you. While you might have trouble fitting the smaller Hummer into the eight-foot pickup bed, the CXT would have no trouble toting it around: the giant International pickup has a payload capacity of 12,000 pounds and a gross vehicle weight rating (GVWR) of just under 26,000 pounds. That's thirteen tons of major pick-em-up.
Power comes from a 7.6-liter turbocharged International DT466 diesel engine, which cranks out 215 horsepower at 2300 rpm and 540 foot-pounds of torque at 1400 rpm. The CXT's five-speed Allison 2500 automatic transmission makes it easy for the nervous drivers who might be concerned about such trucky worries as shifting gears or selecting ranges to make the transition. International says CXT owners won't even have to worry about obtaining a commercial operator's license, although they note this may not be true in all states. Now all they have to worry about is driving a bigger vehicle than most new owners will have ever driven in their lives. Fortunately, the truck has a maximum speed of about eighty miles per hour, meaning there is some limit to the trouble they can get into. At least stopping won't be a problem; the CXT comes with a standard Bendix ABS air brake system.
CXT owners will travel in comfort and style. The four-door, six-passenger crew cab has its own air suspension system and air-conditioning, power windows and a nice Panasonic sound system with CD changer are standard, as are nice extra touches like door-mounted arm rests for driver and passenger and a cigar lighter. If that's not enough, the truck can be outfitted with a variety of luxuries like a leather interior with wood grain trim, reclining captain chairs, a drop-down DVD player, XM satellite radio system and even a bench seat that can be folded down into a bed. A worthwhile option is the rear-mounted camera to help when backing up. Handy, considering your line-of-sight over the tailgate is probably in the next county.
While loading things into the pickup bed may present some difficulties to the vertically-challenged, emptying it is a snap, as long as the optional tilting bed has been checked off on the options list. Considering the CXT is really a gussied-up construction dump truck, I guess this the availability of this particular extra feature isn't really surprising. The twin tow hooks in the standard full-width chrome bumper are another clue to the CXT's heritage.
Hard-core truckers will also enjoy the vertical stack mounted on the passenger's side between the cab and pickup body, as well as the genuine air horn mounted behind the bumper. The CXT also comes with ten-stud 22.5-inch polished aluminum wheels.
With an optional hitch, International says CXT owners will be able to tow all sorts of things, such as boats, cattle trailers and small houses. The company claims this mother of all pickups can also be used for more mundane tasks like construction, lawn care, auto repair or commercial boat hauling.
Hmmm… the company that takes care of our lawn has an old Nissan compact pickup and a small trailer and, while I know skilled tradesmen can make a very good living, I am not sure if it extends to the CXT's range.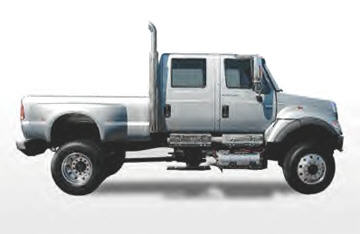 This side shot gives you a good idea of the climb required to reach the CXT's cab. Image courtesy of International Truck & Engine Corporation.
That range starts at about $93,000 and proceeds upwards to about $115,000 for a fully "pimped" version. International figures an average price will be about $105,000. That's Hummer H1 and Unimog territory. There's also a small matter of fuel. Fortunately, the CXT runs on diesel, which is relatively cheap here in Texas. This is a major plus, because International's mileage estimates indicate you'll soon be on your ExxonMobil retailer's Christmas card list. The CXT will get between six and ten miles per gallon, meaning you'll be filling the seventy-gallon tank a lot if the CXT becomes your daily driver. Of course, if you can afford the truck, the fuel probably won't be a problem.
The CXT story began with a single show truck. International dealers fell in love with it and asked the company to produce more. Dealers have already bought the first couple dozen to use as promotional vehicles. International decided there was a small market for the truck and geared up to produce them in the Garland plant. Initial production calls for just sixty trucks in the first year, but International says it can produce thousands if sales justify a ramp-up to full production. There's no real development expense involved as the CXT is built up from existing components already in the International parts bin, plus a modified Ford Super Duty pickup bed.
So who does International see as being potential customers for this paragon of conspicuous consumption? Well, the opening lines of International's press release gives us some clues, "What hauls six tons, can seat a football team's offensive line and, for kids over 20 who miss playing with trucks in the sandbox, is the ultimate toy for extreme work and play?"
The prime target group is people for whom price is no object and who have found the Hummer just doesn't do it for them anymore. It's the ultimate big truck to satisfy a big ego. It's also very likely most CXT customers will be business owners eager to take advantage of the IRS's generous deduction for large trucks purchased for "business use" (wink, wink).
International thinks the CXT also will be popular with hunters and fishermen. A camouflage version is in the works with an eye toward sales to lodge operators. Of course, the CXT is so tall; it could serve as a very plush deer stand.
I would bet a bunch of prospects will be found right here in Texas, where the biggest and most expensive pickups are as much of a status symbol as a Rolls-Royce. I can just see one pulling a huge smoker to a chili cook-off or barbecue contest. Bob Day, Garland's mayor probably put it best when he said, "The International CXT brings new meaning to 'everything is big in Texas.'"
I would not be surprised to see the CXT cause a fresh storm of controversy. Once they hear about it, every environmental group from the Sierra Club to Save the Mongolian Newts will be up in arms, facing off against what will be a very small group of people who are taking advantage of the chance to own the major-league truck they have always wanted, but could never justify.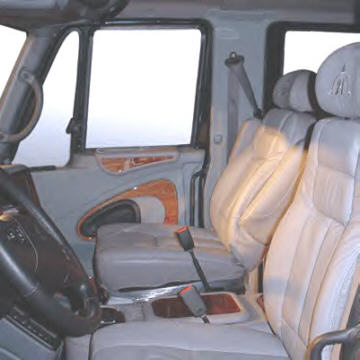 Definitely not your average dump truck interior. International offers a variety of options, allowing the customer to build a custom truck that meets their needs and wants. Image courtesy of International Truck & Engine Corporation.
Perhaps as a counterpoint to the fleet of Toyota Prius hybrid sedans furnished for the recent Academy Award ceremonies, International will have a pair of CXTs at the 56th Annual Primetime Emmy Awards at Los Angeles' Shrine Auditorium on September 19. Since they should be taller than anything except the buildings, they'll be hard to miss. If you want to learn more about the CXT, visit the International website. There's a downloadable brochure and complete specifications and, if you're so inclined; a list of dealers.
There aren't any models of the CXT, though it should be possible to kitbash one from some existing Boley and Trident models. However, there are a few of the out-of-production Roco/Promotex Hummers over at 87rare.com. If you missed out on those, your might want to click on the link.
Truck tool boxes are amongst the more popular truck accessories, though not featured on this model.
If a brand-new model every day is a concept that appeals to you, let me remind you once again to get your order into Promotex for the 2004 Herpa Advent Calendar. From December first to Christmas Eve, there's a new 1:87 scale car behind each of the twenty-four doors. Herpa is still showing the Calendar to be available, but that could change as we get closer to the holidays. While the four-model packages Herpa tried in 2002 and 2003 weren't as successful as Herpa had hoped, the traditional 24-model calendars have always sold out long before the fourth Sunday before Christmas.
See you next time!
- Bill Cawthon
Bill Cawthon is a modeler and collector. His primary hobby interests are vehicle models in 1:87 and 1:160 scales and model railroading. He is senior editor of Route 1-87, the magazine of the 1/87 Vehicle Club, and a columnist and product reviewer for Model Railroad News. He is one of the creators of the award-winning "Grimy Gulch" model railroad layout.
In real life, Bill is a marketing and public relations consultant for MARK III Systems, a successful information technology company. He also writes for just-auto.com, an international auto industry publication, reporting on the U.S. light vehicle industry.
He lives in Houston, Texas with his wife, Marge, and their children.
Bill's columns appear twice monthly on Promotex Online. To learn more about him, click here.