A Century of Tradition
September 1, 2004, by Bill Cawthon
Last May 13, Audi AG helped kick off a very special celebration in Zwickau, Germany: 100 years of automobile tradition in the Free State of Saxony ("Sachsen" in German). From the days of the Kaisers, through the Weimar Republic, the rise and fall of the Third Reich, years of Communist rule, and now as part of the reunified German Federal Republic, Saxony has played an important role in automotive history.
Just over three months later, on August 15, 2004, hundreds of the world's most valuable classic cars were gathered on California's Monterey Peninsula. That was the date of the fifty-fourth annual Pebble Beach Concours d'Elegance, America's most famous classic car show. Thousands of spectators descended on the Lodge at Pebble Beach to see some of automotive history's most fabulous cars compete for prizes in twenty-seven different classes. Among the entrants was a sleekly streamlined 1938 Horch 835A with an Erdmann and Rossi sports cabriolet body owned by Joseph C. Cassini III, a judge from West Orange, New Jersey. At the end of the day, Judge Cassini's beautiful silver coupe had beaten more than two hundred competitors from thirty states and fourteen different countries to win the coveted "Best of Show" award.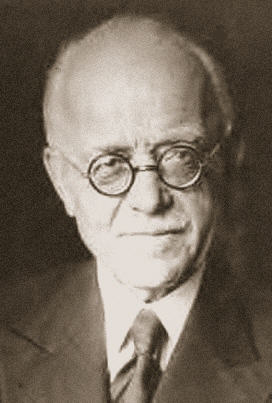 August Horch, founder of Horch and Audi. Image courtesy of the German Historical Museum. Copyright 2004 Deutschen Historischen Museums.
These two very different events, thousands of miles apart, have an interesting connection. The centennial celebration in Zwickau commemorates the opening of Horch AG, Saxony's first automobile company and the manufacturer of one of prewar Germany's most prestigious nameplates.
August Horch (pronounced with the hard German "ch") was born on October 12, 1868 in Winningen, a small town on the Mosel River in southwest Germany. His father, Karl, was a blacksmith and vintner. After attending public schools, Horch passed his vocational test as a blacksmith and began to travel. From 1884 to 1887, he worked in Germany, Austria, Serbia and Bulgaria before returning to Germany to continue his education at a technical school in Mittweida in Saxony and graduated as an engineer in 1890.
Horch's migration to eastern Germany is not surprising. The industrialization of Germany began in Saxony. The city of Chemnitz, in southern Saxony, not far from the German border with the Czech Republic, was known as the "Manchester of Germany" and was the center of the country's locomotive manufacturing.
Following five years in working in the shipbuilding industry, Horch got his introduction to automobile manufacturing in October of 1896, when Karl Benz hired him as the plant manager for his Mannheim works. Now well-situated, Horch married Anna Schulz in Leipzig a year later.
After three years with Benz, August Horch decided to strike out on his own. In November 1899, with a capital of 30,000 marks, Horch and a partner opened August Horch & Company in Cologne. The new firm was both a repair shop and the birthplace of a new brand of passenger car.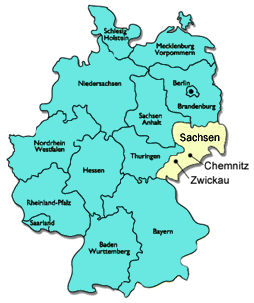 Chemnitz and Zwickau are cities in the Free State of Saxony. From the end of World War II until the reunification of Germany, Saxony was part of the German Democratic Republic.
Horch's first car appeared in 1901. It was an open-body design with lighting provided by lanterns with candles in them. In contrast with the powerful cars of later years, the first Horch could barely reach 32 km/h (that's a bit less than 20 mph). It was significant in that it used a friction clutch and drive shaft to deliver power to the driving wheels.
By 1903, Horch had built a car with a four-cylinder engine. In March of the following year, he introduced his new car at the Frankfurt Fair.
As was true of so many of the early automakers, the Horch enterprise had financial problems. In 1902, Horch was forced to seek new partners. Again in 1904, finances meant Horch had to reorganize his company; this time into a joint-stock enterprise. August Horch & Company became Horch Aktiengesellschaft, or Horch AG. On May 10, 1904, he moved the new corporation to Zwickau, a city to the southwest of Chemnitz.
The first six-cylinder Horch appeared in 1907. Horch cars were gaining a reputation for more advanced engineering than the competing products from Mercedes and Benz (the two companies did not merge until the 1920s).
While the cars were winning fans, there were still problems within the company. Financial troubles and a series of disputes led to the stockholders forcing Horch out of his company in 1909.
Undeterred, Horch formed another company the following year and called it August Horch Automobil-Werke AG. Unfortunately, the owners of his original company sued and Horch lost the rights to the Horch brand.
Horch needed a new name for his new company. There are several accounts of what happened, but my favorite story says a friend's son, who had studied classic languages, suggested the Latin version of "horch," which is German for the imperative form of "listen" (as in "Listen to me."). So August Horch named his new company Audi Automobilwerke GmbH.
By 1914, Horch's new cars were racing and winning, but with the outbreak of the First World War, Horch's factory was shifted to producing armored vehicles for the German Army.
After the Armistice in 1918, Horch returned to automobile production, but his time with Audi was coming to an end. In 1920, he resigned his position at Audi to take a position as an industry representative for the German motor vehicle industry federation. A year later, he became the head of the German government's foreign trade office for motor vehicles, which governed the import and export of cars and trucks.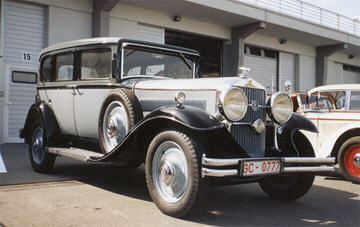 A classic Horch sedan from the marque's golden years. Photo by Ray Kippig.
In 1922, Horch was honored by the technical university of Braunschweig with an honorary doctorate.
Beginning in 1925, Horch returned to the auto industry. He spent the next four years as a consultant working with manufacturers on the damage caused by traffic accidents.
In 1928, August and Anna Horch legally adopted two children who had been living with them since the end of World War I. The same year, the majority ownership of Audi, which was in dire straits, was taken over by Jørgen Skafte Rasmussen, founder of DKW, who needed production facilities for his new car.
From 1929 to 1931, Horch, who was now in his sixties, tried his hand at chicken farming but, to put it mildly, the venture didn't work out. Things got bad enough that the Horch family had to sell their home in Berlin.
The Horchs weren't alone; during the worldwide depression, German automakers were struggling, too. The State Bank of Saxony, which provided financing to both Horch and Rasmussen, decided to consolidate its holdings under Zschopauer Moterenwerke J. S. Rasmussen AG. Horch AG was absorbed into the new company and the bank arranged for the new company to acquire Wanderer's automobile business. Audi, DKW, Horch and Wanderer became Auto-Union Sächsischer Motorfahrzeugfabriken (Auto-Union of Saxonian Motor Vehicle Builders), better-known as Auto Union. The new company's logo was the familiar four interlocked rings that adorn every modern Audi.
While the factories remained where they were, the headquarters of the new Auto Union was moved to Chemnitz. Horch was brought back from his semi-retirement to serve on the company's supervisory board.
This was a bright period for Saxony and its automakers. Saxony was considered the technology center of Central Europe. As more Germans became able to afford automobiles, Auto Union quadrupled in size between 1932 and 1938. Horch became a rival to Mercedes and Maybach in the production of premium cars, controlling more than half the market for cars with engines over four liters displacement in 1937. The DKW Front became Germany's most popular car. It was in this period that Judge Cassini's prize-winning Horch coupe was built, designed by Fritz Fiedler, who went on to design the legendary prewar BMW 328.
Auto Union was a power on the racing circuit, as well. The Porsche-designed Auto-Union race cars set three world records with Hans Stuck at the wheel and helped Bernd Rosemeyer become a national hero. The legendary driver Tazio Nuvolari was the last to drive an Auto Union car to victory, winning a race in Belgrade on September 3, 1939.
In 1937, Horch published his autobiography, Ich Baute Autos (I Built Cars). Shortly before the beginning of World War II, he was made an honorary citizen of Zwickau.
As happened in the First World War, civilian automobile production largely came to an end in 1939. The factories were given over to the production of war materiel.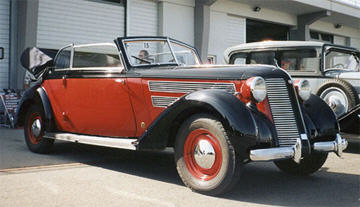 A sleek Audi convertible from the 1930s. Photo by Ray Kippig.
By this time, August Horch was over seventy, far too old to play any role in the war. Little is known about him during the war years, except that he left Saxony, along with some of Auto Union's other directors, before the partitioning of Germany. Horch did not move very far; apparently settling in the Hof region of Bavaria, just across the "state line" from Saxony. But that was far enough to escape the fate of Heinrich Schluh, Audi's works manager, who was charged with war crimes and executed by the Soviets.
In 1946, Anna Horch died. The couple had been married almost fifty years. Two years later, August Horch met and married Else Kolmar.
In 1949, Winningen, the city of Horch's birth, made him an honored citizen. Today, one of the city's main avenues bears his name.
On February 3, 1951, August Horch died in Münchberg, a small town in northeastern Bavaria. He was eighty-two years old. He had outlived the first of the automotive brands he had created and did not live long enough to see the rebirth of the second in 1965.
In 2000, Horch was inducted into the Automotive Hall of Fame. He is also among this year's inductees into the European Automotive Hall of Fame.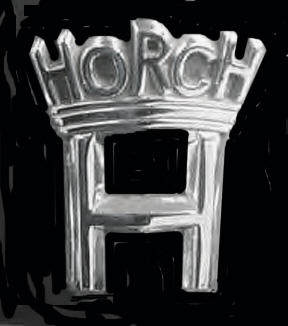 The Horch logo.
On September 11, the newly redesigned August Horch Museum will reopen in Zwickau. It will showcase the many different cars, including Audi, DKW, Horch, Trabant, Volkswagen and Wanderer, built in the Zwickau-Chemnitz area over the past century. Audi AG has several special events planned for the weekend and modelmaker Busch will host its first-ever open house at its production facility in Schönheide, which is about 30 km from Zwickau. If you have a chance to be in the northern Bavaria-southern Saxony area at that time, stay over for a very memorable weekend.
Incidentally, you shouldn't get the impression that auto manufacturing is only history in Saxony. The Porsche Cayenne is built in a new plant in Leipzig and Volkswagen built a state-of-the-art facility in Dresden for its ultra-luxury Phaeton. The Chemnitz-Zwickau region still is home to a Volkswagen assembly plant in Mosel, near Zwickau, and there is a Volkswagen engine plant in Chemnitz. Sachsenring-Automobiltechnik in Zwickau builds vehicles and vehicle components for several major automakers. There are also a number of automobile suppliers in the region.
Ready-to-run models of classic Audis and Horches are not that common. Wiking discontinued their model of the Horch 850 sedan last year and dropped their model of the Audi Front in 2002, though you may still find some of them at hobby shops and distributors. Busch makes a nice model of a Horch 853 convertible, another Fritz Fiedler design and considered one of the most beautiful Horch automobiles ever built.
However, there are models of other cars from Zwickau. Promotex has Herpa's models of the Trabant, which was produced in the former Horch works. For something more modern, try the Golf models. The Golf is one of the cars built in the Mosel plant.
I want to express my appreciation to my friend Ray Kippig, who supplied some of the photos and a lot of the inspiration for this column. Ray lives in Chemnitz and has been very helpful with information about the region and its history. Ray has helped out on a few of my columns, including the very first one, written back in the spring of 2001. You'll see more of Ray's photos in a future column on one of the other the Auto Union brands, the Wanderer.
See you next time!
- Bill Cawthon
Bill Cawthon is a modeler and collector. His primary hobby interests are vehicle models in 1:87 and 1:160 scales and model railroading. He is senior editor of Route 1-87, the magazine of the 1/87 Vehicle Club, and a columnist and product reviewer for Model Railroad News. He is one of the creators of the award-winning "Grimy Gulch" model railroad layout.
In real life, Bill is a marketing and public relations consultant for MARK III Systems, a successful information technology company. He also writes for just-auto.com, an international auto industry publication, reporting on the U.S. light vehicle industry.
He lives in Houston, Texas with his wife, Marge, and their children.
Bill's columns appear twice monthly on Promotex Online. To learn more about him, click here.