Oldsmobile 1897-2004
May 1, 2004, by Bill Cawthon
Last Thursday morning, an Alero sedan moved down the line at General Motors' Lansing Car Assembly Plant, one of a special run of five hundred cars. Like the 499 before it, it was painted a dark, cherry-red metallic and wore special badging and a numbered medallion. Unlike the others, though, there would not be another following it. This was the last Oldsmobile.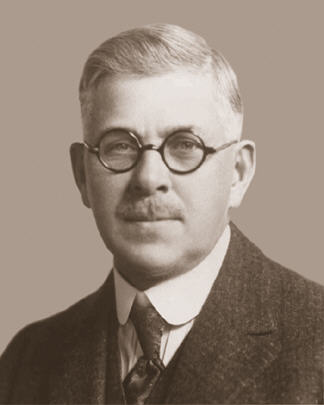 Ransom Eli Olds (1864-1950) created two car lines, both of which outlived him, and invented the power lawn mower. Image courtesy of General Motors Media.
The Oldsmobile story began on June 3, 1864, when Ransom Eli Olds was born in Geneva, Ohio. He was the second of two children born to Pliny Fisk Olds and Sarah Whipple Olds. Like the fathers of many of the pioneers of the American auto industry, Pliny Olds was a blacksmith who ran a machine shop.
In 1880, the Olds family moved to Lansing, Michigan, where the elder Olds opened the Olds & Son machine shop in partnership with Ransom's older brother, Wallace. In 1885, Ransom bought out his brother's share of the business for $1000. The younger Olds brother was fascinated by technology, especially the steam engine, and worked to make it better. Within six years, the Olds firm sold two thousand steam engines based on Ransom's designs.
Olds was also interested in new modes of transportation. In 1887, he built a three-wheeled, steam-powered car that he drove for one block. Further development was put on hold while Olds dealt with business matters and courted Metta Ursula Woodward, whom he married on June 5, 1889.
In 1891, he once again turned his attention to the automobile. Working at the machine shop by day, he used his spare time to work on new ideas. He tried steam and electricity, but soon became convinced the new gasoline-powered, internal combustion engine was the way to go. In 1890, Ransom Olds opened his own company, the Olds Gasoline Engine Works. Continued experimentation ultimately produced a four-passenger car capable of hitting 18 miles per hour on level ground. The car was completed in December 1895, but was not tested until the spring of 1896; the same year Ransom Olds received a patent for his gasoline engine.
In 1897, Pliny Olds retired. On August 21 of the same year, backed by a group of investors led by Samuel Smith, a Detroit businessman, Ransom E. Olds created the Olds Motor Works in Lansing. Though the new business was formed in Lansing, Smith wanted to have production in his hometown, so construction began on a new factory at 1330 Jefferson Avenue, making the new company the first auto manufacturer in Detroit.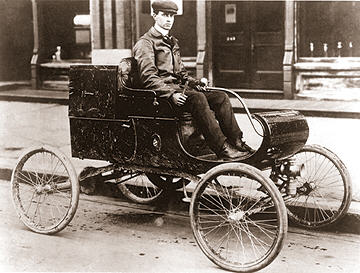 This 1901 Curved-Dash Runabout was the original "Merry Oldsmobile" Image courtesy of General Motors Media.
While the new facility was under construction, Olds and his team developed eleven new cars. These pilot models covered quite a range. Some were gas-powered; some were electric. There were large, expensive cars that Smith favored and a small, tiller-steered, two-seat runabout with a four horsepower, single-cylinder, rear-mounted engine. This was Olds' vision of the future: a small, inexpensive car for large-scale production. Remember, this is eight years before Henry Ford introduced his Model T.
The plant opened in 1900 and the first automobile to carry the Oldsmobile brand made its public debut on November 3. The name was the result of a "Name The Car" contest won by Olds' timekeeper. Gasoline-powered, it sold for $1,250.
Olds and Smith hoped to sell 400 of the new cars in the first year, but disaster struck in March 1901 when a fire destroyed much of the new factory. The only car to escape the flames was the little curved-dash runabout. This car became the 1901 Oldsmobile. Olds decided to proceed with the single model and rebuilt as much of the factory as he could as quickly as possible.
The fire had one positive effect; it was great publicity for the new car company. Inquiries and orders began to arrive, even before the plant was ready to resume production.
With the automotive state-of-the-art still in its infancy, many manufacturers demonstrated the reliability of their products with long road tests. On October 29, 1901, Roy Chapin (who would later head Hudson) left Detroit for a trip to the Big Apple. Olds had commissioned Chapin to drive the Runabout to the New York Auto Show. Driving east through Canada and Niagara Falls, he covered 278 miles in two days, an amazing feat for the day. On the third day of the trip, heavy rains made the upstate New York roads impassable, so Chapin risked jail to use the roads used by mules towing barges along the Erie Canal. After a mishap just blocks from his destination, Chapin arrived at the Waldorf-Astoria, where Olds was waiting for him. Unfortunately, the doorman would not let Chapin in and made him use the tradesman's entrance.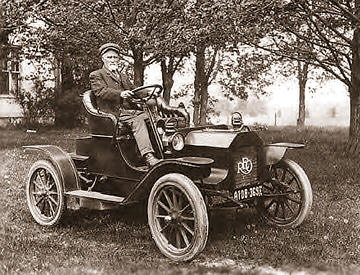 Pliny Olds, Ransom Olds' father, at the wheel of a 1904 REO car. Original photo on exhibit at the Smithsonian Institution.
Chapin had made the longest journey by car in North American history at that time and his journey created even more interest in the new Oldsmobile, including an order for the first mail trucks from the U.S. Post Office. Soon, Olds had so many orders; he contracted the Leland and Faulconer Machine Works to produce the engines, the first major outsourcing contract in automotive history. This was later augmented with an order to the Dodge Brothers for transmissions and more engines. Olds announced he would sell 4,000 cars a year, a quantity equal to the entire annual American automotive output at the time.
Four hundred twenty-five Oldsmobiles were sold the first year. The next year, the total rose to 3,299. Oldsmobile had become the first to mass-produce cars in America. Olds hit the magic 4,000 figure in 1904 and was America's largest car manufacturer. The Oldsmobile sold for $650 and was touted as being cheaper and more dependable than a horse. By 1907, the last year of production, Oldsmobile had sold about 11,000 of the curved-dash model. But by then, Oldsmobile had left Detroit.
In 1902, spotting what they hoped would be a winner for the city, the Lansing Businessmen's Association offered Olds the old Central Michigan Fairgrounds for a new factory if he would return to the city. Oldsmobile returned and became an integral part of the city for the next 102 years.
Though Oldsmobile never left Lansing again, Ransom Olds left Oldsmobile just two years after the return to Michigan's capital city. Samuel Smith had turned his interest in the company over to his sons who wanted Oldsmobile to go back to producing upscale expensive cars. Olds, firmly believing in his vision, decided to leave the company in January 1904.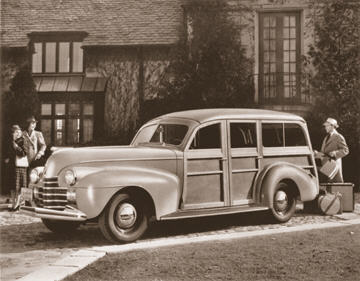 This spiffy 1940 Oldsmobile "Woody" could be ordered with the first fully automatic transmission offered in a moderately priced car. Image courtesy of General Motors Media.
But Ransom Olds was not through with the auto industry. He formed the REO Motor Car Company of Lansing, Michigan in August and showed the first car from his new company on October 15, 1904. The company began delivering cars in 1905 and by 1906 was outselling the new, larger Oldsmobile and Henry Ford's new line of cars. In 1908, when William Durant was shopping for brands to add to General Motors, one of his first choices was REO (Ford and Maxwell were the others). When he couldn't get REO, he bought Oldsmobile from the Smiths for $3 million.
In 1909, REO branched out into the trucks for which the brand is best remembered today. Ironically, in spite of Olds belief in inexpensive cars, REO became a mid-market brand, similar to what happened to Oldsmobile. REO cars remained successful until the Depression, when declining sales lead to the company's exit from the passenger car market. The company kept its truck line until White acquired it in 1957. Renamed Diamond REO, the name remained in use until 1974. Its modern-day descendent is Volvo Truck. In yet one more example of auto industry irony, Volvo also bought GM's heavy truck operation, so in a way, the brands were reunited, though in a way either Olds or Durant could have imagined.
Olds retired from REO in 1923, but he had already really left the auto industry. When there was a slump in sales in 1915, he formed a new company to produce his latest invention, the gas-powered lawn mower. He died in Lansing on August 26, 1950 at the age of eighty-six. Metta Olds, who was just three days younger than her husband, died the same year.
After Ransom Olds left, Oldsmobile introduced a new, larger model with a front-mounted engine and more luxurious appointments. Unfortunately, the sales volume declined and by 1908, the company was a million dollars in debt. Needless to say, Durant's offer was welcome.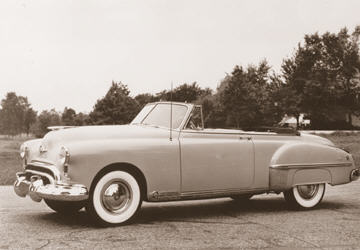 The 1949 Rocket 88 with "Futuramic" styling offered the first high-compression V8 engine. Image courtesy of General Motors Media.
Durant put William Mead in charge of Oldsmobile and the company was soon thriving again. In 1917, Oldsmobile sold 21,800 cars and was one of the top ten brands. Durant positioned it as a sporty marque and one of the engines offered was an L-head V8. Oldsmobile also became GM's "experimental" line, the first to offer new features like chrome-plating, which appeared on the 1926 Olds radiator, and hydraulic brakes, which debuted in 1934.
In 1940, Oldsmobile became the first mass-market car to offer a fully automatic transmission, GM's first Hydra-Matic. This became an important feature following World War II, when Oldsmobile became the first brand to offer a vehicle with special features for disabled veterans.
1949 was a banner year for the brand. There was the new "Futuramic" styling and a new logo, the ringed globe, which appeared on Olds' newest model, the Rocket 88. That was also the name given to the engine, the auto industry's first high-compression V8. Instead of putting this 303 CID, 135-horsepower mill into the larger Olds 98, Oldsmobile put it in the smaller 76, creating the first factory muscle car. Pace car for the Indianapolis 500 in 1949 and winner of eight out of ten NASCAR races in 1950, the new Olds was one of the hottest cars going and hugely popular.
In 1955, Olds built the industry's first four-door hardtop. My granddad, a confirmed "Olds man" even though his younger son built Dodges, bought a red and white 1955 Olds with the Rocket 88 engine. It was the last car he ever owned and he loved it. After he died, my grandmother drove it at about 30 miles an hour around the small Northeast Texas town where they lived. In 1967, she traded it in on another Oldsmobile.
As if to put the final stamp on Olds' performance prowess, Richard Petty won the first Daytona 500 in an Oldsmobile in 1959.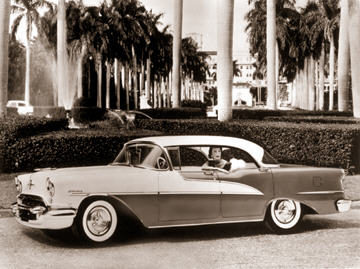 The 1955 Oldsmobile 4-door hardtop was another industry first. My grandfather had one of these in red and white. Image courtesy of General Motors Media.
More firsts followed. If you're my age, you remember the first domed station wagons, the Vista Cruisers of 1964. The first use of front-wheel drive for a modern American car was on the 1966 Toronado. Eight years later, the Toronado sported the industry's first air bags.
In 1961, Oldsmobile introduced the F-85 compact. Almost a third of all the Oldsmobiles ever built were descendants of the F-85, which quickly evolved into the Cutlass. By 1975, it was the division's best-selling model and from 1976 to 1981, it was the best-selling vehicle in America and the last passenger car to claim the title. In 1982, the Ford F-Series pickup took over the top spot, a position it has held ever since. Production of the rear-wheel drive Cutlass ended in 1987. The last car to wear the Cutlass badge was a smaller, front-wheel drive car that left the line on July 2, 1999. It was replaced by the Alero.
Among the most prized Cutlasses are the 442s. Oldsmobile's legendary 442 began in 1964 as the B09 special police package. The numbers signified the car's 4-barrel carburetor, four-speed transmission and dual exhausts. In 1965, a 400 CID V8 engine was added to the 442, giving the Cutlass a 0-60 time of 7.5 seconds and a top speed of 125 mph. Three years later, Olds teamed with Hurst to produce the famous limited-production Hurst/Olds 442 with a 360 horsepower, 455CID Rocket engine that was built from 1968 to 1971. 1971 was the last of the "real" 442s, though it name appeared as a trim and handling package several times until 1990, when it was last used on the Cutlass Calais Quad 442, a front-wheel drive car with a four-cylinder engine.
The popularity of the Cutlass helped drive Oldsmobile to a million sales for the first time in 1978. More than half were Cutlasses. To give you an idea of what that means, the best-selling car in 2003 didn't come anywhere close to a half-million sales. Sales of Oldsmobiles peaked at 1.2 million in 1984, but the glory days were already coming to an end.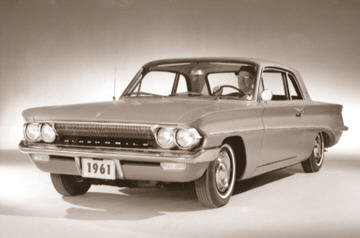 It didn't make a big splash when it was introduced, but the 1961 Oldsmobile F-85 soon became the Cutlass, the most popular Oldsmobile model ever. Image courtesy of General Motors Media.
Part of the blame can be placed directly on General Motors. High-profile flops like the "discount diesels" that debuted on the Oldsmobile in the late 1970s and the public relations disasters surrounding the discovery that GM was installing Chevy engines in Oldsmobiles while promoting an upscale image (and matching prices). At one point, there were over a hundred lawsuits against Oldsmobile and General Motors. Then, of course, there was GM's company-wide indifference to product quality; something GM is still trying to live down.
All of these, combined with the rise of the imports, hurt all of GM's brands, but they proved to be mortal wounds to Oldsmobile.
The final blow came in the late 1980s with era of brand management at GM. Stung by criticism that its cars were simply rebadged versions of each other, corporate demanded that each division create a unique market identity. Pontiac and Buick occupied the niches Oldsmobile had spanned for so many years. By now, Olds sales were well off the pace they had enjoyed just a few years before and lagged both Pontiac and Buick.
Marketing themes like "Not your father's Oldsmobile" didn't work. To too many people, dad's Olds was really a pretty neat car. It wound up turning off loyalists as well as would-be converts.
GM also tried going back to Durant's original idea of Olds being the experimental division. In 1994, Oldsmobile introduced the radical new Aurora. It was such a departure from previous models, it didn't even wear an Oldsmobile badge. There was the new Alero concept car, named as best of show by Autoweek. But it was too late. The Aurora never caught on with buyers and Oldsmobile sales slumped to 304,759 in 1997, the brand's worst year since 1961. Even though Oldsmobile sales improved to 352,197 in 1999, it wasn't enough.
On December 12, 2000, GM president Rick Wagoner announced Oldsmobile would be phased out, citing lagging profitability and uncertain prospects.
The end came on the morning of Thursday, April 28, 2004, when, after producing 35,229,218 cars and trucks over nearly 107 years, America's oldest automotive brand passed into history. The Alero was Oldsmobile's only remaining model. GM stopped building the Bravada SUV and Silhouette minivan earlier this year. The full-size Aurora was discontinued in 2003 and the last Intrigue left the assembly line almost two years ago.
The last Alero, signed by the employees at the Lansing Car Assembly Plant, was quickly transported to the Ransom E. Olds Transportation Museum in downtown Lansing where it will be on display when it is not being used as part of GM's touring fleet.
For all of its popularity, there are relatively few 1/87-scale models of Oldsmobiles. There have been resin models from Al's Favorites, Greg's Garage, Magnuson and Smokey Mountain Classic Castings and Jordan still makes a plastic model of the original curved dash runabout, but nothing in ready-to-run. In fact, Oldsmobile and Saturn are the only GM divisions without representation in this scale. On the other hand, none of them have "In My Merry Oldsmobile," probably the best-known song ever penned about a car. Vincent P. Bryan wrote the racy lyrics to Gus Edwards' music in 1905. If you're not a member of a barbershop quartet or perhaps missed out on the Oldsmobile/Patti Page Show from the late 1950s, here are the words:
Young Johnnie Steele has an Oldsmobile. He loves a dear little girl.
She is the queen of his gas machine. She has his heart in a whirl.
Now when they go for a spin, you know, she tries to learn his auto, so
He lets her steer while he gets her ear, and whispers soft and low;

Come away with me Lucile in my merry Oldsmobile
Down the road of life we'll fly automo-bubbling you and I.
To the church we'll swiftly steal, then our wedding bells will peal,
You can go as far you like with me, In my merry Oldsmobile.

They love to spark in the dark old park, as they go flying along,
She says she knows why his motor goes; his sparker's awfully strong.
Each day they spoon to the engine's tune, their honeymoon will happen soon,
He'll win Lucile with his Oldsmobile and then he'll fondly croon;

Come away with me Lucile in my merry Oldsmobile
Down the road of life we'll fly automo-bubbling you and I.
To the church we'll swiftly steal, then our wedding bells will peal,
You can go as far you like with me, In my merry Oldsmobile.

Patter Chorus:
Come away Lucile 'cause if I may Lucile I want to take you for my bride,
And we'll chug along and always sing a song as down the road of life we fly
Even though my car is old and squeaky now it's better than a horse or train.
When I pull the throttle out and put her into third you think you're in a plane.
To the church we're heading for a quiet wedding then I'll crank her up and take the wheel And away we'll go my honey, they will know my honey that our love is real. You can go as far you like with me, In my merry Oldsmobile,
My merry Oldsmobile.
Automo-bubbling? Oh, well.
See you next time!
- Bill Cawthon
Bill Cawthon is a modeler and collector. His primary hobby interests are vehicle models in 1:87 and 1:160 scales and model railroading. He is senior editor of Route 1-87, the magazine of the 1/87 Vehicle Club, and a columnist and product reviewer for Model Railroad News. He is one of the creators of the award-winning "Grimy Gulch" model railroad layout.
In real life, Bill is a marketing and public relations consultant for MARK III Systems, a successful information technology company. He also writes for just-auto.com, an international auto industry publication, reporting on the U.S. light vehicle industry.
He lives in Houston, Texas with his wife, Marge, and their children.
Bill's columns appear twice monthly on Promotex Online. To learn more about him, click here.