Down to the scale seas
April 1, 2004, by Bill Cawthon
Long before there were toy cars or airplanes, there were toy boats. The earliest scale models of watercraft are lost in history, but there is a time-honored tradition of lovingly crafted replicas that we can still see today. Whether it's the old "ship in a bottle" or a museum-quality man-o-war, there is a captivating magic to ship models.
The idea of building commercial ship models to a standard scale traces its roots back to an Englishman whose life began as the Civil War was ending in the United States. John Frederick Thomas Jane was born in Surrey in 1865. His father was a vicar, but Jane's ancestors included sailors and explorers whose influence clearly shaped the young man's future interests.
As a boy, Fred T. Jane enjoyed having naval battles on the village pond and developed a system of signals later used by the Royal Navy. By the time he had reached his teens, he had begun a book of ship drawings entitled "Ironclads of the World"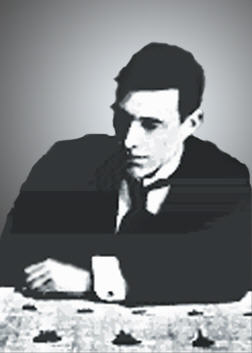 Fred T. Jane shown here with some of his ship models. Image courtesy of Jane's Information Group.
In 1889, Jane received a commission to cover a series of naval war games. He drew almost 100 ships during the inspections and exercises and set the stage for his future career. Nine years later, he published the first edition of his omnibus Jane's All The World's Fighting Ships, which quickly became the authority on ship recognition, establishing a position the Jane's guides have maintained for more than 100 years. It was just six years after the Wright brothers first flew at Kitty Hawk for Jane to add All the World's Airships (Aeroplanes and Dirigibles) to his growing library of references.
Around 1904, Jane developed a set of small wooden ship models for use in a war game he had created. Rather than models of the entire ship, the Jane models only copied the prototype from the waterline up, so they would appear as though they floated on the paper playing board. These were crude models, somewhat smaller that the scale used today, but the were sufficiently successful to shape the hobby as we know it today.
With the outbreak of the First World War, waterline ship models moved from toy to training aid as the world's navies used them for training and planning. Fred T. Jane, who had moved on to other fields, including the company that still bears his name and writing science fiction, died in Southsea, near Portsmouth, in 1916, but others adopted his modeling concepts.
Chief among these companies was Bassett-Lowke, an English company that was already engaged in making large ship models for shipbuilders and shipping companies. Bassett-Lowke standardized on 1:1200 scale (one inch equals 100 feet) when they began making waterline ship models in 1908 and produced thousands of models for the Admiralty in both World Wars and for commercial sale between them and on into the 1950s.
In 1903, a year before Fred Jane introduced his game pieces, a young officer in the Imperial German Navy and his wife had a son. From an early age, Friedrich Pelzer was fascinated by ships and soon displayed a flair for making waterline ship models. By the early 1920s, Pelzer's company, Wiking, was making metal models of warships and merchant vessels in 1:1250-scale. Asked why the change in scale, Pelzer replied "There is a rule of thumb: A 1:1250 model on the table is comparable to a distance of 2000 meters to a standing observer." Another, more likely, reason is that 1:1200 scale does not translate easily into the metric system and 1:1250 was a convenient compromise between the 1:1000 and 1:1500 scales favored by European model fans at that time.
Wiking soon became the world leader in 1:1250-scale waterline ship models. In 1938, the same year they added military vehicles and spent World War II building identification models for the Reich. Following the war, Pelzer rebuilt his company and began producing the plastic vehicle models that Wiking is best known for today. Pelzer began offering ship and aircraft models a few years later, but the car models were more successful and Wiking quit making ships and planes in 1959. Last year, Wiking recreated one of the classic Wiking ship models as part of a set honoring the one-hundredth anniversary of Friedrich Pelzer's birth.
The upheavals in Germany during the mid-1930s led some of Wiking's modelmakers to leave the country, emigrating to the United States and Great Britain, where they formed competing companies, including Comet, TreMo and Authenticast. Many of these companies provided training and identification models to the Allied forces during World War II. Most of these companies disappeared in the 1950s and 1960s, as founders died or firms were sold to new owners with different interests.
In the late 1950s, a couple of new companies were formed, Hansa in Germany and Triang in England. Triang had several product lines, which helped in getting their ship models into distribution including into a small hobby shop in southwestern Connecticut, where I bought a few of the smaller models. I really wanted the larger battleships and aircraft carriers, but they were priced well beyond the means of a 13-year-old boy, so I wound up staying with cars.
The hobby really regained its popularity in the late 1960s with the formation of companies like Mercator and Navis/Neptun, currently the world's largest manufacturer of 1:1250-scale ship models. As with 1:87-scale vehicle models, the hobby is most popular in Germany, but there is a growing number of fans in the United States, as well. Collectors can choose from thousands of different models, ranging from the classics to the most modern ships afloat and from dreadnoughts to luxury liners.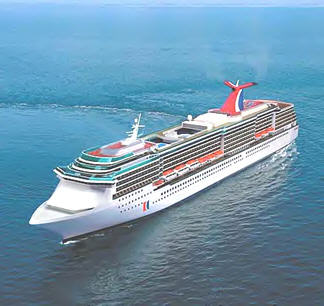 The Carnival Pride is one of four ultra-modern ships built for Carnival by Kvaerner-Masa in Finland. Image courtesy of Carnival Cruise Lines
When Dragon entered the market with the first of its Dragon Waves models, I decided to take a look at one. Remembering the tiny Triang models I had forty years ago, I was stunned when the Carnival Pride docked at my front doorstep. The model is almost 235 millimeters (roughly 9 and one-quarter inches) long. Then I remembered the models I had way back when were based on prototypes that were among the smallest ocean-going vessels. The Carnival Pride, on the other hand, is the very model of modern major cruise liner.
Built by the Kvaerner-Masa Yards in Helsinki, Finland, at a cost of $400 million, the Carnival Pride is 963 feet long with a 106-foot beam and a gross tonnage of 88,500 tons. It has twelve decks. Launched in 2002, it's designed to carry 2,100 passengers in varying degrees of luxury and has a crew of 900. There are four pools, several clubs and restaurants, lounges, exercise facilities, including a jogging track, shops and just about anything else you could imagine in a luxury resort that just happens to float. There's a telephone in every room, along with satellite TV and first-run movies. There's even a chapel.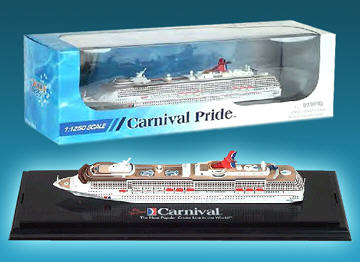 This 1:1250 replica of the Carnival Pride is the second in the new Dragon Waves line of models. Images courtesy of Dragon USA.
Unlike the old steamers, the Carnival Pride uses six Wärtsilä 9L46D diesel engines to drive ABB alternators, which in turn power two ABB Azipod propulsion units capable of driving the ship to a top speed of 22 knots. Instead of the traditional screw (that's what a ship's propeller is called), an Azipod system is a steerable electric drive combining the functions of rudder and screw. The Azipods hang below the ship's hull and can be turned in any direction, allowing for vastly improved steering. In fact, the Carnival Pride can turn in its own length and can go almost equally fast forwards and backwards.
While the fact it's a waterline ship model means we don't get the Azipods, the Dragon model is a very faithful replica of the prototype. All of the ship's exterior details are captured, from the trademark crimson funnel right down to the waterline loading hatches, even the water slide at the rear of the Sky Deck. Dragon did a nice job of simulating the balconies that come with most exterior cabins. Upper deck protective "windshields" are reproduced in a deep amber translucent plastic and the swimming pools are molded in, instead of being printed on the deck. There are davits holding the lifeboats and the ship's complement of water taxis.
The base, with its "Most Popular Cruise Line in the World" slogan, makes me wonder if these were originally promotional models for Carnival. If you would rather display the model on a more "sea-like" base, all that is required is the removal of two screws and the ship will come free. I think I will just display it as is.
The Carnival Pride is actually the second of the Dragon Waves models; the first was the Pride's sister ship, the Carnival Spirit. While there are four ships in the "family," I do hope Dragon will branch out. The detailing is first-rate and the $51.95 price tag is quite reasonable compared to a number of other ship models I found while doing my research.
For more information about history and hobby of 1:1250-scale ship models, I recommend visiting the Steelnavy website. Steve Backer and his team have put together a wealth of information about the models and manufacturers.
See you then!
- Bill Cawthon
Bill Cawthon is a modeler and collector. His primary hobby interests are vehicle models in 1:87 and 1:160 scales and model railroading. He is senior editor of Route 1-87, the magazine of the 1/87 Vehicle Club, and a columnist and product reviewer for Model Railroad News. He is one of the creators of the award-winning "Grimy Gulch" model railroad layout.
In real life, Bill is a marketing and public relations consultant for MARK III Systems, a successful information technology company. He also writes for just-auto.com, an international auto industry publication, reporting on the U.S. light vehicle industry.
He lives in Houston, Texas with his wife, Marge, and their children.
Bill's columns appear twice monthly on Promotex Online. To learn more about him, click here.