Hello and Goodbye
February 15, 2004, by Bill Cawthon
Spielwarenmesse, the International Toy Fair in Nürnberg, Germany, is over and what a show it was. Exhibition space was sold out and a record 78,000-plus visitors attended the five-day event. If that doesn't sound like a lot, remember admission to Spielwarenmesse is limited to members of the toy and hobby trade. Unlike the American hobby shows, there are no public admission days.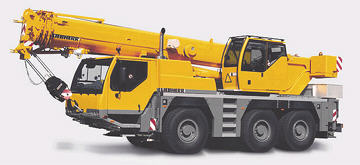 The pre-production model of Herpa's new Liebherr LTP 1045/1 Mobile Crane shown at Spielwarenmesse replicated many of the prototype's functions. Photo courtesy of Herpa.
While we didn't get any totally new American cars, there were a number of great models introduced.
Perhaps one of Herpa's most exciting new products is the No. 150231 Liebherr LTP 1045 mobile crane. Judging by the pictures I have seen, this model will set a new benchmark for ready-to-run plastic construction models. It's due out in April, so you might want to place an advance order now.
Of course, there are a number of new cars models coming soon, including a very nice model of the new BMW 645Ci coupe. The interior detail is outstanding on this model. It will be easier to see on the convertible version due later this year. Another new convertible will be a model of the upcoming Mini droptop.
Wings fans haven't been forgotten. Among the most interesting new items are the Nostalgic Airport sets in 1:500 scale. They are available in 1930s-1940s or 1950s-1960s vintages and include buildings, period accessories and aircraft models. New aircraft in the works include the DeHavilland Comet 4, the first commercial jetliner.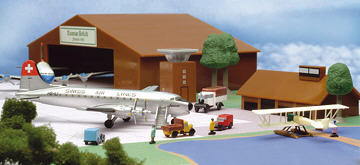 TThis Nostalgic Airport set includes planes, buildings and accessories for the 1930s and 1940s. Photo courtesy of Herpa.
In addition to the models coming in the next few months, there are more projects in the works. We'll see some more new BMWs, like the 5-series wagon, and the new Mercedes-Benz SLK roadster, plus at least one surprise Herpa is holding in reserve.
One of the future model projects I am looking forward to seeing is the radical new Binz A2003 ambulance. Makes you wonder what American professional cars might have looked like if they had evolved over the years instead of being replaced by truck-based ambulances.
A companion to last years big BMW Z4 Playcar is also coming later this year. This time, it's a 1:18-scale Mercedes-Benz SLK Roadster suitable for use with Playmobil figures.
There are some trucks in good-looking new liveries, but the new tooling will appear later this year at the IAA commercial vehicle show in Hannover, Germany.
The one "sort of new" American car comes from Busch. It's a 1964 Ford Mustang hardtop. Busch has had a nice model of the '64 Mustang convertible for some time, but it's nice to have the hardtop, which was actually the more popular model. A red 1964 Mustang hardtop was one of my dream cars when I was a teenager. When the Mustang was introduced in 1964, Ford offered a 1:25 scale model by mail for a dollar. I think every boy I knew had one of those dollar Mustangs. It wasn't too many years later that I was driving a real Mustang, my Dad's 1967, and three years later, I had one of my own, a 1970 fastback. Those were the days.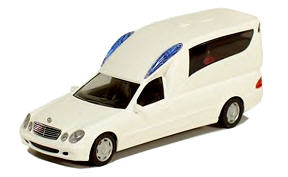 This model of the Binz A2003 is one of Herpa's projects for 2004. Photo courtesy of Herpa.
Busch, which celebrates its tenth anniversary in the scale vehicle model business this year, has some other amazing new models, including a GMC "New Look" bus. This is the classic "fishbowl" bus seen in hundreds of cities from 1959 to modern times. There's also an Airstream trailer, something modelers have wanted in ready-to-run form for years. There's even a Harley chopper. Later in 2004, Busch will produce a model of the new Audi A6 and promises it will knock your socks off.
By the way, speaking of Busch models, their facelifted Smart Fortwo City Coupe will be prototypical for Canadian modelers later this year. The tiny two-seater will be sold through Canadian Mercedes dealers beginning in fall 2004.
Later this year, Brekina will add a station wagon to its Volvo Amazon series. Brekina's new "Top Decoration" models are truly first-rate.
Wiking has coupled its excellent Touareg model to an outstanding scale model of a Performance 806 powerboat. There will also be several new Volkswagens as well as some interesting pieces of construction equipment.
Construction model fans will have a very good year. In addition to the Herpa Liebherr crane, and a special "USA" model of the Liebherr L580 wheel loader, there will be new Caterpillar models from Norscot and Volvo models from Boley.
While it's great to welcome the new models that are on their way, this is also the time of year when we learn which current models won't be coming along. It just isn't possible for a company to keep making every model, so older models, or those that perhaps didn't catch on, are retired. We say "Hello" to some new models and "Goodbye" to others.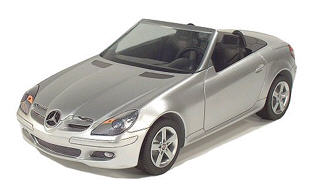 The Mercedes SLK Roadster is the prototype for this year's Playcar, an approximately 1:18 scale model designed for use with Playmobil figures. Photo courtesy of Herpa.
Four years ago, I wrote a small booklet, called Import Cars for American Layouts, with the intention of pointing out the large number of classic and modern import brands that are prototypical for use on North American-themed model railroad layouts. Perhaps I should say, "were." As of today, a fair number of those models are gone.
When I checked today, Herpa listed 207 models that are discontinued but still available and 770 that are sold out at the factory level. Of course, most of these are various versions of a smaller number of models, but there a fair number of brands that are disappearing or are gone altogether. Likewise, seventeen Classic models listed the 1997 Wiking catalog, are missing in the 2004 issue. Entire brands, like Mazda, have disappeared. The number of ready-to-run 1:87-scale Jaguars has gone from six to three and Ferrari, Rolls-Royce and the original Mini are down to a single model apiece.
This year, we're losing the BMW 328 and 507 models, the Jaguar XK120 and the beautiful XK-E Roadster with its opening engine cover. The last Wiking Porsches, a 911 Carrera 4 and the 356 Coupe are also gone along with the last Wiking American car, the 1956-57 Corvette. The Volvo 850 Station Wagon, the only model of a modern Volvo in ready-to-run plastic, is also missing from the new catalog.
Among the models Herpa is retiring is the beautiful Private Collection BMW Z8, possibly one of the finest models Herpa has made. If you check through the listing of Private Collection models in the Promotex Online catalog, you'll see quite a number are discontinued.
The moral here is to pick up the models in which you are interested before they hit the endangered species list. Believe me, not everything on eBay is a bargain.
Another moral is to never write a book that is built around a list of available models. You'll only have to start all over again a few years later. [Sigh.] On the other hand, it does give me material for a few more Oddball's Autos columns this year.
See you next time!
- Bill Cawthon
Bill Cawthon is a modeler and collector. His primary hobby interests are vehicle models in 1:87 and 1:160 scales and model railroading. He is senior editor of Route 1-87, the magazine of the 1/87 Vehicle Club, and a columnist and product reviewer for Model Railroad News. He is one of the creators of the award-winning "Grimy Gulch" model railroad layout.
In real life, Bill is a marketing and public relations consultant for MARK III Systems, a successful information technology company. He also writes for just-auto.com, an international auto industry publication, reporting on the U.S. light vehicle industry.
He lives in Houston, Texas with his wife, Marge, and their children.
Bill's columns appear twice monthly on Promotex Online. To learn more about him, click here.