Superjumbo
February 1, 2004, by Bill Cawthon
This year, components and subassemblies from around the world will be shipped to Toulouse, France, where final assembly will begin on the largest commercial airliner in history. If all goes well the Airbus A380 will make its maiden flight before the end of 2004.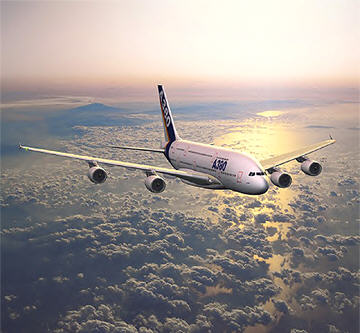 Artist's conception of the A380 in flight. In as little as two years, more than 500 passengers will be able to fly non-stop between most of the world's major cities. CGI by I3m. Copyright © 2004 Airbus S.A.S.
The A380 program was officially launched on December 19, 2000, but the preliminary work began years earlier. Airbus began studying a 500-seat airliner in the early 1990s. The European consortium wanted to build an aircraft that could effectively compete with the Boeing 747 and end the American manufacturer's dominance of the large jetliner market.
In June 1994, Airbus began engineering development work on the A3XX. A number of possible configurations were considered, including a very wide plane with twin tails that would seat 12 passengers abreast. In the end, structural and cost considerations led Airbus to a more conventional-looking plane with multiple passenger decks.
Once Airbus committed itself to the program, the company spent a more than a year constructing facilities and tooling, including the 25-acre final assembly plant in Toulouse, the nearly 7-acre Major Component Assembly plant in Hamburg, Germany, where sections of the fuselage and interior are built, and a 20-acre wing plant in Broughton, Wales. Subassembly production began in January 2002 involving Airbus and supplier plants in Europe, North America and Asia.
After the A380's first flight, which is scheduled for this September, Airbus will begin the testing and certification process, which it hopes to complete in 2005. The A380 would then enter regular service in early 2006.
The plane everyone calls the A380 is officially known as the A380-800; it's the first of a family of aircraft that will be produced through the year 2020. Airbus will also have a freight version, called the A380F and future plans call for both larger and smaller versions.
It's hard to imagine a larger version of the A380: it's huge enough as it is. Its wingspan of 261 feet, 8 inches is more than twice the distance Orville Wright flew the morning of December 17, 1903. It's also over 50 feet wider than the Boeing 747-400ER, the current king of the skies. At 239 feet, 3 inches, the A380 is almost ten feet longer than the 747. From the ground to the top of the tail is 79 feet, 7 inches compared to 63 feet, 8 inches for the Boeing jumbo.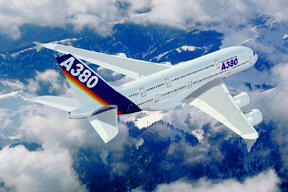 The vertical stabilizer on an A380 is larger than the wing used on Airbus' A320 jetliner. CGI by I3m. Copyright © 2004 Airbus S.A.S.
The A380 is so large its outboard engines hang over the sides of the standard 150-foot wide runway used at most major airports. It fits in a standard airport docking space with just 18 inches to spare. Airbus engineers have been working with airport officials all over the world to determine where it can land.
The A380 is also the heaviest commercial airliner ever to go into production. Fully loaded, the A380 will weigh more than 1.2 million pounds at takeoff. The A380F, the cargo version, with a full 165-ton payload, goes to 1.3 million pounds, more than the combined weight of three SD90MAC-H locomotives, the largest EMD makes. Fortunately, thanks to the A380's 20 landing-gear wheels, it has a lower per-wheel load than a 747.
I remember watching from the end of a runway as an early 747 took off. In spite of all logic, something in me refused to believe anything that big could fly, and I still recall the awe with which I watched it lift off. An A380 weighs 162 tons more than that 747.
All that weight requires some serious power. The A380 will be use either Rolls-Royce Trent 900 engines or the new GP7000-series engine developed by the Engine Alliance, a partnership of General Electric and Pratt & Whitney. These engines each develop up to 76,000 pounds of thrust.
The A380's 9,200-mile range will be 380 miles longer than the 747's. Either plane can fly non-stop from where I live in Houston, Texas, to most major cities in Europe or Asia, but an A380 in single-class, maximum seating configuration could carry 840 passengers on that flight. That's getting into cruise ship territory. And there isn't a cruise ship in the world that can keep up with the A380's nearly 600 mph cruising speed.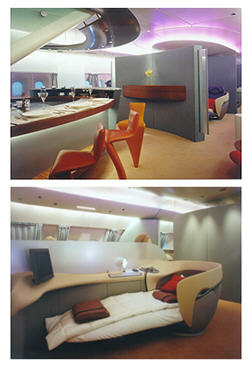 These mockups show some of the possible interior configurations available on the A380. There's even provision for an onboard shop. Image copyright © 2004 Airbus S.A.S.
In practice, the A380 will normally carry 555 passengers in three classes. That compares to 416 for a similarly configured 747-400ER. In the Airbus superjumbo, three full decks will run the length of the plane. The two upper decks will serve as passenger areas, and will be connected by staircases in the front and rear. The lower deck will be normally be used for cargo, but it could be set up for things like sleeping cabins, business centers or even a child care facility.
An unusual feature is the position of the cockpit. By locating it between the two main passenger decks, Airbus engineers gave the flight crew a vantage point similar to other airliners. This not only makes it easier for the pilot to taxi the plane on the ground, it reduces cockpit noise caused by turbulence. Incidentally, there are only two members in the A380's flight crew, pilot and copilot.
Currently, Airbus has orders for more than 120 A380s. Customers for the superjumbo include Air France, Emirates, Federal Express, Korean Air, Lufthansa, Malaysian Airlines, Singapore Airlines, Qatar Airways, Qantas and Virgin Atlantic. Singapore Airlines will get the first A380 when deliveries begin in early 2006.
Prices for the A380 are as large as the aircraft itself. While exact figures are not disclosed, it's estimated that Airbus is asking $250-$300 million per plane.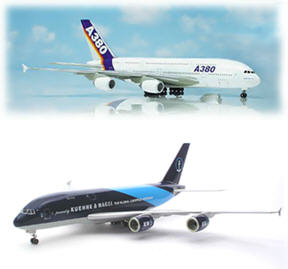 Dragon Wings offers 1:400 scale models of the A380 like the No. 155250 in the upper picture. Herpa's first A380 model is this special edition 1:200 scale Kühne & Nagel freighter. Other Herpa Wings models are promised for the future. Images courtesy of Promotex
Fortunately, Promotex has far more affordable versions that are also much easier to park on your desk or display shelf. Dragon Wings has been making 1:400 scale models of the A380 since 2001. Promotex lists the following models:
155250 Airbus (this one is one of Dragon Wings' first A380 releases. It's discontinued, but Promotex still has some.)
155491 Lufthansa
155518 Malaysia Airlines
155537 Emirates (New release)
Herpa just introduced the first A380 in their Wings line. It's a limited edition Kühne & Nagel A380F in 1:200 scale and it's currently only available through the Herpa eXtra Shop. Herpa says it will have other versions, including a 1:500 scale model, in the future.
In Memoriam
One year ago, the Space Shuttle Columbia and its crew of seven sailed into eternity. Mission Commander Rick Husband, Pilot William McCool, Mission Specialists Michael Anderson, David Brown, Kalpana Chawla, Laurel Clark and Payload Specialist Ilan Ramon were lost as Columbia broke up during re-entry. We now are fairly sure what caused the accident, but no shuttle has flown since then.
It's time to go back to space.
The late Carl Sagan was fond of saying we are star stuff. Deep in our souls, I think we yearn to return to the stars. Certainly we have a deep-seated need to explore. Whether we set our eyes on the Moon, Mars or even farther out, we will never be satisfied until we see the same sights as our robot emissaries.
As we honor the memories of our lost star sailors, we should renew our commitment to the greater mission to which they were dedicated.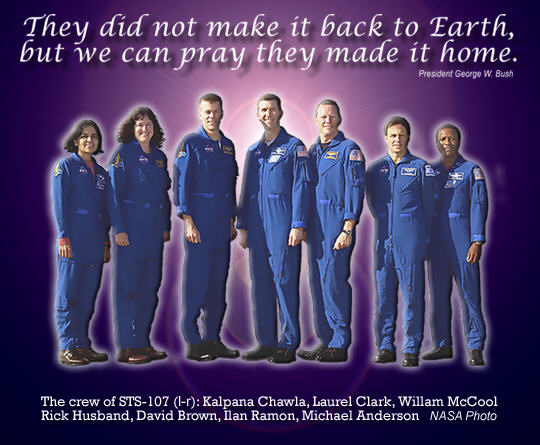 See you next time!
- Bill Cawthon
Bill Cawthon is a modeler and collector. His primary hobby interests are vehicle models in 1:87 and 1:160 scales and model railroading. He is senior editor of Route 1-87, the magazine of the 1/87 Vehicle Club, and a columnist and product reviewer for Model Railroad News. He is one of the creators of the award-winning "Grimy Gulch" model railroad layout.
In real life, Bill is a marketing and public relations consultant for MARK III Systems, a successful information technology company. He also writes for just-auto.com, an international auto industry publication, reporting on the U.S. light vehicle industry.
He lives in Houston, Texas with his wife, Marge, and their children.
Bill's columns appear twice monthly on Promotex Online. To learn more about him, click here.