Best Sellers of 2003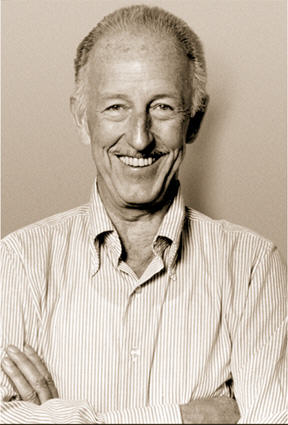 Albrecht von Goertz celebrated his 90th birthday on January 12, 2004. A talented designer, Goertz is best known for his designs for BMW in the 1950s. Photo courtesy of BMW Press Service.
January 15, 2004, by Bill Cawthon
Three days ago, Albrecht Graf von Goertz, designer of the legendary BMW 507, celebrated his 90th birthday. Born into German nobility on January 12, 1914, Goertz came to the United States in 1936 following a less-than-successful foray into the world of high finance. He wound up in Los Angeles, where he worked in a car wash, an aircraft factory and a flight service.
Goertz had been fascinated by cars from an early age and became interested in the growing West Coast car culture. In 1938, he began modifying Fords in a rented garage. A year later, he built a show car called the "Paragon" and displayed it at the 1939 World Exhibition in San Francisco.
Following military service in World War II, Goertz took the Paragon to New York City where he met Raymond Loewy. Loewy advised Goertz to attend design school. After completing his studies, Goertz went to work for Studebaker.
By 1953, Goertz had his own design studio. He had also made the acquaintance of Max Hoffmann, the Austrian-born businessman who, probably more than anyone else, is responsible for the growth of the import car market in the U.S. Hoffmann urged Goertz to contact BMW, who Hoffmann was trying to persuade to build something more stylish than the bloated "Baroque Angels" which held little appeal for American buyers. Goertz quickly produced some sketches, which were accepted by BMW, and the 507 made its debut at New York's Waldorf-Astoria hotel eighteen months later.
The 507 was beautiful, sleek and powerful; it was the hit of the show. It was also difficult to produce and very expensive - $9,000 in 1955. Only 252 copies were produced from 1955 to 1959, including the one sold to Elvis Presley, who could easily afford it. Today, a 507 in concours condition can bring hundreds of thousands of dollars at auction.
BMW and Max Hoffmann went on to create more noteworthy cars, like the 2002, right up until the time the German automaker decided to set up its own North American operations in 1975. In the 28 years since then, BMW has gone from being a niche market car to a mainstream powerhouse in the luxury vehicle segment, second only to Lexus in total vehicle sales. In fact, if you only count luxury passenger cars, BMW is the clear market leader. In 2003, BMW sold 200,144 cars in the United States and the 3-Series was the best-selling luxury vehicle of any type. [Note: Lexus' overall leadership in the luxury segment is entirely due to the popular RX300/RX330 SUV, which accounted for 36% of all Lexus sales last year.]
2003 marked another milestone in BMW's history: for the first time, the company sold more cars in the U.S. than it did anywhere else, including Germany.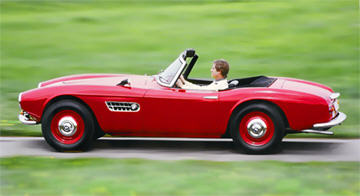 The classic BMW 507 of 1955 is considered one of the most beautiful sports cars ever produced. Photo courtesy of BMW Press Service
BMW wasn't the only big winner; last year was another good year for the imports. Counting captive brands like Volvo, Jaguar and Saab, they captured a record 39.76% of all light vehicle (cars, minivans, SUVs and pickups) sales in the U.S. They also posted another record: 55.44% of all passenger car sales. Over 4.2 million foreign cars were sold from January 1 to December 31, 2003. Japanese brands accounted for most of these, but U.S. car buyers also bought nearly 1.2 million BMWs, Mercedes, Volkswagens, Volvos and other European brands.
It was also a good year for the premium marques. Upmarket cars and light trucks accounted for more than 10% of all light vehicle sales. Of all the luxury brands sold in the U.S., only Jaguar and Land Rover didn't beat their 2002 sales records. Lexus, BMW, Mercedes, Acura, Volvo, Infiniti, Audi and Saab all set new sales records. Thanks to strong sales for its new Cayenne, Porsche had its best sales year since 1986. Cadillac had its best year since 1990 and even Lincoln showed signs of life as sales rose almost six percent.
In the world of ultra-luxury sedans the new DaimlerChrysler Maybach went head-to-head with the Phantom, BMW's first Rolls-Royce. Rolls produced 481 Phantoms and delivered 300 to customers. As with the BMW line, the U.S. is the top market for the Roller and took about 150 new Phantoms. DaimlerChrysler delivered "about" 600 Maybachs, including 166 in the U.S. Both Maybach and Rolls-Royce plan on selling about 1,000 cars in 2004.
Pickups enjoyed a good year. For the first time, all three of the top-selling vehicles were pickups. The Ford F-Series easily cruised to its 22nd year as America's favorite vehicle and 27th year as the leading pickup with a total of 845,586 sales. That's more than the total U.S. sales of every import automaker except Toyota and Honda.
The Chevrolet Silverado came in second, followed by the Dodge Ram. Together, the full-size American pickups represented 11.8% of total U.S. sales for 2003. No wonder Nissan and Toyota are eager to get into this market.
The top-selling cars were the same as they have been for a decade. The Toyota Camry claimed the top spot for the fourth time in the last five years, followed by the Honda Accord.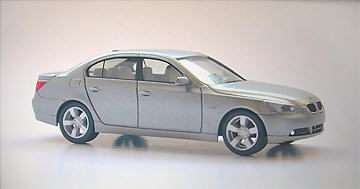 Cars like the new 5-Series helped BMW become America's leading brand of luxury passenger cars in 2003. Even though it was on the market for just part of the year, Americans bought 6,947 E60-series 530i sedans. Photo of Herpa promotional model by Marc Schmidt.
The Ford Taurus, the best-selling American car since 1989, came in third but this is probably the last year we will see a Ford at the top and it might be the last year we see an American car in the top three for a while. Both the Honda Civic and Toyota Corolla are well positioned to take the #3 spot.
The way things look right now, the Chevrolet Impala will become America's favorite car in 2004, but sales might not be strong enough to get it into the winner's circle with the Camry and Accord.
Sport-utility and crossover vehicles are still the rage. Last year, SUVs captured just over 27% of U.S. sales. In December, that figure was a dramatic 30.7%, perhaps due to the rough winter weather in many parts of the U.S. The Ford Explorer is still the king of the SUVs, followed by the Chevrolet TrailBlazer and Jeep Grand Cherokee, but the competition is growing. There will be almost 80 different SUVs on the market in 2004.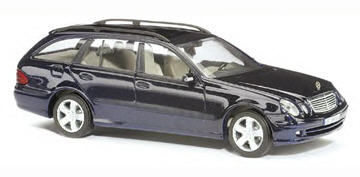 Mercedes new E-Class has been a hit with American car buyers who bought 55,683 in 2003, a 30% improvement from the year before. Photo courtesy of Busch Automodelle.
If the 2004 North American International Auto Show, which is going on as I write this, is any indication, the next two years are going to be exciting as American automakers roll out waves of new vehicles, hoping to recapture lost market share. However, the imports won't be standing still; the result is that we'll be seeing more new models than we have for many a year.
Sadly, 2003 was not a good year for new 1:87-scale models of modern American cars and light trucks. And, as of now, 2004 doesn't look to be much better. There will be new models of other American vehicles, to be sure, and it's still early, so perhaps we'll have some pleasant surprises.
On the other hand, 2003 was a pretty good year for scale models of German luxury cars. Fortunately, Americans obligingly bought 913,109 new German cars and SUVs last year, so you can load up on the 1:87-scale versions, knowing they are prototypical.
Last year, we got new models of the BMW 5-series, Audi A8, Mercedes CLK, E-Class and Maybach, along with the Volkswagen New Beetle convertible and Touareg, coming from Herpa, Busch and Wiking. The Wiking model of the Volkswagen Phaeton, introduced in June 2002, is also finally prototypical for U.S. scenes. In the months ahead, we'll get the BMW 6-series in both coupe and convertible, X3 SUV and Mercedes SLR McLaren that have already been released in promotional form. In a few weeks, when Spielwarenmesse opens, we'll know even more about what to expect for 2004.
Since I have the 2003 sales totals for the U.S. market, I thought I would list some of the vehicles available as 1:87-scale models and how many of the full-size versions were sold in the U.S. last year.
BMW 3-Series (Herpa): 111,944 sales (best-selling luxury car).
Mercedes-Benz C-Class (Herpa, Busch): 65,982
Volkswagen New Beetle (Wiking): 56,971
Mercedes-Benz E-Class (Herpa, Busch): 55,683
Audi A4 (Herpa, Busch): 51,043
BMW 5-Series (Herpa): 46,964
BMW X5 (Herpa): 40,715 sales (best-selling European SUV).
BMW Mini Cooper (Herpa): 36,010
Mercedes-Benz M-Class (Busch): 30,018
Volkswagen Golf (Wiking): 29,342
Mercedes-Benz S-Class (Herpa, Wiking): 22,940
BMW 7-Series (Herpa): 20,473
BMW Z4 (Herpa): 20,324 (second only to the Corvette in sports car sales)
Mercedes-Benz CLK (Busch, Wiking): 19,230
Audi A6 (Wiking): 16,442
Volkswagen Touareg (Wiking): 16,410
Mercedes-Benz SL (Herpa): 13,318
Porsche Cayenne (Herpa): 12,920
Porsche 911 (Herpa): 9,408
Audi TT (Wiking): 7,880
Porsche Boxster (Herpa): 6,088
Mercedes-Benz SLK (Herpa): 6,023
Audi A8 (Herpa): 3,973
Mercedes-Benz CL (Herpa): 3,377
BMW Z8 (Herpa): 439 (it's been discontinued)
Volkswagen Phaeton (Wiking): 343
Maybach (Herpa): 166
There you go; thirty-two new models perfect for a modern American layout. Best thing about them is that almost all are first-rate models you'll be proud to add to your collection.
See you next time!
- Bill Cawthon
Bill Cawthon is a modeler and collector. His primary hobby interests are vehicle models in 1:87 and 1:160 scales and model railroading. He is senior editor of Route 1-87, the magazine of the 1/87 Vehicle Club, and a columnist and product reviewer for Model Railroad News. He is one of the creators of the award-winning "Grimy Gulch" model railroad layout.
In real life, Bill is a marketing and public relations consultant for MARK III Systems, a successful information technology company. He also writes for just-auto.com, an international auto industry publication, reporting on the U.S. light vehicle industry.
He lives in Houston, Texas with his wife, Marge, and their children.
Bill's columns appear twice monthly on Promotex Online. To learn more about him, click here.