Get smart
January 5, 2004, by Bill Cawthon
It was created through the collaboration of a watchmaker and a carmaker. U.S. Senator Trent Lott mockingly called it "The Purple People Eater" as he railed against higher fuel economy standards. TV talk show host Sally Jessie Raphael owns one and controversial pop star Michael Jackson owns four. Reese Witherspoon drove off in a pink one at the end of "Red, White and Blonde." It's been displayed at New York City's Museum of Modern Art. And on January 1, 2004, it got a new name.
It's the Smart Fortwo, formerly known as the City Coupe. And despite the fact it's already here, its manufacturer says it will never be sold in the United States.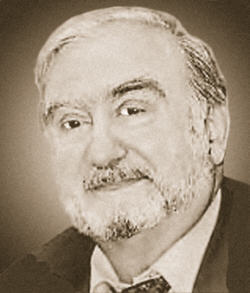 Nicolas Hayek, former CEO of Swatch and creator of the original Smart car concept.
The concept for the Smart was initially developed by Nicolas Hayek, president of Swatch Group, the Swiss watchmaker famous for its fashionable plastic timepieces. Swatch's original idea was to produce a radical new small car suitable for city driving using advanced technology, such as a hybrid powerplant. It was to be priced low enough to be affordable to the young people who made up much of Swatch's clientele. Hayek also believed there would be a good market for rentals at train stations, where visitors could get a small car for traveling relatively short distances.
Hayek began the development by working with the Engineering School of Biel in 1990. In 1991, Swatch set up a joint venture with Volkswagen. When VW withdrew from the partnership in 1993, Hayek went looking for another partner. In 1994, Swatch entered into a second joint venture, Micro Compact Car AG of Biel, Switzerland, with Daimler-Benz. In 1995, the new car was named the Smart Swatch Car. "Smart" supposedly came from the combination of the initials of Swatch and Mercedes with the word "art." Incidentally, in its corporate communications, Smart always spells the brand with all lower-case letters, i.e., "smart."
Swatch's original concept of a hybrid-powered car soon proved impractical, as did the low price tag. The car that was eventually offered to the public was powered by a small, 45 horsepower, 3-cylinder engine and carried a sticker price of around $8,000, higher than some larger 4-passenger cars on the European market.
There were also other problems. Getting the new "Smartville" plant in Hambach, France proved to be more of a challenge than expected, as did setting up the dealer network. By the time the Smart was introduced, only about 80% of the new Smart Centers were ready for business. In addition, there were internal management problems.
Another critical issue was vehicle stability. Following an embarrassing collision-avoidance performance, just like that of the similarly tall Mercedes A-Class, the Smart was reengineered with a lower center of gravity, wider track and a slight reduction in height.
All these problems combined to delay the Smart's introduction by a year and required the investment of millions of extra dollars. In the meantime, Swatch was having its own financial problems and had reduced its participation in the joint venture to just 19 percent. In September of 1997, Mercedes brought in ex-TRW executive Lars Brorsen as CEO of the company, meaning MCC AG had a Dane running a Swiss-German company whose only product was built in France.
The Smart was first shown to the public at the 68th International Auto Show in Geneva, Switzerland in the spring of 1998. The official market introduction took place five months later in Paris with sales beginning in October. Legendary British racing driver Stirling Moss was one of the first customers.
October 1998 marked not only the beginning of sales; it also marked the end of the joint venture. On October 31, 1998, Swatch sold its remaining interest in Micro Compact Car AG to Daimler-Benz shortly before the Chrysler merger. The following January, Micro Compact Car AG of Biel, Switzerland became Micro Compact Car AG of Renningen, Germany and changed its name to Micro Compact Car Smart GmbH.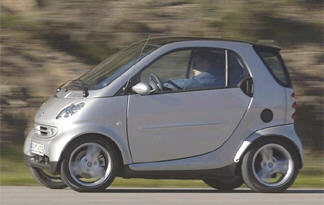 The original Smart City Coupe. Image courtesy of Smart GmbH.
Between the beginning of October and the end of December 1998, 20,000 Smart City Coupes were purchased. In 1999, the company sold 80,000 cars, well short of the 140,000 units that had been projected. In September of 1999, just before the Frankfurt Auto Show opened, Lars Brorsen abruptly resigned, citing differences with DaimlerChrysler management over the future of the company. He was replaced by career Mercedes-Benz executive Andreas Renschler. Renschler claimed the company had met its sales target for the year but hoped to increase sales by 20% in 2000. The addition of a diesel engine and a convertible helped Smart reach that goal with a few thousand to spare, but the company was still losing millions of dollars a year and members of DaimlerChrysler's board of management were calling for Schrempp to cut his losses and dump the line.
Fortunately, sales of the Smart have continued to increase and the company's management is predicting it will show a profit this year. In addition to the expansion of Smart's retail sales markets, a car-sharing program set up with the German Federal Railroad was moderately successful. The company sold 116,200 cars in 2001 and a total of 122,300 cars in 2002. Far from dumping the line, Smart has introduced new models. The radical Crossblade was first shown as a concept in 2001 and then made its debut as a limited-production model at the Geneva show in 2002. Also in 2002, the City Coupe and Cabriolet got a minor facelift. But the big news was the unveiling of the new Roadster and Roadster Coupe models at the Frankfurt International Auto Show in September. These sleek little two-seat sports cars have ignited new interest in the Smart line, especially from American auto writers. Car & Driver magazine called the Smart Roadster "the modern incarnation of the Austin-Healey bug-eye Sprite." They were also impressed by its 33-mpg observed fuel economy. "If everyone drove a Smart, Saudi Arabia would be back in the goat business," wrote C/D's Aaron Robinson.
There were more major changes in 2002. In September, Smart was repositioned from being an independent product to the small car brand of Mercedes-Benz and the name of the company was changed from Micro Compact Car Smart GmbH to Smart GmbH.
Since the first City Coupe, all Smarts have been built in Hambach. The modern cross-shaped plant houses not only the assembly facilities, but those of some of Smart's suppliers, as well. These suppliers invested in their own facilities from which they deliver preassembled modules to the Smart production line, reducing final assembly time to about 4.5 hours per car.
However, last summer a new Smart model was introduced that changes everything.
The Smart Forfour was introduced to the media in Zürich, Switzerland, on "Forfour Day," June 26, 2003. The newest Smart model is a four-door sedan developed with Mitsubishi and built in Mitsubishi's NedCar plant in the Netherlands.
For the event, Smart commissioned a set of 1:87 models that included every variation of the Smart ever produced. It was called the "Evolution" set and came packaged in a special box that contained six models and seven spaces. The seventh space was left blank. At the last Frankfurt Auto Show, we learned what will go in that seventh space: an all-wheel drive "SUV" version of the Smart due out next year. According to DaimlerChrysler, this is the version of the Smart that will be used to enter the North American market in 2006. Ironically, the Smart SUV will be built in the Mercedes plant in Minas Gerais, Brazil that was originally constructed to assemble A-Class cars for the American market.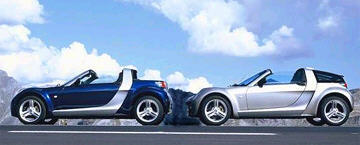 The Smart Roadster and Roadster Coupe. Image courtesy of Smart GmbH.
As I mentioned at the beginning of this column, the Smart Fortwo is already in the U.S.; at least it's here in limited numbers. If Donald Panoz, the pharmaceutical and racing tycoon, has his way, there will be a lot more of them coming here in 2004.
In August 2001, the Wall Street Journal reported Panoz was working out a multi-year agreement with DaimlerChrysler to buy up to 15,000 engineless Smarts and bring them to the U.S., where electric motors would be installed. At that time, Panoz's plan was to establish a car-sharing program that would offer short-term rentals from small lots set up near subway or light rail stations, office complexes, shopping centers and apartments.
Since that first article, some things have changed. Panoz's company, eMotion, now plans to begin offering conventional leasing programs in California and New York this year. If the program works, it would expand to other major metropolitan areas. Car-sharing is on the back burner for now, but the company still says it hopes to roll out such a service in 2006.
So why isn't the conventional Smart already being sold in the United States? According to DaimlerChrysler, there are problems with the Fortwo's fuel system that prevent it from meeting federal standards.
How about the Roadster, Roadster Coupe and Forfour? DaimlerChrysler could certainly use the sales. Jürgen Hubbert, head of passenger cars for Mercedes-Benz, said the Smart couldn't be brought to the U.S. and Canada until there was an SUV in the lineup, because Americans have to have SUVs. If nothing else, this shows his boss, Jürgen Schrempp, doesn't have a monopoly on making foolish statements in public. In fairness, it may be Professor Hubbert has never heard of the BMW Mini, which seems to be selling quite briskly without an SUV version.
In other statements, Smart and DaimlerChrysler officials say the Smart line, except for the Fortwo, will be in the U.S. in 2006. The Roadster will be shown at the 2004 North American International Auto Show (NAIAS) opening January 10 in Detroit. Surprisingly, for a company that has been so reluctant to send the Smart to North America, DaimlerChrysler expects to sell 60,000 Smarts here each year. While that may be a bit optimistic, the estimate makes me even more curious why they didn't export them earlier.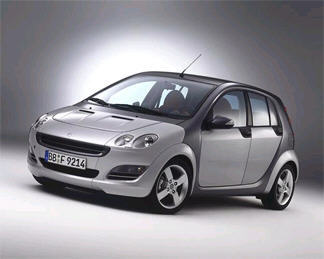 The new Smart Forfour. Image courtesy of Smart GmbH.
In the real world, consumers may not have to wait quite that long. All models of the Smart line officially went on sale in Mexico last August. Some gray market importers are reportedly looking at the Roadster, Roadster Coupe and Forfour and petitioning the EPA for waivers. And if Sally Jesse Raphael and Michael Jackson could bring in the Fortwo, chances are pretty good the importers will figure out a way to get a waiver for it, too.
There may be yet another way to get a Smart Roadster. At the NAIAS, while Mercedes is showing the Smart, Dodge will be showing a new concept called the Sling Shot, a small sports car with a rear-mounted, 100-horsepower 3-cylinder engine. From early details, the Sling Shot looks and sounds like a rebodied Roadster Coupe; the profiles are almost identical and a lot of the pieces whose placement and configuration would be dictated by the underlying structure, such as headlights, taillights and door openings, are similarly positioned.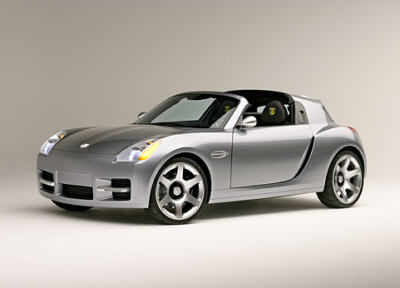 Could this be how the Smart comes to North America? Dodge will show the new Sling Shot concept at the 2004 NAIAS in Detroit. Image courtesy of DaimlerChrysler.
If there's enough interest in the Sling Shot, it shouldn't take long to tool up a regular production vehicle. The clues are tantalizing. The Sling Shot appears with the Dodge Viper in a press photo accompanying the announcement that Dodge will be returning to Europe. DaimlerChrysler reports the mayor of Minas Gerais recently visited the Smart plant in Hambach, ostensibly to discuss production of the SUV. That opens up an interesting possibility; the Smart brand has been repositioned before, when it was "adopted" as a Mercedes brand in 2002. Perhaps the fit might be better as a member of the Chrysler Group distributed under the Dodge banner. Dodge could certainly use some new cars and the new Hemi Wagon isn't going to please everyone. Might make that target of 60,000 annual sales more realistic, considering Dodge's larger North American dealer network. Of course, there's no reason it can't be both, but those existing Smart Centers might make a dandy initial European distribution network for Dodge.
What about Nicolas Hayek and Swatch, who lost so much money on the Smart? They came out came out just fine. Hayek retired in 2002, turning the day-to-day leadership of Swatch over to his son while retaining his position as chairman of the board. At his retirement, Hayek was the sixth-wealthiest person in Switzerland, with a fortune estimated at $2.4 billion. Just last month, he received the French Legion of Honor. Swatch itself is the world's largest producer of timepieces and is still working on a small hybrid car. When the Daimler-Benz bought out Swatch's share of the joint venture, Swatch retained its hybrid technology.
Herpa offers a 1:43 scale diecast model of the original Smart City Coupe, but for 1:87 and 1:160 plastic models, the only source is Busch. Busch has produced promotional models for Smart since the introduction of the first City Coupe. Actually, Busch has not only made a model of just about every version and color of the Smart ever made, the company has also produced a model of the innovative Smart Center dealership and its unique display tower.
So, is the Smart City Coupe or Fortwo prototypical for North American layouts? Yes, although no one seems to know just how many Smarts are in the U.S. and very few are here with the blessing of DaimlerChrysler. As for the Roadster and Roadster Coupe, they're as close as Mexico and it probably won't be long until they begin to appear north of the border. The Forfour won't be in mass distribution until later this year, either as a full-size car or model (Smart GmbH had an exclusive on the Busch models). Sales of the limited-edition Crossblade, which can't meet U.S. regulations in any event, were limited to Europe. Of course, Oddball's Autos already has 33 Smarts in inventory, including at least one of every body style. Just planning ahead for the time DaimlerChrysler finally decides to get Smart.
By the way, you'll note this column is dated January fifth. That's because I took a little vacation so I could spend more time with my family during the holidays. I hope each of you had a nice holiday season and will have a very good year in 2004.
See you next time!
- Bill Cawthon
Bill Cawthon is a modeler and collector. His primary hobby interests are vehicle models in 1:87 and 1:160 scales and model railroading. He is senior editor of Route 1-87, the magazine of the 1/87 Vehicle Club, and a columnist and product reviewer for Model Railroad News. He is one of the creators of the award-winning "Grimy Gulch" model railroad layout.
In real life, Bill is a marketing and public relations consultant for MARK III Systems, a successful information technology company. He also writes for just-auto.com, an international auto industry publication, reporting on the U.S. light vehicle industry.
He lives in Houston, Texas with his wife, Marge, and their children.
Bill's columns appear twice monthly on Promotex Online. To learn more about him, click here.