The Festival Season
November 1, 2003, by Bill Cawthon
[The regular column, the first instalment of a two-part series on visionary designer Syd Mead, will be up in a few days. At the moment, I am waiting for the postal service to deliver some extra material I requested. In the meantime, I thought I would introduce you to some fun fall and holiday traditions. - Bill C.]
Marge and I took the family to the Texas Renaissance Festival over the weekend and had a wonderful time. There are several similar events around the U.S., and if you've never been to one, it's quite something. In its simplest form, it's a crafts bazaar with period costume (providing you have a relatively liberal notion of what constitutes period costume), but that's like saying Disneyland is an amusement park with cartoon characters. There are magic and comedy shows, jousting, exhibitions of falconry, parades, games, rides, wandering performers and wonderful music.
I always enjoy Tartanic, one of the best bagpipe acts going, and this year there was a real carillon. "Cast in Bronze" is an incredible spectacle featuring one performer and four tons of bells. The carillon was created in Flanders about five hundred years ago. Unlike traditional bells, which are rocked to make them ring, the bells in a carillon are fixed to a frame. The clappers are attached to a mechanical linkage, which is in turn connected to a keyboard. To play the keys, which are actually levers, the player hits them with his fists or stomps them with his feet. Watching the player rock on "Carol of the Bells" or the theme from "The Exorcist" is quite a show.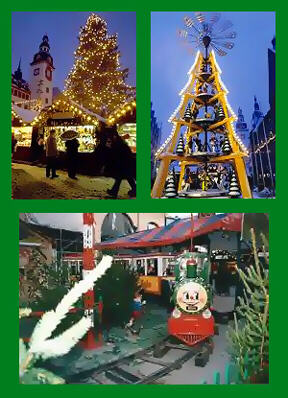 Pictures from the Chemnitz Weihnachtsmarkt. The giant Christmas Tree, the Christmas pyramid and children's train ride. Images courtesy of the City of Chemnitz.
The Texas Renaissance Festival is only open on fall weekends. After the middle of November, it all ends until the next year, when it will open again on the first weekend of October.
Germany has lots of seasonal festivals, but one I have always wanted to attend is the "Weihnachtsmarkt" or the "Christmas Market."
The Weihnachtsmarkt is an old German tradition; some date back centuries, to the time of the real European Renaissance. Nürnberg's Christkindlmarkt traces its origins back over 500 years and is world-famous for its displays and food (like bratwurst and legendary lebkuchen). Many German towns and cities put on their own Weihnachtsmarkt. Stuttgart is home to one of the largest fairs, with over 200 decorated stalls selling trees, traditional decorations, crafts, gifts and all sorts of holiday treats. Some cities have more than one; Cologne has four. Large or small, each seems to have its own special attractions. They generally run from the beginning of Advent through the Christmas holidays.
Like the Renaissance Festival, the Weihnachtsmarkt is far more than a holiday marketplace; it's a fair where you can get into the season while getting set for the festivities at home. In addition to shopping and eating, there are often rides, stage shows and other activities to make each visit a real family event. Choirs and bands provide music to complete the experience. And there's "Der Weihnachtsmann," the German version of Santa Claus.
Ray Kippig sent me some photos of the fair in his hometown of Chemnitz, which is in the eastern state of Saxony. It looks to be both amazing and enchanting, from the 40-foot high Christmas pyramid with its wind-driven displays of everyday life in the Erzgebirge region to a larger-than-life "Christmas room." Towering above it all is an 85-foot spruce with 800 Christmas candles and 11,000 points of light. This year, the Chemnitz fair opens Friday, November 28 and really gets going with a big parade on Saturday.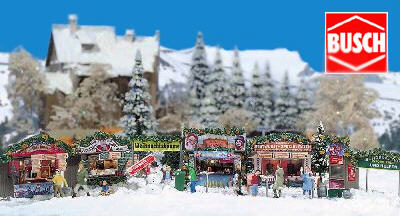 Busch's 1059 Weihnachtsmarkt is new for this year. It includes a tree lot, refreshment stands and accessories to make a nice holiday mini-scene. Image courtesy of Busch.
While I can't get to Saxony, I will be adding a touch of the season to our holiday displays. Busch has a new seasonal item, the No. 1059 Weihnachtsmarkt. It's an HO-scale version of a small market that might be found in a village or perhaps even a neighborhood. Busch's easy-to-build kit includes a Christmas tree lot, eight trees, four concession stands and plenty of accessories like a snowman and refreshment tables. There is also a 4-color sheet of printed signs and garlands to complete the scene. The signs are in German, but a little creativity and a color printer will quickly provide signage in your choice of languages and garlands are easily fashioned from thread and Woodland Scenics ground foam. Busch also offers two different Christmas trees with lights as well as strings of miniature lights so you can add some nice effects to your "mini-fair." Finish by adding some Preiser figures and perhaps a vehicle or two and you will have a very nice Christmas diorama you and your family can enjoy for years.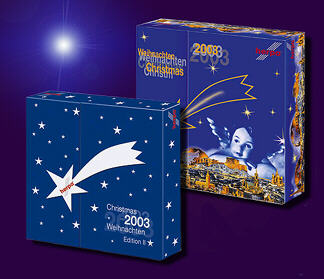 Herpa's 2003 Wings and Cars Advent Calendars each contain a special model for each Sunday in Advent. Product images courtesy of Herpa and Promotex.
Of course, there are a few other items you can enjoy during the weeks before Christmas. There's still time to get the 2003 Herpa Advent Calendars in time to enjoy them through the whole Advent season. As was the case last year, both the Cars and Wings calendars feature a special model for each Sunday of Advent, which starts on November 30 this year. This year's Cars calendar features four black sedans and they include some pretty interesting choices (Yes, I know what they are - No, I'm not telling). All come in Private Collection presentation cases. You might want to get your order in early to ensure delivery by the end of November.
For a holiday season display, there is also a special truck model, a black-and-gold Volvo FH XL tractor and skirted Euro Box trailer. The new Volvo tractor is a very nice model and the rig looks great in this year's holiday livery featuring scenes from around the world.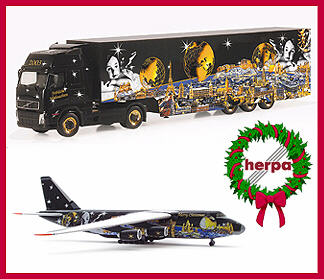 The lavishly decorated Volvo truck and Antonov heavy-lift cargo jet are this year's special Christmas models. Product images courtesy of Herpa and Promotex.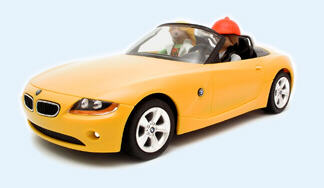 The new Herpa Playcar would be a nice gift for a future collector. The Playmobil figures are included. Picture courtesy of Herpa and Promotex.
Naturally there's a special Wings model, a 1:500-scale Antonov AN-124, decorated with this year's Christmas theme. If a the choice of a plane originally designed as a Soviet military cargo transport strikes you as an odd holiday model, the Herpa model is apparently really a replica of the AN-124-100, one of the upgraded civilian versions working in more peaceful capacities these days.
As for items to add to your personal wish list, that's between you and Santa; there have been some good models introduced this year. I do have one definite gift recommendation, but it's for a future modelbuilder or collector you might know. It's the 1:18-scale Herpa Playcar, designed for use with Geobra Brandstätter's wonderful Playmobil sets. The first of what I hope will be a series of such models is the BMW Z4 Roadster in your choice of gold or turquoise and should be available in time for holiday giving. It comes complete with a pair of figures. Playmobil toys are great; with very few exceptions, they're "kid-powered" and all of them encourage your children to use their imaginations. Another plus is the quality of the construction. Marge and I have given Playmobil toys to our children for over fifteen years and, other than some lost pieces, there have been few casualties. I am looking forward to adding the new Herpa Playcar to the collection.
I hope you are looking forward to a wonderful holiday season. As you make up your gift lists, don't forget to add something for your church or charity. The number of truly needy is up this year and an alarming number of children are not just missing presents, they're missing meals. There are lots of opportunities to help and it will make the season brighter for us all.
See you next time!
- Bill Cawthon
Bill Cawthon is an award-winning modeller and collector. His primary modeling interests are model railroading and vehicle models in 1:87 and 1:160 scales. He has written numerous articles for regional and division NMRA publications and is a contributor to the newsletter of the 1-87 Vehicle Club. He follows both the automobile industry and the European scale vehicle industry.
In real life, Bill is a full-time marketing and public relations consultant for the high-tech industry. He lives in Houston, Texas with his wife and four children.
Bill writes bi-weekly for Promotex Online. To learn more about him, click here.