The Macho Mercedes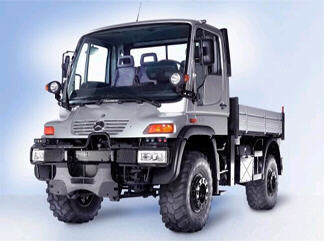 The Unimog U500. American versions have a different engine cover without the Mercedes-Benz star.
October 15, 2003, by Bill Cawthon
Back in 1966, I saw my first Mercedes-Benz Unimog. My first reaction was that it was the weirdest-looking pickup I had ever seen. As I saw more of them, and the kinds of work they did, I became impressed. I have been fascinated by them ever since.
So I was pleased when, in November 2000, DaimlerChrysler's North American truck subsidiary Freightliner announced it would be bringing the Unimog to the U.S. market. At an early presentation, Jim Hebe, then president of Freightliner, said, "The Unimog adds a new dimension to both the North American 4x4 truck and SUV markets... "
What a public relations disaster. Consumer and environmental groups rose up in arms and within a short time, Freightliner's public relations people were furiously backpedaling, saying DaimlerChrysler had no intention of marketing the Unimog as a recreational vehicle. Problem was, it soon looked like they had no intention of marketing it at all.
The thing that upset the environmental groups is the sheer size of the Unimog. It makes the even big Hummer H1 look small. The U500 is 9 feet, 8 inches tall and 17 feet, 8 inches long. Loaded, it tips the scales at a not-so-dainty 13 tons and even with a diesel engine, gets about 10 miles per gallon. And that's the smaller version. Compared to the Hummer H1, the Unimog is 3 feet, 5 inches taller, over 2 feet, 3 inches longer, almost five inches wider and over three times as heavy. At the beach, the Unimog would kick sand in the Hummer's face.
So Freightliner dropped back and punted. The Unimog was still technically available, but nobody talked about it much. Finally, on January 21, 2003, DaimlerChrysler again officially announced the Unimog would come to America, but this time it would be neither a Mercedes nor a Freightliner. It would just be a Unimog, a special-duty vehicle marketed to government agencies for jobs like snow clearing and wildland firefighting and to the construction, energy and railroad industries. And don't even mention "recreational vehicle" applications.
I don't know what the big deal is; Unimogs have been in America almost as long as there have been Unimogs. For decades, U.S. companies and government agencies have bought this unusual-looking vehicle for lots of specialized jobs. North American railroads and mass transit agencies have added them to their rosters. Even the U.S. Army has Unimogs. Despite what some fans claim, the Army didn't buy them to rescue broken-down Humvees. In the American military, the Unimog serves as a unique combination of high-mobility bulldozer and excavator. They have also been used to service remote military radar facilities.
And there are those who enjoy offroad activities in their Unimogs. That's not surprising as Unimogs are almost legendary for their rough terrain capabilities. Most Unimogs in civilian hands are ex-military vehicles sold as surplus by the German or Swiss armies. The reason for their popularity is the easy availability of parts and the relatively low price. New Unimogs have prices starting at about $90,000. Depending on the options ordered, the sticker can climb well into the six figures. An ex-Swiss S-404 in running condition can go for as little as $8,000.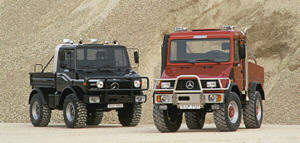 The 1993 Funmogs were based on the light-duty U90 (left, in black) and medium-duty U1400 (right, in metallic red).
Mercedes actually did build a version of the Unimog for the SUV crowd, but not the crowd you might expect. In 1993, a new group of customers emerged in Japan. The Unimog had become the ultimate ride for the well-heeled trendsetter, just as the Hummer did in the U.S. So Daimler-Benz built two different "Funmogs" based on the U90 and U1400 series. The smaller U90-based version was painted pitch black, while the more powerful U140 version was painted metallic red. Both had bush bars, roll bars and plenty of chrome trim. The Funmog was named "Offroader of the Year" award in 1994.
Why is the Unimog so big? Because it has to be. Here's one more comparison: the Hummer has a towing capacity of 7,656 pounds; with the right hitch, a Unimog can tow up to 45,000 pounds. Actually, a properly equipped Unimog can pull a train. A civilian version of the U411 was road-tested by Car & Driver magazine in the mid-1960s. They demonstrated its towing capacity by pulling a boxcar.
Truth is, the Unimog is not an SUV. It's not even a truck, strictly speaking. It's more of a tool with wheels. The Germans call it a "road tractor," a description that fits it quite well. While a modern Unimog can reach 70 miles per hour on the highway, it is designed to perform many of the functions of a piece of heavy equipment. It can mount powered attachments at multiple points on its frame, pull a plow or push a snowblower and carry loads up to 15,000 pounds. It can also cross terrain that would leave most off-road vehicles stranded, ford water up to 31" deep and operate anywhere from the Arctic Circle to the Sahara.
The Unimog was developed by Germans and most of them have been built in Germany (some were built in Argentina and Turkey). However, the inspiration came from an American. Henry Morgenthau was Secretary of the Treasury under Franklin D. Roosevelt. In 1944, he proposed a postwar program whereby the Allies would dismantle Germany's industrial infrastructure and turn the country into an agrarian state, incapable of creating a military machine. After the Allied victory, the elements of the Morgenthau Plan were put into place. Many plants were dismantled and their tools and equipment were shipped to other countries as war reparations. Much of what remained was put to work repairing Allied vehicles and equipment or building farm implements.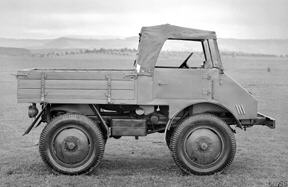 The original U25 from 1949. Not fancy but very functional.
In December 1945, Albert Friedrich, former chief engineer of Daimler-Benz's aircraft engine research division, began work on a special vehicle for farmers. Based on earlier research for a military vehicle, this new concept was intended to be a universal vehicle combining the functions of a farm tractor and a truck. Friedrich's design included large wheels, four-wheel drive, power takeoffs at front and rear, self-locking differentials and a very high ground clearance. It would be able to plow the fields, pull the stumps and carry the produce to market, albeit not very quickly. The original Unimog had a top speed of about 30 miles per hour and a ride that was about what you'd expect from the picture.
| | | | |
| --- | --- | --- | --- |
| | | | Unimogs are legendary for their ability to move things. Top to bottom: A 411 pulls loaded railcars (the tanks behind the cab are for the airbrake system). A 417 working as an airport tug. A 1700 tows a bulldozer on a full trailer (Wiking offers a similar model with a 411). |
In summer of 1946, Friedrich's group completed the first prototype. It had a 4-cylinder, 103 CID gasoline engine. A diesel would have been preferable but none were available. Friedrich had never given a name to his concept, but one of his engineers, Hans Zabel, developed a name from the German words Friedrich had originally used to describe the vehicle. "Unimog" comes from UNIversal-MOtorGerät, or universal power unit.
The prototype came through a year of testing with flying colors. In 1948, after the Allies permitted the resumption of civilian vehicle production, the 25hp diesel used in the Mercedes-Benz 170V passenger car replaced the gasoline engine. That fall, the Unimog made its public debut at an agricultural exhibition in Frankfurt. The public liked the Unimog and plans were made to put it into production. At the time, Daimler-Benz was not allowed to produce vehicles so Friedrich's team selected the Werkzeugmaschinenfabrik Böhringer factory.
Over the next two years, the Böhringer plant produced 600 Unimog U25s. It was slow but powerful. In its lowest gear, its top speed was 3/10 of a mile per hour, but whatever it was pulling was going to move. It had a payload capacity of over 3,000 pounds. Not only was it a hit with the farmers, the French occupation forces were so impressed that they purchased two of every three built in 1950-51. To this day, the French Army buys Unimogs.
In 1951, Daimler-Benz took over production of the Unimog, but it wasn't until 1955 the three-pointed star replaced the original ox-head logo on the hood.
After "adopting" the Unimog, Mercedes changed the model name from U25 to the U401 or U402, depending on whether the customer wanted a short or long wheelbase. Over 16,000 of the 25hp Unimogs were produced by the time the model's run ended in 1956. The 401/402 was replaced by the 411, which had a more powerful (30hp) diesel and a longer wheelbase. Otherwise, the 411 looked pretty much like a 401. The 411 was the first Unimog purchased by the U.S. government. During its 18-year production run, almost 39,000 U411s were built, many of them for the new German Army and Bundesgrenschutz (Border Guard). During its run, the engine size was increased twice; first to a 32hp engine in 1959 and then to a 34hp unit in 1966.
The first Unimog specifically designed for the military was the Unimog-S U404, more commonly known as the S-404. The S-404 had a 6-cylinder engine, a longer wheelbase and the NATO standard 24-volt electrical system. Its 15-inch ground clearance was significantly higher than the M37 Dodge in widespread use at that time. The S-404 also had a higher top speed (59 mph) than the civilian version. In cross-country conditions, the S-404 was superior to any other military 1 1/2-ton truck. It was almost impossible to roll, had a 46-degree angle of departure and would climb a 100% grade. The only drawbacks were poor engine and transmission accessibility due to the small hood and a tremendous appetite for fuel. Depending on conditions, Unimogs sometimes got less than 4 miles per gallon.
The French Army was the first purchaser of the new military truck, ordering more than a thousand, but the new German Army was the big customer. The Bundeswehr bought more than 36,000 S-404s in various configurations, equipped for everything from troop transport to airport fire truck. Some 404s even served as dummy tanks for training. The German army was short of tanks, so the Kässbohrer company used S-404 chassis and bodies to build an armored personnel carrier. Equipped with a turret, the APC resembled a Soviet T-54 Main Battle Tank. German soldiers called these "Neckermann" Tanks, in reference to a popular German discount store.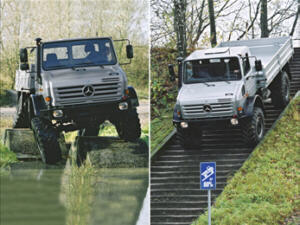 New-generation heavy-duty U3000 goes through its paces on the DaimlerChrysler proving grounds.
One of the most popular Unimogs among buyers was the U1300 introduced in the mid 1970s. The U1300 was a more powerful model with a 130hp engine and a 2-ton payload capacity. It was first offered as a civilian vehicle. A stretched version was developed for the German Army. There were many variations on the U1300 platform including the 6-wheel-drive U2450.
In 1992, Mercedes introduced a smaller Unimog, the U90-U140 Series. These models were intended for use by cities for lighter jobs like mowing and snow removal. An interesting optional feature was the offset engine cover, which allowed the driver an unobstructed view of the ground in front of the vehicle.
The Unimog now on sale at North American Freightliner, Sterling and Western Star dealerships was introduced in February 2000 as a completely new model.
The newest Unimogs made their debut in April 2002. These are the heavy-duty models in the U3000-U5000 range.
Unimogs can be found in almost every country in the world. One of their most common uses is for snow removal. During the winter, they can be found hard at work everywhere from a Colorado airport to the mountainous areas of the Middle East. It's estimated that one of every two pieces of snow removal equipment in the world is a Unimog.
The U.S. government is one of the biggest American customers. In 1986, the U.S. Army ordered 2,400 Unimogs, one of the biggest single orders ever received. Most are still in service. Aside from the Army, 'Mogs are used by the Agriculture Department, Department of the Interior, Bureau of Land Management and Forestry Service.
Many American Unimogs are equipped to fight forest fires. Their unique ability to drive to a fire site with hundreds of gallons of water or chemicals, bulldoze a firebreak or clear heavy debris makes them invaluable.
Because of their towing capacity and ability to move at the same speed in either direction, the Unimog is a natural for railroad switching duties. They have found favor with railroads around the world. In Europe, Unimogs are commonly used for maintenance and shunting operations. They are even used as switch engines in some Asian countries. Both Union Pacific and Canadian National have used them in yard operations. From 1984-1991, the Bay Colony Railroad carried a Unimog on its locomotive roster.
Unimogs also work on light rail commuter systems. The Massachusetts Bay Transit Authority and Maryland Transit Authority, among others, use custom-built Unimogs as service and emergency vehicles. Equipped with specialized couplers, a Unimog is capable of clearing a line more quickly than any other piece of equipment, even when the problem involves a stalled train or derailment. Denver's RTD light rail system has an interchange track with the Union Pacific. A hi-rail Unimog is used to shunt freight cars from the UP yard to the light rail tracks. Among other benefits, this makes delivery of new equipment and rolling stock to the light rail system much easier.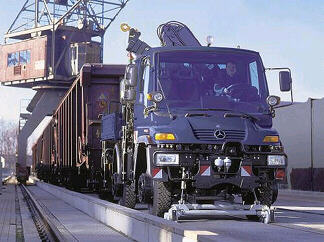 Even the newest Unimogs can still pull their weight, and then some. Check out the multiple small wheels on the rail guidance system.
Not all Unimogs are used for such serious tasks. A few years ago, Domino's Pizza brought a pair of retired S-404 fire trucks with TLF pumper bodies into the U.S. as part of a publicity campaign. They completely restored them, right down to the European-style blue flashers, and painted the corporate logo on the side. The trucks did promotional duty at auto racing events.
Unimog models are plentiful in 1:87 scale. Brekina, Kibri, Roco and Wiking offer models of almost every variant of the Unimog. Kibri and Roco offer the widest selection, producing many models with attachments like cranes, winches and power shovels. There are even high-rail versions, so you can add a Unimog to your layout.
Now that you know they are prototypical for North America, consider adding a Unimog to your layout or collection. Oddball's Autos has several in the inventory, ranging from an early 401 to the latest U400.
Unimogs are at their best in the work and offroad environments for which they were designed. They are not generally found with fancy paint or glossy finishes, so do a bit of weathering with chalks or an airbrush. Add some tools to the load bed and other touches. Whether it's switching cars in the yard, standing ready to battle forest fires or just helping some very determined fishermen reach that remote spot where the big ones are biting, a rugged Unimog will be right at home.
All images copyright © 2003 by DaimlerChrysler AG and are used by permission.
See you next time!
- Bill Cawthon
Bill Cawthon is an award-winning modeller and collector. His primary modeling interests are model railroading and vehicle models in 1:87 and 1:160 scales. He has written numerous articles for regional and division NMRA publications and is a contributor to the newsletter of the 1-87 Vehicle Club. He follows both the automobile industry and the European scale vehicle industry.
In real life, Bill is a full-time marketing and public relations consultant for the high-tech industry. He lives in Houston, Texas with his wife and four children.
Bill writes bi-weekly for Promotex Online. To learn more about him, click here.