Light Reading
October 1, 2003, by Bill Cawthon
I enjoy getting catalogs; especially scale model catalogs. Not only because it gives me a chance to look through and see what's available from various companies, but because I have spent a number of years associated with the graphic design and printing trades. The best catalogs are more than just a list of products; they are a way for a manufacturer or retailer to put their best foot forward and promote the company and merchandise at the same time. Take it from me, some of the most creative writing in the advertising business goes into the creation of catalogs.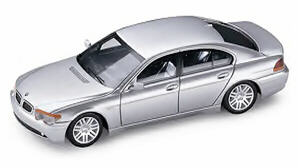 This BMW 7-Series sedan is one of a number of Herpa-made models featured in the BMW accessories catalog. Image courtesy of BMW/Saratoga Online
Last week, I just received a few of the nicest model catalogs I have ever seen.
The new Busch 2004 Model Railroad Accessory Catalog is welcome reference. If you are familiar only with Busch's car models, this new catalog will open your eyes. Busch makes a wide variety of model railroad products, including scenery materials, electronic accessories and building kits. There are also scenery details and mini-scenes: everything from a complete cemetery to a flying saucer. As you would expect, the catalog is in German, but it comes with a very special extra - a CD version with listings in English for use in any personal computer running Windows 95 or higher. The CD catalog allows you to search the catalog, view enlarged versions of the product photographs and even has "movies" that allow you to see animated accessories, like crossing gates, in action. This makes the catalog not just informative, but fun.
All of the Busch products are listed and the catalog is very easy to use, with intuitive controls. In North America, your hobby dealer can get the catalog from E-R Models, Ltd.
Ironically, the second and third catalogs weren't from a model company; they were from Mercedes-Benz. Beautifully laid out with top-notch photography and printing, the catalogs were devoted to promotional models of Mercedes-Benz vehicles. There was one for car models and one for models, toys and remote-control versions of various trucks.
The car model catalog was especially interesting. It was divided into sections by model, Mercedes model, that is - A-Class, C-Class, etc. Each section opened with a shot of a scale model with another product and a quote from a movie. For example, the A-Class is pictured with Godiva chocolates and the famous "Life is like a box of chocolates" quote from Forrest Gump. Appropriately, the E-Class is accompanied by props and a quote from "Men in Black II," but for some reason, Mercedes does not offer a single model, in any scale, of a black E-Class sedan.
Considering the scarcity of promotional models of American cars, it is amazing to see how many scale versions of Mercedes vehicles are out there. There are models of every current Mercedes-Benz car and truck in scales from 1:87 to 1:10 and usually there's even a choice of colors. Mercedes buys their models from several well-known manufacturers, including Minichamps, Maisto and Dickie (as in Dickie-Schuco). The 1:87-scale models come from Herpa, Wiking and Busch.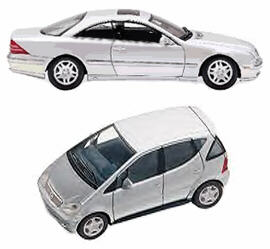 Mercedes offers a limited range of models in 1:87-scale. They are more expensive than most retail models, but come in very nice packaging. The CL-Coupe and A-Class "SUV" are both made by Herpa. Images courtesy of Mercedes-Benz USA
Promotional models are available in North America, too. Mercedes, BMW and Volkswagen all have on-line accessory shops where you can order scale models. And many of these models are extremely nice, often with detailing superior to the regular production models. The Germans have the advantage of getting the newest models for the simple reason they get the real cars sooner. Generally, the promo won't be available in North America until the prototype is hitting the showroom.
For example, the latest addition to BMW's North American accessory catalog is the Z4 roadster. You can already get the Z4 and the newer 5-Series models right here at Promotex Online. Yes, the promotional model is nicer than the base versions, but the price is almost as much as an equally nice Private Collection model and doesn't include the PC model's display case.
Mercedes is in the worse shape. For one thing, Mercedes' North American catalog doesn't list nearly as many models as the print catalog I received. For another, the models are priced higher than a comparable model from Herpa, Busch or Wiking. The models in the German catalogs weren't any less expensive, but there was a much better selection. I was surprised to see the American Mercedes catalog doesn't list the M-Class SUV, which is built in the U.S., while they do offer the A-Class, which isn't even sold over here. Go figure.
Incidentally, they call the A-Class a SUV. I think that's stretching the definition a wee bit too far.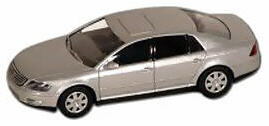 You can pick up some bargains from the Volkswagen Driver Gear catalog. The Phaeton sedan shown above is almost $5.00 cheaper than the Wiking model purchased from a certain large model-railroading distributor. Image courtesy of Volkswagen.
The one bargain is Volkswagen Driver Gear online shop. VW has models of the New Beetle, New Beetle Convertible, Phaeton and Touareg all at prices lower than the comparable Wiking models. Of course, plan on ordering a few; VW's shipping and handling charges can wipe out the savings on a small order.
One thing you will find at the BMW site are some models that were never available from Herpa or Promotex. These include the James Bond Z8 and 3-car James Bond car set. They're pricey, but it's the best way to be assured of getting MIB (that's "Mint-In-Box," not "Men In Black") models.
Incidentally, I don't know if you've checked, but Herpa has a couple of special models listed in their November-December releases. The first is the long-awaited Mini with the American flag on the roof. Thankfully, Herpa decided not to make the US-flag version an eXtra Shop-only model as they did with the British flag model.
The second noteworthy release is the new BMW Alpina B7 Private Collection model. At IAA, you couldn't get one without placing an order for the real car. Now, you can save the price of a small house and get one from Promotex.
For more light reading, I highly recommend the Herpa catalog. Herpa not only publishes a nice annual catalog, printed in German and English, there is an update with each new release.
If you'd like to check out the promotional models available in North America, here are the websites. Please note these catalogs are not always operated by the manufacturer; for example, the BMW catalog is run by Saratoga Online. If you have questions about models, or the timetable for future additions, your inquiry may have to make several detours before it gets to the right person. So be patient.
See you next time!
- Bill Cawthon
Bill Cawthon is an award-winning modeller and collector. His primary modeling interests are model railroading and vehicle models in 1:87 and 1:160 scales. He has written numerous articles for regional and division NMRA publications and is a contributor to the newsletter of the 1-87 Vehicle Club. He follows both the automobile industry and the European scale vehicle industry.
In real life, Bill is a full-time marketing and public relations consultant for the high-tech industry. He lives in Houston, Texas with his wife and four children.
Bill writes bi-weekly for Promotex Online. To learn more about him, click here.