Beyond Diecast
September 1, 2003, by Bill Cawthon
As you might have noticed over the past couple of years, I have a passion for automobiles, both in full-size and scale forms. I also like to read about them and have subscriptions to various print and online publications. Of these, Autoweek is one of my favorites.
In the past month, Autoweek has often ventured into the realm of scale model cars, from a beautiful one-of-a-kind 1:3-scale hand-built 1972 Ferrari 312PB to Kyosho's 1:18-scale recreations of the BMW "Art Cars." In the August 18, 2003 edition, Jay Engel wrote about the renaissance in promotional scale models. In the latest issue, Autoweek talked to Larry Woods, one of the designers of Mattel's Hot Wheels cars. Incidentally, you can read all these articles at Autoweek's online edition.
The articles have all been interesting, but I wonder if the folks at Autoweek know there's a great big world beyond diecast. Or, perhaps it would be better to say a "great small world."
In his article, Mr. Engel wrote, "Long afield in this mini arena have been the luxury makers from Europe. BMW and Mercedes have scale car catalogs featuring models from the earliest to the latest production offerings, and even concepts nearing production. BMW sells exquisite replicas of all its newest designs, and it launches these 1:18-scale models alongside their full-sized brothers."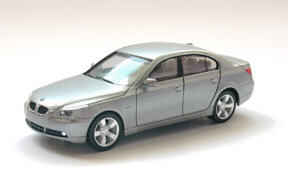 One of the BMW promotional models of the new 530i sedan. Herpa produces all of BMW's 1:87-scale promotional models. Marc Schmidt photo, used by permission.
Now I know for a fact that other scales are present in the BMW accessory catalog. For one thing, there are some equally exquisite injection-molded plastic models in 1:87-scale. While the North American online catalog run by Saratoga Direct isn't as complete as the German version, there are models of classic and modern Bimmers, including the Z4. In fact, if you want BMWs, 1:87 is your scale. There are replicas of everything from the original Dixi to the recently unveiled 6-Series coupe, from the Baroque Angels to the Bond cars. Isettas? Will that be in 4-wheel or 3-wheel configuration? Many of these HO versions are Herpa models that either are, or will be, available from Promotex Online. Others come from Brekina, Busch and Wiking. The sleek M1 is one of the few noteworthy BMWs not currently available, but Herpa could reissue their model.
Mercedes-Benz is the same way, from the Benz Patent Motorwagen to the brand-new Mercedes-McLaren SLR, in your choice of silver or black. The SLR is another Herpa model that will be offered by Mercedes beginning next week. Look for it in the general catalog next April.
It's not just the luxury brands, either. When Smart GmbH unveiled the Forfour in Zürich, members of the press received the first scale models of the new sedan. They were very nice 1:87-scale replicas made by Busch Automodelle. Busch has made models of every Smart variant, from the first City Coupe to the nifty Roadster Coupe.
Wiking makes most of the newest Volkswagen models. A trip to VW's "Driver's Gear" online catalog will turn up New Beetles (including the new convertible), Touaregs and Phaetons. Volkswagen has also commissioned models of the Touran, Golf V and T5 Multivan.
There are Audis and Porsches, too. Cabriolets, Cayennes and Quattros are among the many models made by Herpa, Busch, Wiking and Rietze. There's even a beautiful model of the Audi Avus show car.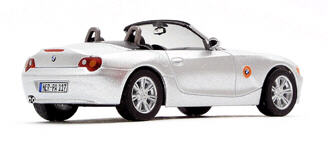 The latest model in Herpa's Brilliant Series is the Z4 roadster. This picture is larger so you can get an idea of the incredible detail. Keep in mind the model itself is just over 1.75 inches long. Photo courtesy of Herpa Miniaturmodelle.
Almost every company manufacturing cars in Germany commissions or authorizes 1:87-scale models of its vehicles. Even the German subsidiaries of Ford and GM had small scale versions of almost their entire models ranges until cost-cutting measures forced them to cut back. Even so, Rietze has introduced a nice model of the new Opel Vectra and continues to make models of the Ford Focus, Mondeo, Ka and Transit.
Now I will be the first to admit that diecast metal replicas outsell any other type of automotive scale model. It's hard to compete with the estimated three billion Hot Wheels toys produced in the last thirty-five years. And there are a number of collectors who would love to see the selection of 1:43, 1:25 and 1:18 models available in smaller versions. And, to be fair, Jay Engel's article was limited to the top ten models in terms of sales.
So what's the problem with 1:87 scale? It can't be the quality: while the 1:87-scale model might not have the opening doors and steerable wheels of the 1:18 and 1:25 versions, the level of detailing is every bit their equal. [Note: There are some 1:87-scale models that do have such features.] And few 1:43 and 1:64 diecast models can match the extra touches found on today's 1:87-scale cars. Headlights with transparent covers, transparent turn signals, wheels with brake detail, delicate hood ornaments and many other extras can be found on the injection-molded masterpieces from the major German model companies. I recently treated myself to a few of the Herpa Private Collection models and they can certainly stand up to comparison with their larger brethren.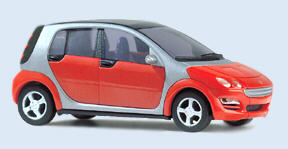 When DaimlerChrysler introduced the new Smart Forfour in June, media representatives attending the event received a set of 1:87-scale models. Photo courtesy of Busch Automodelle.
Perhaps it's merchandising. There probably aren't all that many Americans who know that the 1:87-scale promotional model is alive and well and as close as an online catalog. It's not just the catalogs that keep fans of different scale apart, either. Many hobby retailers have diecast models, slot cars and other kits in one part of the shop and railroad-scale vehicles with the trains in another part of the shop.
Slot car fans should appreciate HO models; after all, it was Aurora's HO-scale "Model Motoring" sets that ignited the American slot car craze in the early 1960s. Maybe things would have been different had the Aurora cars actually been 1:87-scale?
Maybe it's "model railroad myopia." That is, "1:87" equals "HO" which is the same as "model railroad" and therefore can't possibly be of interest to scale model car fans. Ironically, many model railroad buffs view scale vehicles only as scenery accessories or auto rack loads and could care less about the features and detailing that appeal to collectors and model car fans. Talk about a Catch-22.
Of course, it may simply be that people haven't seen how much HO models have changed since the early days of Wiking and Anguplas. Or even since Herpa began making true 1:87-scale models 25 years ago.
For whatever reason, I wrote a letter to Dutch Mandel, editor and associate publisher of Autoweek, suggesting he might want to check out the smaller world beyond diecast. If you haven't already done so, I invite you to do the same. You're already at a great place to start.
See you next time!
- Bill Cawthon
Bill Cawthon is an award-winning modeller and collector. His primary modeling interests are model railroading and vehicle models in 1:87 and 1:160 scales. He has written numerous articles for regional and division NMRA publications and is a contributor to the newsletter of the 1-87 Vehicle Club. He follows both the automobile industry and the European scale vehicle industry.
In real life, Bill is a full-time marketing and public relations consultant for the high-tech industry. He lives in Houston, Texas with his wife and four children.
Bill writes bi-weekly for Promotex Online. To learn more about him, click here.