The Binz Benz
August 15, 2003, by Bill Cawthon
When I was young, long before the advent of modern emergency medical services, a private company provided ambulance service in our town. Their offices were in an old house on the way from our house into town and I can still remember seeing the gray and white Cadillacs poised for immediate action while their white-uniformed crews lounged on the porch, waiting for a call.
In those days, a number of different cars were used as the basis for ambulances, but Cadillac was the car of choice for the majority of ambulance companies and buyers.
With the implementation of new laws governing ambulances and the establishment of well-trained and well-equipped first responders, the big Cadillac has all but disappeared. Even private companies, which handle non-critical and patient transfer calls, now use modified vans, like the Ford E-Series. American LaFrance builds such ambulances on modified Sprinter chassis as part of their MedicMaster line.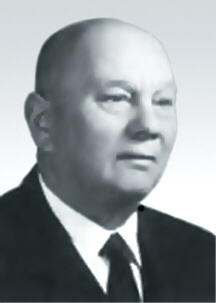 Michael Binz
In Europe, however, the car-based ambulance is still in widespread use. European fire brigades use large vans like Sprinters, Transits and T2 Varios for rescue and critical care transportation, but private companies and the major social service groups, like the Johanniters and ASB (Arbeiter Samariter Bund, originally a workers' service organization), also use a smaller vehicle, typically based on the Mercedes-Benz E-Class chassis. Though they don't carry the heavy rescue equipment, these ambulances can be equipped with a wide range of medical equipment to handle the variety of medical emergencies that might be encountered in patient transport.
There are a number of companies that perform ambulance conversions, but one of the best-known is Binz GmbH & Co. in Lorch, Germany. Binz has been building Benz-based ambulances since 1955, when it began converting Mercedes 180 sedans on a large scale.
Michael Binz got his start as a coachmaker for Daimler-Benz, back in the days when custom bodies were the norm for well-heeled customers. He specialized in building convertibles. After leaving Daimler-Benz, he worked for several other companies, eventually rising to the position of factory manager before deciding to strike out on his own in 1936.
Lorcher Karosseriefabrik (Lorch Body Manufacturer) BINZ & Co. opened in facilities formerly occupied by another body maker, Wagenfabrik Konrad Hoerger. Binz's new company started as a typical body shop, repairing damaged automobiles. However, it wasn't long before the company branched out and began building bodies for taxis and delivery vans. Daimler-Benz was a good customer. Binz also created custom coachwork, including convertible bodies. The new company even built some ambulances.
After World War II, Binz had to start over. A new plant was built near Lorch. From 1945 to 1955, the bulk of the factory's efforts went into supplying cabs for a number of truck companies, including Daimler-Benz, Krupp and Steyr. As the demand for small commercial vehicles picked up, Binz developed a small van for Gutbrod, another German truck manufacturer.
This is one of the three custom station wagons Binz built on the Mercedes-Benz 300 chassis. At that time, this was roughly equivalent to making a station wagon out of a Cadillac.
Even during the challenging years in postwar Germany, Binz was still creating custom bodies like the Mercedes-Benz 300 station wagon built for the wife of a wealthy American. Only three of these were built.
Binz began building stretch limousines based on the Mercedes chassis. There were also Mercedes-Benz pickups that found their way into markets around the world.
Binz even experimented with a line of motor scooters in 1954, but the venture was short-lived.
For many years, Mercedes did not produce a regular-production station wagon. Until 1965, Binz was one of only two coachbuilders that built Daimler-Benz approved wagons (the other was Miesen in Bonn). Of the two, Binz had the most experience. Beginning in the early 1950s, Binz began modifying postwar W136 170s. Unlike America, station wagons generally weren't family haulers in Germany; they were utility vehicles, such as light delivery trucks.

The Binz ambulances of the 1950s. Both high roof and low roof versions were offered. Both were based on the Mercedes-Benz 180 "Ponton" sedan.
In 1955, Binz began converting Mercedes 180 sedans into ambulances on a large scale. Binz ambulances were preferred as they used all-steel construction instead of the more common practice of using a sheet metal skin over a wood frame. In order to provide more room for patient and attendant, Binz began stretching the chassis by a little over two feet.
Mercedes weren't the only cars used. Binz produced an ambulance based on a BMW 2600 V8-powered "Baroque Angel" sedan.
Since those first conversions, Binz has added a number of improvements to their ambulances, including improvements to the patient compartment and suspension. In addition, the company has branched out and now provides a variety of emergency vehicles, ranging from the basic "KTW" ("Krankentransportwagen" or "patient transport car") to full-fledged rescue and life-support units. There is even an off-road ambulance based on the Mercedes-Benz Geländewagen.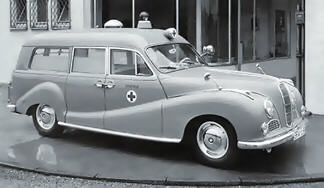 This one-of-a-kind ambulance was a conversion based on a 1961 BMW 2600. It was donated to the Bavarian Red Cross which used it for many years.
The company also makes specialized vehicles for police use, including some nifty undercover cars with features right out of James Bond and a camera-equipped surveillance van for the German Federal Border Police. In addition, there are Binz hearses and stretch limousines. One of the most popular stretch models is a six-door version of the current Mercedes E-Class.
In 1991, after the reunification of Germany, Binz opened a second location, Binz Ambulance and Environmental Technology GmbH, in Ilmenau, a city in the central German state of Thuringia. This is now the assembly location for the company's line of medical emergency vehicles and products.
Today, Binz employs about 300 employees at the Lorch and Ilmenau locations. Binz manufacturing processes have earned the DIN EN ISO-9001 certification. Binz ambulances are common in Germany and Austria and are also popular transport vehicles in the Scandinavian countries.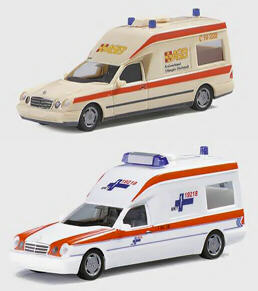 Herpa makes several versions of the modern Mercedes E-Class-based Binz A 2002 ambulance. At the top is the Herpa No. 044660, based on an ambulance used by the ASB in Erlangen-Hoechstadt. The bottom model, Herpa No. 043984, is a replica of an MKT unit from Nürnberg.
Binz KTWs are built on either a Mercedes E-Class or Volkswagen T4 van chassis. The modern Binz Benz ambulance is officially called the Binz A 2002 Ambulance. An A 2002 is based on the E-Class sedan, but from the front doors back, the body is all custom. The chassis is stretched and a complete new superstructure is added. A seamless plastic interior is installed for easy maintenance. Air-conditioning with dust filters is installed. Of course, each ambulance is a custom job, and each is equipped to the customer's specifications.
While Binz ambulances are sold in a number of countries, the United States is not one of them. In fact, the Binz and similar ambulance conversions are specifically excluded from the EPA approval of the Mercedes line. However, a number of the older Binz conversions, especially the Ponton-bodied station wagons, have made their way into American hands.
Over the years, there have been a number of models of Binz ambulances. The first I remember was a Lesney Matchbox model that appeared in the 1960s. Lesney called it a Mercedes Binz ambulance and, at the time, I thought they had mispelled "Benz." Of course, Lesney was correct and that Matchbox car is now a collector's item.
Brekina and Wiking offered 1:87-scale plastic Binz models. The Brekina was an older Mercedes 190 conversion; the Wiking was more modern, based on the Binz A 2001 series. Both of these models are now discontinued, although Wiking still offers a Binz military ambulance based on the Mercedes L406 van .
Herpa is currently the only modelmaker producing HO-scale plastic models of Binz E-Class ambulance. The Herpa model is based on the Mercedes W210 platform introduced in 1996 and has been produced in a variety of liveries as well as undecorated versions in red and white, ready for the modeler to add his own graphics. There is even a model of the Binz demonstrator.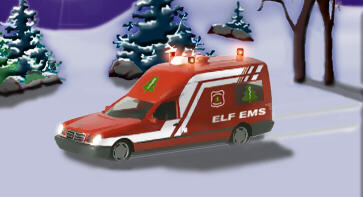 Last year, I used Adobe Photoshop to create this version of the Herpa Binz ambulance as a joke for the folks at Herpa. This year, I will be using one of the Luxembourg ambulances to make the "real" thing.
While they aren't eligible to be included in the Oddball's Autos inventory, I have several of the Herpa models in my collection. My favorite is the No. 044578 children's ambulance, with its teddy bear graphics. The model is based on a real ambulance used to transport sick and injured children in the Seigburg region of Germany. The interior of the real ambulance is furnished to help soothe the understandably frightened and upset patients while they are being carried to the hospital.
At least one of my Herpa models will be used in a future conversion project. During the last holiday season, I used Photoshop to modify a picture of the newly introduced Luxembourg ambulance as a joke to send to Andreas Spector, the customer service manager at Herpa. I liked it so much that now I want to build an "Elf EMS" model in time for this holiday season.
The historic photos are from the Binz archives and are copyright © 2002 by Binz GmbH & Co.
See you next time!
- Bill Cawthon
Bill Cawthon is an award-winning modeller and collector. His primary modeling interests are model railroading and vehicle models in 1:87 and 1:160 scales. He has written numerous articles for regional and division NMRA publications and is a contributor to the newsletter of the 1-87 Vehicle Club. He follows both the automobile industry and the European scale vehicle industry.
In real life, Bill is a full-time marketing and public relations consultant for the high-tech industry. He lives in Houston, Texas with his wife and four children.
Bill writes bi-weekly for Promotex Online. To learn more about him, click here.