Herpa's Liebherr R954: The perfect shovel to fill that hole in your collection...
July 15, 2003, by Bill Cawthon
Herpa's Liebherr R954 Litronic Tracked Excavator has arrived at Promotex and I think you're going to like it. This is the second of Herpa's of heavy equipment models and it's just as nice as last year's L580 Wheel Loader.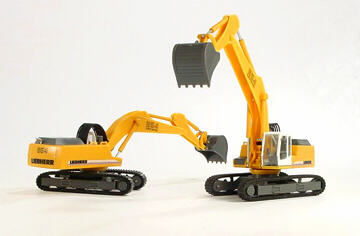 Herpaís new Liebherr R954 Excavator features a fully articulated boom and backhoe shovel. Itís now in stock at Promotex. Photo courtesy of Herpa.

Liebherr manufactures eighteen different tracked excavator models at its plant in Colmar, France. They range from the compact 308, which is primarily suitable for smaller earthmoving projects, like commercial landscaping, to the giant R996 Litronic capable of moving more than forty cubic yards of earth at a time in open-pit mining operations. The R954 is a general-purpose excavator and is about in the middle of the Liebherr range.
Of course, being a mid-range excavator does not mean the R954 is small. With an operating weight of 54 tons and bucket capacities up to five cubic yards, it can keep a string of trucks busy. The largest backhoe bucket for the R954 has a cutting width of more than seven feet. Even equipped with the smaller, three-cubic-yard bucket found on the Herpa model, it takes the big Liebherr just a few passes to fill a dump truck like Promotex's No. 450110 GMC General.
Like most heavy equipment manufacturers, Liebherr offers a variety of options on the R954 to suit jobs ranging from earthmoving to demolition work. These options include different boom lengths, backhoe, bottom-dump bucket, or other attachments and different pad (tread) widths to spread the machine's weight over a wider area, allowing a higher total load capacity. The Herpa model is a 1:87-scale replica of a R954 backhoe excavator with a 6.7-meter gooseneck boom and 600-millimeter treads.
As you would expect from a Herpa model, the tooling is sharp with well-defined lines and details. The R954 is molded in multiple colors and the printing and cab paint are very crisp and clear. After checking several measurements with digital calipers, I found that it scales out very well compared to Liebherr's published dimensions and features a fully articulated arm and bucket. The control lines for the arm are delicately reproduced in rubber and flex as the arm is moved. They also have a tendency to pop off, so a dot of gel-type super glue might be in order. All of the hydraulic mechanisms function realistically, moving with the boom.
The operator's cab is well detailed, right down to the exterior cab mirror. You can even see the arm that holds the operating controls when you look in the cab window.
While it might look like Herpa took a shortcut on the undercarriage, that's not true. Based on what you see, the prototype has a very simple drive wheel and carrier roller configuration and the model captures it nicely, including the five-bolt drive wheel. The treads are flexible rubber and move freely.
There are several opportunities for adding detail to this model. Additional hydraulic lines, grab irons and railings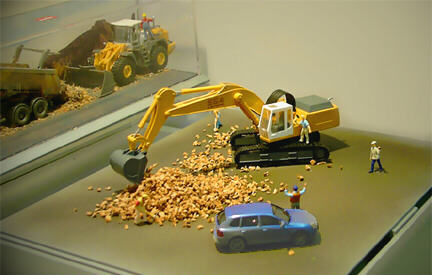 The Liebherr R954 on display during its introduction at the Nuremberg Toy Fair last February. Herpaís first heavy equipment model, the Liebherr L580 Wheel Loader is in the case behind the new models. Thatís one of the new Porsche Cayenne models in the foreground. Photo by Marc Schmidt.

will make a very good model great. Don't forget, this is a working machine, so weathering is important. For weathering suggestions, there are a number of good pictures on the Internet of Liebherr excavators at work. A good place to start is the Liebherr website www.liebherr.com.

A rig for hauling the Herpa Liebherr starts with a lowboy trailer and a heavy-duty tractor with a tag axle. With the boom lowered for traveling, the R954 is over 12 feet tall. It's also nearly twelve feet wide, meaning all the oversize load paraphernalia and escort vehicles fore and aft. On a recent trip, I saw a R954 being transported on Interstate 55 in Mississippi and it was quite an inspiring site. Even though it's not prototypical for North America, I bought Herpa's new 149242 Keller-Hess set with a MAN E2000 tractor and Goldhofer Modular Lowboy Flatdeck trailer to have enough space for the boom. Goldhofer trailers are used for heavy load transport in the U.S. and the Herpa model can be reconfigured in several ways to fit the load being carried. For a more North American-style rig, I would suggest a Promotex 450020 Mack CH 613 four-axle tractor and the 146470 Modular Lowboy Flatdeck trailer.

At $46.50, the new Herpa Liebherr excavator is more expensive than some diecast ready-to-run construction models on the market, but the price stacks up quite favorably with those of comparable Liebherr model kits from other manufacturers. The Herpa model has the additional advantage of being pre-assembled and having no paper stickers.

If you have a big job on your layout or a space in your collection, you're going to want this new Herpa model. Click here to get your own.

See you next time!

- Bill Cawthon

Bill Cawthon is an award-winning modeller and collector. His primary modeling interests are model railroading and vehicle models in 1:87 and 1:160 scales. He has written numerous articles for regional and division NMRA publications and is a contributor to the newsletter of the 1-87 Vehicle Club. He follows both the automobile industry and the European scale vehicle industry.

In real life, Bill is a full-time marketing and public relations consultant for the high-tech industry. He lives in Houston, Texas with his wife and four children.

Bill writes bi-weekly for Promotex Online. To learn more about him, click here.