T-TRAK: A big opportunity in a small package
June 15, 2003, by Bill Cawthon
A week ago, I had the opportunity to present a clinic at the 20th Anniversary U.S. National N-scale Convention in Houston. As always, I got to meet some nice people, see some new products and generally have a good time. My thanks to the Houston N'Crowd, which organized the event, for inviting me and my compliments to them for putting on a good show.
I don't often talk about model railroading in these columns, but this time is going to be an exception. I have mentioned the Grimy Gulch Scenic Railway more than a few times. It is the layout that Loren Neufeld and I started nine years ago with a single six-foot by thirty-inch NTRAK module. Over the years, Harry Daniel and Rick Businger joined our group and Grimy Gulch has grown to a nine-module layout that occupies a 400 square-foot space.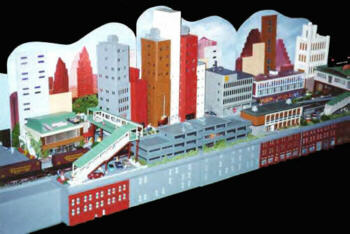 "Center City" is a set of three T-TRAK modules built by Lee Monaco FitzGerald. The buildings are a mixture of kits from American, Japanese and European manufacturers. A nice added touch is the front lower subway level with its lighted buildings. Model and photo by Lee Monaco FitzGerald.
For those of you who may be unfamiliar with modular layout construction, the idea is to build a layout composed of small sections. While there are modular layouts entirely built by a single individual, they are more commonly group endeavors. Usually, the layout is operated by a club with individual members building one or more modules. Sometimes there is a common theme, but more often, modules vary wildly from one to the next. That's because each builder selects the scene and scenery. It's a lot of fun to visit these layouts at train shows, because you get to see all kinds of ideas. You may see a city on one module and a farm on the next. Fantasy and whimsy are also common: when I was at the Houston convention, I saw a marvelous miniature Disneyland.
There are modular layouts in almost all model railroad scales, but one of the most common types is the NTRAK module. NTRAK is a set of standards originally developed by the late Ben Davis. Ben was one of the founders of the Belmont Shore Railroad Club, one of the first N-scale clubs in the country. While the club had (and still has) an outstanding conventional layout, Ben and some other club members wanted to help promote the hobby of model railroading in 1:160 scale by getting modelers involved in high-profile events, like setting up model railroad layouts at public shows.
Ben built the first NTRAK module in his garage and displayed it at the 1973 Model Railroad Industry Association show in Costa Mesa, California. In Ben's own words, "The specifications were designed so that any builder, anywhere in the world, could build a module, bring it to a show year after year, and know it would 'plug' into the others and operate."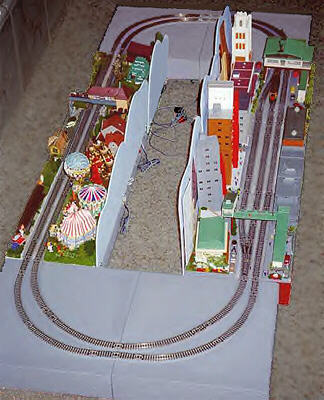 This complete two-track layout will fit in a space slightly larger than a typical living room coffee table. Model and photo by Lee Monaco FitzGerald.
Working with the new standards, club members were able to display a 12-foot by 72-foot NTRAK layout at the NMRA's National Train Show in 1974. By this time, Jim FitzGerald was working with Ben Davis, helping to promote the new concept and producing a small newsletter.
Since that show, over 3,000 NTRAK modules have been constructed and the concept has spread to Europe and Japan. While there is no tally of the number of people active in NTRAK today, large layouts haven't been a problem in a long time. The Northern Virginia NTRAK group is talking about a 30,000 square-foot layout for the 2004 N-Scale East Convention. Even if it was just a 30-by-100-foot rectangle, that would be 260 feet of track, equivalent to over seven miles in the full-size world. A model train, traveling at a scale 50 mph, would take more than eight minutes to make a single circuit of such a layout.
Over time, Ben Davis' efforts took their toll and he turned things over to Jim FitzGerald. Now in his thirtieth year with NTRAK, Jim is still spearheading the program and has become its leading light. NTRAK is the oldest modular railroading organization in North America, if not the world. In 1996, NTRAK became the "NTRAK Modular Railroading Society, Inc." a non-profit, 501c(3) corporation. It's still an informal organization; devoted to promoting the hobby and making sure standards keep up with not just technology, but changing tastes as well. Over time, there have been variations on the NTRAK theme, but the original concept has withstood the test of time and is still the most popular.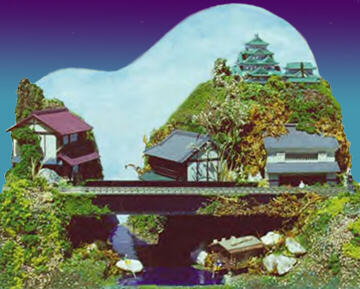 This beautiful Japanese-themed scene was the first American T-TRAK module. Lee Monaco FitzGerald built it in June 2001 and exhibited it in Japan two months later. The river is stained glass. Model and photo by Lee Monaco FitzGerald.
One of the best things about the modular approach to model railroading is the fact it is the easiest way to "try on" more advanced parts of the hobby. There is a huge gap between enjoying a small train set running around a loop of track and the home-filling empires one sees in the model railroad magazines. Even the venerable four-by-eight sheet of plywood can be a lot of territory when you're just starting out. However, a two-foot by four-foot module with three straight tracks is easy and it allows you to try every aspect of model railroading from tracklaying and wiring to advanced scenery techniques. And when modules are put together in a layout, you can run trains to your heart's content. I know of one fellow who built a couple of modules for a local club and then built a couple of loops so he could have a small layout at home.
I have counted myself as an "NTRAK-er" for almost ten years, but at the Houston convention, I discovered something new and exciting.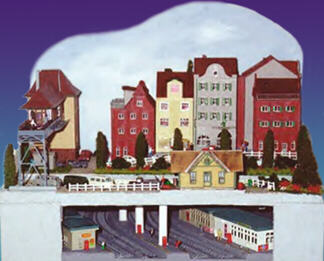 This T-TRAK module was inspired by a European street scene. Lee added a subway stop with small shops below the street. Model and photo by Lee Monaco FitzGerald.
Jim and Lee Monaco FitzGerald were showing off some T-TRAK modules. It was the first time I had ever seen T-TRAK and I was captivated. According to Jim's history of T-TRAK, the idea originated with one of the editors of RM Models, a Japanese hobby magazine. Beginning with a paper model of a tram and a sheet of stationery, the editor and some staff members came up with concept for miniature layout sections they called "Romen Tram Modules." Jim and Lee discovered the modules on a trip to Japan in 2000 and brought the idea back to the U.S. Lee named the tiny modules "T-TRAK" for "Trams, Trolleys, Trains, Two-Track and Tabletop."
In a note, Lee told me, "My ideas just started to tumble out and what it would mean to seasoned modelers and the answer to bring in new modelers into the hobby. So I did the varied modules to show what can really be done."
The beautiful examples I saw at the Houston Convention were proof that small size is no barrier to exquisite detailing. I was amazed at the amount of scenery that could be crammed into such a tiny space.
T-TRAK modules are 12 1/8 inches by 8¼ inches, just slightly larger than a standard sheet of paper. An entire ten-module layout will fit in 72 inches by 30 inches, the same space Loren and I used for the original Grimy Gulch module. Since they use standard Kato Unitrack® pieces, laying track on a T-TRAK module is as simple as the process is ever going to get. Another advantage is that Kato Unitrack pieces lock together, meaning setting up a T-TRAK layout is as simple as pushing the modules together. Wiring consists of plugging wires from the power pack to a feeder section. In NTRAK, we use C-clamps and plugs, and each module must be aligned both vertically and horizontally.
The whole T-TRAK idea appeals to me. Despite the fact I have had a hand in building several layouts and modules, I haven't had a layout of my own since family growth crowded out my old 4 X 8 years ago. For a number of years, I have dreamed of building a holiday layout. In fact, it was Ron Ford's marvelous "Pine Hollow Central," which appeared in the December 1989 issue of Model Railroader, that got me to finally quit being an "armchair" railroader in the first place. T-Trak would give me the space to create all the scenes I have imagined over the years in a form I could set up when the holidays are coming and store after the season is over.
If you have ever dreamed of having a model railroad, T-TRAK might be for you. Unlike the larger modules, T-TRAK can give you a complete operating layout in a small area. Scenery can be added to each module individually as time permits, working at a workbench or desk. After all, how large a space does it require to work on something the size of a piece of printer paper?
Scenery is easy, too. If you can paint a wall and salt your food, you already possess most of the necessary skills. As you acquire experience with the techniques, you'll find you can complete a T-TRAK module in a few pleasant evenings.
T-TRAK modules call for small trains, with four-axle locomotives and short cars. For passenger service, consider a trolley or tram instead of a mainline Amtrak special. For fun, you might even consider using Tomix's Thomas the Tank Engine with Annie and Clarabel. Kids would love it.
Model railroading is a great hobby and lots of fun. T-TRAK could be just the ticket for you to get on board as a participant instead of a spectator. Visit the T-TRAK web site at http://www.t-trak.com to learn more.
Many thanks to Lee Monaco FitzGerald for allowing me to share her wonderful work and allowing me to use the photos for this column.
See you next time!
- Bill Cawthon
Bill Cawthon is an award-winning modeller and collector. His primary modeling interests are model railroading and vehicle models in 1:87 and 1:160 scales. He has written numerous articles for regional and division NMRA publications and is a contributor to the newsletter of the 1-87 Vehicle Club. He follows both the automobile industry and the European scale vehicle industry.
In real life, Bill is a full-time marketing and public relations consultant for the high-tech industry. He lives in Houston, Texas with his wife and four children.
Bill writes bi-weekly for Promotex Online. To learn more about him, click here.