Larry's and the Midget
June 1, 2003, by Bill Cawthon
While I buy many of my models online, when it comes time to do some real model building, I believe there's no substitute for a bricks-and-mortar hobby shop. Since 1989, my favorite has been Larry's Hobbies. It's over 20 miles from my home northwest of Houston, and well outside my usual travel patterns, but I still try to get by once or twice a year to browse and chat with Mark Fischner, who runs the train side of the business.
This time, I needed to restock my Evergreen Styrene supply and pick up a couple of items to finish a project for a friend. The other two hours I spent at Larry's were occupied with catching up on events with Mark and seeing what was on the shelves and racks.
I don't know if you are familiar with the term "impulse item." In marketing and merchandising, it refers to all the magazines, candy and other small stuff displayed around the cashier's stand designed to entice you into picking up just one more thing while you're in line at the supermarket or discount store. To me, Larry's is one big impulse item display. I don't think I have ever made it out of Larry's with just what I went to get.
This time was no different. In addition to the building materials, I found a few vehicle models that needed a new home. One of these was a little MG TC Midget made by Busch.
The MG TC Midget is a model I have intended to add to the inventory at "Oddball's Autos" since I started the collection over four years ago. Its prototype and the successor MG-TD were among the legendary vehicles that sparked the American sports car craze in the years following the end of World War II. Another of the TC's successors was the first car I ever owned.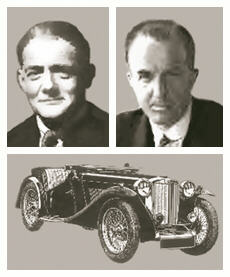 Lord Nuffield, Cecil Kimber and
the MG TC Midget
MG is probably one of the best-known English sports cars and is one of the few in production today, although it should be noted there was quite a stretch between the last of the Midgets and today's MGF. The name comes from the initials of Morris Garages, the Oxford distributors for Morris Cars Ltd., both of which were owned by William Morris, one of the great names in the history of the British auto industry.
Morris was born in Worcester in 1877, but grew up in Oxford. He left school at 15. The following year, he set up a business in the family home, making and repairing bicycles. Over time, he graduated to motorcycles and opened a garage in Longwall Street, Oxford, where he began selling, renting and repairing automobiles.
In 1912, Morris designed his first car, now known as the Bull-Nosed Morris. The car was well received and he began regular production in a closed-down military school in nearby Cowley. The company made munitions instead of cars during World War I, but quickly went back to the automobile business after the Armistice in 1918.
By 1925, Morris Motors was producing 56,000 cars a year and was one of England's leading car companies. In the years between the world wars, Morris was one of the four companies that basically dominated the mass automobile market in England. Morris was made a baron in 1934 and a viscount four years later. He became Lord Nuffield, taking the name of the village where he lived. Despite what most of us envision as the lifestyle of British peerage, Lord and Lady Nuffield lived in a relatively small home and gave most of their money to charity. By the time of his death in 1963, Lord Nuffield had given away millions of dollars and was one of England's foremost philanthropists.
In 1922, Morris hired Cecil Kimber as sales manager of Morris Garages. Cecil Kimber was born in London in 1888. Unlike Morris, who learned mechanics as an apprentice, Kimber's first job was in his father's printing company. While, like Morris, Kimber was interested in bicycles, he was more interested in racing them and only learned to work on them to keep his 1906 Rex in running order. In 1910, he was seriously injured in a traffic accident, almost losing a leg. Fortunately, he recovered and used his compensation money from the accident to buy a car. In 1914, he left the family business and went to work at Sheffield-Simplex as assistant to the chief engineer. Five years later, after a couple of other job changes, he got a job with E.G. Wrigley, which manufactured shafts for Morris. It was through his work at Wrigley that Cecil Kimber met William Morris.
As a racing enthusiast, Kimber was interested in sports cars and began designing new coachwork for some of the Morris and Cowley chassis. By 1924, Kimber was general manager and Morris Garages was advertising the "MG Special four-seater Sports" model. 1925 saw more new models with the new octagonal badge and Kimber drove an MG to its first victory, winning the gold medal at the Lands End Trial race.
Within four years, Morris Garages had officially become the MG Car Company and production requirements had grown so much the company had moved to its third, and final, home in Abingdon. Ever since 1929, MGs have been synonymous with Abingdon in purists' hearts, even after the plant was closed in 1980 following the end of sports car production.
The original MG Midget was the Type M introduced in late 1928. It had a tiny 847cc 4-cylinder engine and was not very refined. However, it was arguably the best sports car available for the price in those days and the company sold over 3,000 of the little roadsters.
The direct ancestor of my Busch model's prototype, at least in terms of styling, was the Type J, which debuted in 1932. Even with its small engine, it would reach a top speed of 78, which must have been quite an experience in such a small car. Almost 2500 were built from 1932 to 1934. The Type J was succeeded by the Type P, which had a new engine with an improved 3-bearing crankshaft and much smoother performance. A later version, called the PB, had a slightly larger 939cc engine. MG built 2,499 Type P cars from 1934 to 1936, when the first MG T appeared.
During the time the MG P was in production, Morris sold his car companies, including MG, to Morris Motors and formed the Nuffield Group. This marked the end of MG's heavy involvement in racing and an increased emphasis on making money by making cars. In fact, a number of auto historians believe 1935 was the end of MG as Cecil Kimber had imagined it. There were fewer products and the MG badge began to appear on distinctly non-sporting sedans. However, in terms of sports car sales, MG's best years were yet to come.
The MG TA Midget was introduced in the spring of 1936. At first, it was not popular with fans of the marque, but it soon won a number of converts because it was easier to drive and less finicky than previous sports cars. The TA had a number of improvements including a new chassis and a larger 1292cc overhead-valve engine. It was also the first MG equipped with hydraulic brakes and a four-speed, synchromesh transmission.
The TA brought new customers to MG and also did well in competition. The MG factory itself developed performance-turning techniques to get the most out of the engine and supplied the information to the more enthusiastic owners.
The TA was to be followed by the TB, but World War II intervened and Cecil Kimber would not live to see another new MG. When hostilities began in 1939, the Abingdon factory, like almost all British industry, was converted to wartime production. The MG factory was assigned to repairing tanks and converting automobiles into light trucks for military use. Cecil Kimber had a falling-out with MG's management over war contracts and was dismissed in November 1941. He was killed in a train accident on February 4, 1945.
After the end of the War, things were very different for the English automakers. Resources and materials were scarce and priority was given to products built for export. MG was one of the first companies to resume production and introduced the MG TC.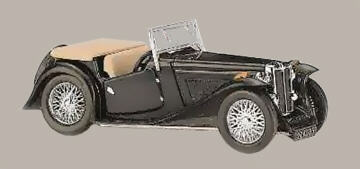 Busch MG TC Midget Supermodell
The TC was, for all intents and purposes, the pre-war TB. The engine was a 1250cc 4-cylinder with dual carburetors mated to the TB's four-speed transmission. There were now 9-inch hydraulic brakes and a bit more attention had been paid to occupant comfort. There was just one body style: the open roadster whose basic styling had been laid down more than a fifteen years earlier.
Normally, this would not be the recipe for a hit, but something about the TC struck a chord with buyers. Whether it was nostalgia for the prewar days, or just the joy of being able to get a new car again, sales of the TC were the best of any of the Midget series to that time. In addition, American GIs returning from Europe brought with them a taste for the light roadsters they had encountered in England. The TC was a hit and more than 10,000 were built from 1945 until 1949, when the TD was introduced. Of that number, more than 2,000 came to the United States where they became the symbol of the new craze for European sports cars.
While the TC was the first to capture the U.S. market, most Americans probably remember the TD better. The TD, produced from 1949 to 1953, was a vast improvement with a stronger frame and an independent front suspension system, which gave a much better ride. The TD sported bumpers, a first for a Midget. One change that was not universally popular was the replacement of the TC's 19-inch wire wheels with 15-inch steel ones. However, most people were perfectly happy with the lower-maintenance wheels and the TD became the best selling of the T-Series Midgets, nearly tripling the sales of the TC.
By 1953, the Midget's day had passed. A new model, the TF, was introduced, but even a more powerful engine wasn't enough to make it competitive with the newer cars being produced by other English automakers. After twenty-six years, production of the Midget ended in 1955.
The T-Series Midgets have always been special to me. One of the toys I remember from my early childhood was an MG roadster. That was way back when you could still buy a new TD. I think my Dad wanted one, but for a variety of reasons it just wasn't quite practical for a one-car household. When I bought my first car in 1970, it was a new MG Midget which, though much more civilized than the T-Series, was still a roller skate with pretensions and was still wildly impractical. But I am not sure I have ever owned a car that was as much fun to drive on a sunny day with a winding road ahead.
If you ever get to Houston, Larry's Hobbies is at the corner of Interstate 45 and FM 1960 East in the far north part of the city. Like any good hobby shop, the shelves are loaded and the walls are filled with all sorts of neat stuff. It's fun to look around, seeing what treasures you can find and not even noticing that the hours just seem to disappear.
See you next time!
- Bill Cawthon
Bill Cawthon is an award-winning modeller and collector. His primary modeling interests are model railroading and vehicle models in 1:87 and 1:160 scales. He has written numerous articles for regional and division NMRA publications and is a contributor to the newsletter of the 1-87 Vehicle Club. He follows both the automobile industry and the European scale vehicle industry.
In real life, Bill is a full-time marketing and public relations consultant for the high-tech industry. He lives in Houston, Texas with his wife and four children.
Bill writes bi-weekly for Promotex Online. To learn more about him, click here.