Maybach: The Man, The Car, The Model
May 1, 2003, by Bill Cawthon
In the coming months, you may begin to see a new car on the roads of North America. The Maybach is coming to the United States. At the North American International Auto Show last January, the Tonight Show's Jay Leno helped introduce the new Maybach to the U.S. market. Leno joked that DaimlerChrysler would have a tough job getting the brand established because Americans associated the name with a washing machine.
Those of us who follow the international auto industry have no such problem: For the past five years, we have been watching DaimlerChrysler develop what it hopes will become the world's most prestigious luxury sedan. Mercedes has long dreamed of knocking the Rolls-Royce off its pedestal as the world's most exclusive sedan. Now, the competition is even more important: the new Rolls-Royce Phantom is made by Mercedes' archrival, BMW.
The Maybach has an interesting history. Not only is it named for the man who designed the first Mercedes; it is also intended to be the recreation of an automobile that, in its day, was one of Mercedes' most formidable competitors.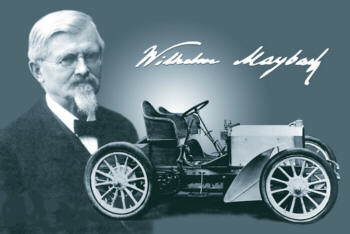 Wilhelm Maybach and his most famous creation: The original Mercedes automobile of 1901. Image created from photographs in the DaimlerChrysler archives.
Wilhelm Maybach (1846-1929) was born in Heilbronn, Germany. His family later moved to Stuttgart but tragedy struck and he was an orphan by the age of ten. Fortunately, a charitable organization learned of his plight and took him in. He attended school at Reutlinger Bruderhaus where Gustav Werner, the school's founder, recognized Maybach's technical talents.
When Maybach was 19, he met Gottlieb Daimler, who was also impressed with Maybach's abilities. Maybach became Daimler's protégé, and the two developed a close working relationship and friendship that lasted until Daimler died in 1900.
In 1869, Maybach and Daimler moved their families to Karlsruhe and went to work for the Deutz engine company. While at Deutz, Maybach began to design lightweight, high-speed engines that could be used in a variety of applications.
Following a dispute with the management, Daimler and Maybach left Deutz in 1882 and moved again: this time to Canstatt. The team continued to work on new engines. Over the next three years, they developed a radical new engine and installed it first in a wooden cart, then in a carriage. At that point, Maybach realized adding an engine to a carriage was not the way to go and began working on a new vehicle designed to be a true automobile.
At the Paris World Exhibition in 1889, Daimler and Maybach displayed their new car, which had features like steel wheels and a sliding pinion gearshift system.
In November 1890, Daimler and two partners founded "Daimler Motoren Gesellschaft" (DMG) or Daimler Motor Company and made Wilhelm Maybach chief engineer. The arrangement did not work out. Maybach grew unhappy with the terms of his contract and left the following February.
Over the next eighteen months, Maybach worked in an apartment and Gottlieb Daimler continued to provide financial support. Out of this period came important engine developments, including the new Phoenix engine with its improved carburetor and belt drive system.
Following a better offer, Maybach returned to DMG as chief engineer in 1895. There, he produced more innovations like the fan-cooled honeycomb radiator and the first four-cylinder automobile engine, laying the groundwork for the modern automobile. By this time, the French were calling him the "King of the Designers."
His most famous design came after the death of his old friend. In April 1900, just a month after Gottlieb Daimler's passing, Emil Jellinek, Daimler's representative for Nice, asked Maybach and Daimler's son, Paul, to design a new, more powerful car he could sell to the wealthy residents of the French Riviera. As the French company Panhard already owned the rights to the Daimler name in France, Jellinek asked that the new car be named for his daughter, Mercedes. With Maybach's powerful engine and a revolutionary new body, including a pressed-steel frame, the new Mercedes quickly became a success and marked the end of the "horseless carriage" era of automotive design.
Unfortunately, Maybach did not get to enjoy the fruits of his labor. Without the protection of Gottlieb Daimler, Maybach fell victim to company politics and the demands of his job. In the fall of 1903, the exhausted Maybach fell ill and had to spend a long time recuperating. After he returned to DMG, he was replaced as chief engineer and relegated to an "Inventor's Office." Embittered, he left the company in 1907, never to return.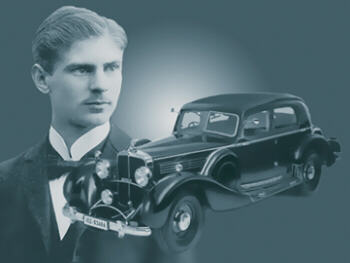 Like his father, Karl Maybach was a brilliant engine designer. In 1921, he created the Maybach automobile which became Germany's premier luxury car line. Image created from photographs in the DaimlerChrysler archives.
Maybach found a new opportunity in airship propulsion. After Count Zeppelin's Daimler-powered LZ4 airship had engine troubles and was destroyed in a storm, Wilhelm Maybach wrote to the Count, telling him of a new improved engine design created by Maybach's son Karl. Count Zeppelin was already a fan of Wilhelm's work and in 1909, Count Zeppelin and the Maybachs opened "Luftfahrzeug Motorenbau GmbH" in Bissingen.
Three years later, the company moved to Friedrichshafen and changed its name to Motorenbau Friedrichshafen. At the same time, the Maybachs bought a 40% share of the company. On May 6, 1918, the firm became Maybach Motorenbau GmbH.
By the time the company moved to Friedrichshafen in 1912, Wilhelm Maybach, who was now 63 years old, had turned operations over to Karl, paving the way for the second part of the Maybach legacy.
Karl Maybach (1879 - 1960) grew up with cars and followed in his father's footsteps. From the creation of the first company in Bissingen until 1952, he was the technical director. Ironically, he did not originally set out to become an automobile manufacturer.
In the hard years that followed World War I, the terms of the Versailles Treaty prohibited the manufacture of aircraft engines by German firms, so Maybach Motorenbau had to find other lines of work. The company changed its focus to the production of engines for locomotives and ships. Karl Maybach believed the company also had a future as a supplier of automobile engines.
For a number of reasons, Maybach had difficulty lining up contracts and only one firm, Trompenburg, the Dutch company that produced the Spyker automobile, became a customer. However, even this arrangement didn't last as Trompenburg ran into financial problems. So, Karl Maybach decided to start making cars on his own.
The first Maybach, the W3, debuted at the 1921 Berlin Motor Show, where its advanced design gained a lot of attention. Like his father, Karl Maybach wanted to build the most technically advanced car possible and designed his products around the tastes and desires of the wealthy. Every Maybach was unique, with a custom body designed to the buyer's specifications. Maybachs were prized for their powerful engines and sophisticated transmissions. In 1929, he introduced the Maybach 12 DS, the first production car with a V12 engine.
Four days after Christmas 1929, Wilhelm Maybach died at the age of 83. Ironically, the young lady for whom his most famous creation was named had died earlier that same year. Baroness Mercedes Jellinek Weigl was just 39 years old when she died in February 1929.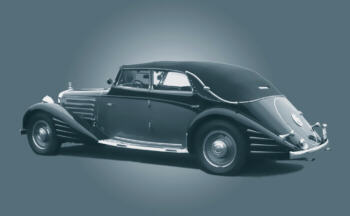 Today, only 152 Maybachs are known to exist. Custom-bodied V12 Zeppelins can command huge prices at classic car auctions. The Zeppelin shown above was one of a group of Maybachs shown at the Pebble Beach Concours d'Elegance in 2002. Image created from a DaimlerChrysler photograph.
In 1930, Karl Maybach unveiled the first of the legendary Zeppelins. The Zeppelin was an ultra-luxury car, even more expensive than the Horch, its only real competition. It carried a price tag of 29,500 Reichsmarks and some ran as high as 50,000 Reichsmarks, enough in those days to buy five large family homes or thirty-three Opel P4s. It's probably no surprise that fewer than 200 Zeppelins were built during its entire run.
From 1921 until the Second World War, Maybach built a total of 2,300 cars, including show cars and the early W1 and W2 prototypes. Today, only about 150 Maybachs remain, some bringing upwards of a million dollars at auction.
During World War II, Maybach built tank and boat engines for the Wehrmacht. After the war, the German economy could not support a premium automobile and production never resumed. Karl Maybach was able to keep the Friedrichshafen plant open by agreeing to build engines for the French. Over time, the engine business survived and prospered again. In the early 1960s, its locomotive and ship engine works merged with Daimler-Benz's heavy-duty engine works to form one of the predecessors of MTU-Friedrichshafen, DaimlerChrysler's huge diesel engine subsidiary. Maybach Motorenbau itself became part of Daimler-Benz a few years later, reuniting the legacies of Wilhelm Maybach and Gottlieb Daimler. The old friends were together again.
In 1996, Wilhelm Maybach was inducted into the Automotive Hall of Fame.
Next time, I want to tell you about the modern Maybach and the far more affordable Herpa model. See you then!
- Bill Cawthon
Bill Cawthon is an award-winning modeller and collector. His primary modeling interests are model railroading and vehicle models in 1:87 and 1:160 scales. He has written numerous articles for regional and division NMRA publications and is a contributor to the newsletter of the 1-87 Vehicle Club. He follows both the automobile industry and the European scale vehicle industry.
In real life, Bill is a full-time marketing and public relations consultant for the high-tech industry. He lives in Houston, Texas with his wife and four children.
Bill writes bi-weekly for Promotex Online. To learn more about him, click here.