More Nürnberg News
March 1, 2003, by Bill Cawthon
Earlier, I wrote about some of the new Herpa products announced at the International Toy Fair in Nürnberg, Germany last month. This time, I want to tell you about a few other exciting models coming from Germany in 2003.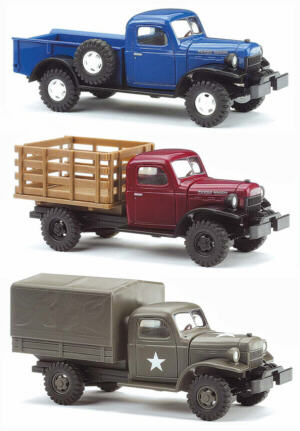 Busch will offer its Dodge Power Wagon model in three versions. Photo courtesy of Busch GmbH & Co. KG.
For most North American model fans, the most exciting new model is likely the Dodge Power Wagon announced by Busch Automodelle. Dodge trucks were used extensively in World War II as everything from weapons carriers to ambulances. After the war, thousands of returning American GIs wrote to Chrysler asking them to make a truck like the ones they had driven in the service. The Dodge Power Wagon made its debut in late 1945 and remained in production, largely unchanged, until 1971 (North American sales ended in 1968). The Power Wagon was the first mass-produced American 4X4 pickup truck designed for the civilian market.
Busch's new 1:87-scale Power Wagon comes in three versions: pickup, stakebed and military truck with covered bed. The military truck is not strictly prototypical: while the Power Wagon traces its origin to military vehicles, the Army never bought them.
While it's a great model as-is, kitbashers and modelers will have a field day with the Power Wagon. They were used as farm trucks, snowplows, wildfire trucks and a wide variety of other purposes. While there were special bodies offered for the Power Wagon, many times a regular pickup would be modified to meet the owner's special requirements.
Busch also has new models in its State Police series. This year, we get a 1977 Plymouth Fury in Kansas Highway Patrol livery, a 1995 Chevrolet Caprice wearing Louisiana State Police colors and 1996 Ford Crown Victorias decorated for the South Carolina Highway Patrol, Kentucky State Police and New Mexico State Police.
One noteworthy new police model uses Busch's Ford E-350 box van. It's a replica of a truck used by the San Francisco Police Department for drunk-driving enforcement. Similar vans are used by law enforcement agencies for crime scene investigation, bomb squads, SWAT transports and, of course, paddy wagons.
There are a number of other new Busch models, including the Mercedes-Benz E-Class wagon, which is headed for American dealers now and Smart's new Roadster and Coupe, which may be headed to the U.S. in 2005. Busch has also released a general run version of its award-winning 1886 Benz Patent Motorcar. Last year, the Benz was available only as a limited run and took "Model of the Year" honors. If you didn't get one of the special models last year (and they are getting to be hard to find), get one of the new black models this year. It is really a beautiful piece of work.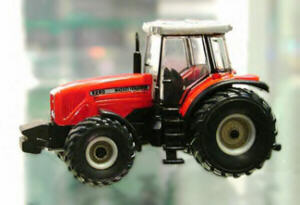 Wiking showed this 1:160 version of their popular Massey Ferguson 8280. Photo by Marc Schmidt.
Wiking will follow up their very successful Massey Ferguson with a John Deere 6920 Tractor due later this year. While most think of John Deere as a uniquely American brand, the 6920 is one of the more popular agricultural tractors in Europe. Next month, Wiking will give N-scale fans a treat as they roll out a 1:160 version of the Massey Ferguson.
Coming in April is the Hako Citymaster street sweeper. While I have not found any distributors in the U.S., the Hako is so neat; you may want to add one to your collection or modern-era layout anyway. The Wiking model has the articulated steering just like the prototype as well as a detachable collection bin with an operating lid.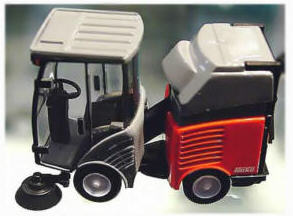 One of Wiking's April releases is this Hako Citymaster 300 sweeper. Photo by Marc Schmidt.
Wiking will also have models of a couple of new Volkswagens. First is the convertible version of the New Beetle that went on sale at American VW dealers at the end of 2002. The other is the Touareg SUV, which will hit the U.S. later this year. General release versions won't hit until later this year, but the promotional models are available right now from Volkswagen of America.
Brekina has a new model of the Volvo Amazon 4-door sedan. Sold over here as the 122 from about 1960 to the early 1970s, the Volvo was well regarded for its rugged reliability. Brekina introduced the two-door version last year. Brekina is making more and more classic European vehicles that were also sold in North America.
Having had a chance to see some of these models for myself, I continue to be impressed by the increasing quality and higher level of detail. This is also true of the new Herpa models, like the Maybach, which is now available at Promotex. Even Brekina is adding more detailed printing and the paint jobs on models like the Touareg and Busch CMD models would have been difficult for even a skilled modeler to achieve only a few years ago.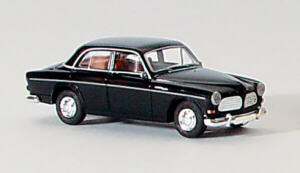 Volvo sold the Amazon as the 122 in North America. In addition to the new 4-door sedan, Brekina produces a 2-door version that is also prototypical. Photo courtesy of Brekina Modellspielwaren GmbH.
One interesting new model this year comes from Siku, Wiking's sibling in the Sieper family. Siku, which specializes in diecast metal models, was showing a new eighteen-wheel rig with a Freightliner Coronado tractor at Nürnberg. Since what appears in the Siku line often predicts what will appear as a Wiking model, there is a lot of speculation the Coronado could appear in the Wiking line. A new American tractor would certainly be welcome.
While we are on the topic of diecast models, Schuco is expanding their line of 1:87 scale cars and showed a nice range at the 2003 Toy Fair. While they don't have the level of detail one would expect from a Herpa model, they are a far cry from the little lumpish Piccolo models for which Schuco is best known. Curiously enough, not only do the Edition 1:87 cars have far more detail than the Piccolos, they are also far cheaper: about four euros in Germany. There are no definite plans to bring the little Schucos over, however, Ravensburger-F. X. Schmid has signed an agreement with Dickie-Schuco to be their distributor in the U.S. (Ravensburger-F.X. Schmid also handles Siku distribution in the U.S.). Phil Aberbach, Ravensburger's vice president of sales, tells me the agreement allows them to bring in any Schuco models they want. So there may be some hope. In the meantime, cultivate friends in Germany.
While there weren't many new models with North American prototypes at Nürnberg this year, there were many great models you will enjoy adding to your collection or layout. And don't forget, not every model that will debut this year was shown. There may yet be some pleasant surprises in the months to come.
This column, which is my fifty-fourth, kicks off my third year with Promotex. I have had fun for the past two years and I hope I can provide you with interesting reading in the months ahead. If you have questions, comments or suggestions for topics, please feel free to drop me a line. Click on the link below for my e-mail address. I always enjoy hearing from you.
See you next time!
- Bill Cawthon
Bill Cawthon is an award-winning modeller and collector. His primary modeling interests are model railroading and vehicle models in 1:87 and 1:160 scales. He has written numerous articles for regional and division NMRA publications and is a contributor to the newsletter of the 1-87 Vehicle Club. He follows both the automobile industry and the European scale vehicle industry.
In real life, Bill is a full-time marketing and public relations consultant for the high-tech industry. He lives in Houston, Texas with his wife and four children.
Bill writes bi-weekly for Promotex Online. To learn more about him, click here.