Cruising in style
Back in March 2001, I kicked off these columns with a look at German police cars and the new color scheme that was just beginning to be adopted by some German police agencies. Now, as I come up on my second anniversary with Promotex, I thought it would be interesting to look at some more German police cars. This time, though, they are in the United States and Canada.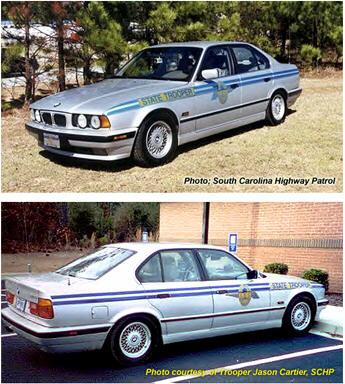 When BMW opened its new plant in South Carolina, company officials presented a pair of M5 sedans to the South Carolina Highway Patrol. Although they carried full official markings and one had a blue light bar, the SCHP used them primarily for public relations duties. From what I understand, one was wrecked and the other is now in a museum. You can find many references to these cars on the web. However, it seems most people who know about the M5s don't realize the SCHP is still using BMWs for traffic enforcement. While Ford Crown Victorias and Chevy Camaros make up the vast majority of the fleet, SCHP Trooper Jason Cartier told me about the BMW 5-Series currently in use.
"We actually have a very good deal with the BMWs," Trooper Cartier said. "As you could imagine, they are not something that the state could just fork out all that money for. A few years ago, the BMW plant opened up in Greenville, SC and they are nice enough to lease the vehicles to the state for one dollar a year. To be honest with you I am not too familiar with the program but from what I understand for every so many the BMW plant sells they offer one to us at that discounted price.'
"Last I checked, there were only three on the roads. I think that the one that I saw was a 5-Series with a special police package. They are strategically placed in the "dense" areas of the state so they will get the most visibility. Of course, there is one in Greenville, one in Columbia (the state capital) and I think one near Myrtle Beach. Everyone that I have talked to said that they hold up very well and they drive very good, but, that is a BMW!"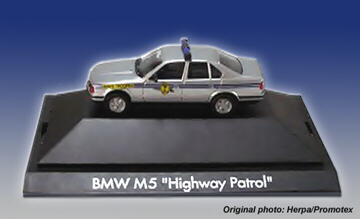 As you can see from the pictures, the South Carolina BMWs have the markings but no roof lights, a configuration the SCHP calls "semi-marked."
Herpa offered a Private Collection model of one of the original SCHP M5s. Thanks to a lucky find at 87rare.com, I now have one in my collection. One of these days, I may replace the light bar Herpa installed with a more prototypical-appearing Whelen Edge from Roco.
Georgia has also had a few BMWs. As part of the preparations for the 1996 Olympic Games in Atlanta, the Georgia State Patrol received three 320i sedans from an Atlanta BMW dealer for use in escorting the runners carrying the Olympic Torch across America. Former Georgia State Trooper Christian Shepherd says the Bimmers had full Georgia State Patrol markings and were assigned GSP plates "1", "2" and "3." Due to interior space limitations, the BMWs did not have the prisoner cage separator that is standard equipment in the larger patrol cars. They were also a bit cramped for all the accident investigation and other equipment GSP troopers must carry.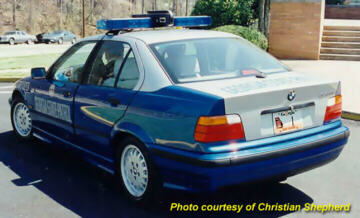 "I will say this; the cars were absolutely gorgeous and were real head turners," said Mr. Shepherd when speaking of the GSP BMWs.
After the games were over, all three were assigned to regular patrol duties. Two of them were later involved in accidents; neither of which was caused by the trooper, notes Mr. Shepherd. The third may still be in active service.
As far as I know, no one ever made a model of the Georgia State Patrol 320i. That's too bad, because, as you can see from the picture, Mr. Shepherd is absolutely right: they are real head turners.
It's been reported the California Highway Patrol also evaluated BMWs for purchase as part of their regular fleet, but I haven't been able to locate much information on that program. The CHP tried several different cars and eventually settled on Volvo S70 T5 special pursuit units and deployed them on a limited basis. Unlike the SCHP and GSP cars, the CHP bought the Volvos. It was determined they would hold up well enough that the total cost of operation was not significantly higher than other CHP line cars. Volvos were also evaluated by the Arizona Department of Public Safety and Oklahoma Highway Patrol and were in relatively widespread use in Canada. We would probably have seen more of them if Volvo hadn't ended their police sedan program in North America.
BMW is not the only German brand to sport a light bar and official markings in the United States. There are the Tuscaloosa County Sheriff's Mercedes. After Mercedes-Benz began producing their new ML320 sport-utility vehicle in Vance, Alabama, the company presented a pair to the Tuscaloosa County Sheriff's Department. The program worked well enough the county now uses several ML-Class SUVs in the Sheriff's Patrol. Busch made a model of the original Tuscaloosa County Mercedes.
Of course, Volkswagens have frequently appeared in police livery, sometimes as a joke, like the Tennessee State Trooper Beetle, others as real patrol cars, like the Rabbit purchased by a North Carolina police department in the days of gas shortages. The Sioux Falls, South Dakota Police Department bought a New Beetle for its school safety officer, who also uses it for traffic enforcement. The town of Mirabel, Quebec has not only a New Beetle, but also a BMW Mini that is used in special police programs.
Even VW's upscale sibling has worked a beat. As recently as last year, the Royal Canadian Mounted Police had an Audi A6 in sporting the colors. It was one of the cars in the RCMP's "Partnerships in Policing" program in North Vancouver, British Columbia. Other vehicles in the "PiP" fleet included a Jaguar S-Type, Land Rover and Mercedes-Benz ML-Class. Obviously, police budgets can't cover upscale vehicles without at least a murmur of protest from the taxpayers. Local auto dealers provide these vehicles to the Mounties.
Many of these cars are used for special duties, like school or public relations, but every one is driven by a commissioned peace officer who will be more than happy to give you a written reminder that even a fancy police cruiser is still a police cruiser.
In reality, all of these vehicles combined make up only a tiny percentage of the North American law enforcement fleet. As Christian Shepherd noted, they are much more expensive than a Crown Victoria, Impala or Intrepid bought off a master contract. In addition, most of them are really too small for all the gear found in the typical modern Tijuana Taxi.
But it's fun to experiment. How would a Herpa BMW M5 look in CHP black and white? Getting closer to home, I think an Audi A6 would look pretty slick in the Texas Department of Public Safety's "skunk" livery.
If you are a fan of police car models, something like this might make an enjoyable project and an interesting addition to your fleet.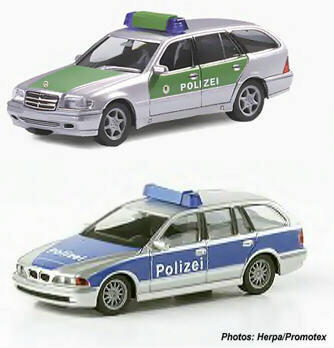 Even before all the German states have switched to silver cars with green markings, things are changing again. Top: Mercedes C-Class in the original Baden-Württemberg livery. Bottom: BMW 5-series Touring in the new graphics of the Brandenburg Highway Patrol.
Chimneyville makes decal sets in 1:87 scale for a number of U.S. law enforcement agencies and Microscale offers a set of generic police markings in set MC4150 which can be combined with some of their railroad striping to create modern police graphics. You might even try using the smaller insignia from Microscale N-scale set 60-4150 just as real police forces are incorporating reduced-size badges as part of their vehicle markings.
While you won't find many Hella or Wandel & Goltermann light bars over here, Herpa's Techno Design 8000 has definite possibilities. Busch also produces modern police light bars, push bars and spotlights in 1:87 scale. If you can find a set, Roco Miniaturmodelle set 1747 contained red and blue Whelen Edge light bars.
One note before I wrap it up: As I mentioned at the beginning of this column, I first wrote about the new look for German police cars. Less than two years later, they are changing again. Most European police agencies are moving to blue and red graphics on their police vehicles and there is apparently some pressure on the German police agencies to follow suit so police vehicles will be easily recognized throughout the European Union. Personally, if I see a car with blue lights and foot-tall letters that say "POLIZEI," I can pretty well figure who is behind the wheel. In any event, some of the German states are now switching to silver cars with blue graphics.
My sincere thanks to Trooper Jason Cartier of the South Carolina Highway Patrol and Christian Shepherd for the help they so generously provided. Click on the links to visit their web sites; I am sure you will find them interesting.
See you next time - And be careful out there!
- Bill Cawthon
Bill Cawthon is an award-winning modeller and collector. His primary modeling interests are model railroading and vehicle models in 1:87 and 1:160 scales. He has written numerous articles for regional and division NMRA publications and is a contributor to the newsletter of the 1-87 Vehicle Club. He follows both the automobile industry and the European scale vehicle industry.
In real life, Bill is a full-time marketing and public relations consultant for the high-tech industry. He lives in Houston, Texas with his wife and four children.
Bill writes bi-weekly for Promotex Online. To learn more about him, click here.