Herpa Highlights from Nürnberg
February 3, 2003, by Bill Cawthon
Spielwarenmesse, the International Toy Fair, has just opened in Nürnberg and Herpa has lots to show. This year, I am lucky to have an inside source on the scene. Earlier this year, I agreed to take over the senior editorship of the 1/87 Vehicle Club's magazine. One of the first things I did was draft Marc Schmidt as my contributing editor for the European market. Equipped with full media credentials, Marc has been covering the show since the pre-opening press conference on January 23. In fact, he has been doing such a good job that we had to wait to publish some of the photos for this column. Herpa didn't want us to "scoop" them by showing the products before they had a chance to announce them!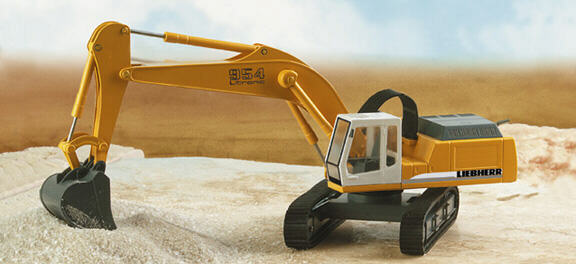 Herpa's new Liebherr R954 Crawler-Mounted Excavator. Photo courtesy Herpa
Some exciting new models will be coming from Herpa in the next few months. Probably the most interesting is the new Liebherr R954 Litronic tracked excavator. The prototype is one of Liebherr's most popular crawler-mounted excavators, with an operating weight of over 60 tons and a shovel that can scoop up to 4 cubic yards at a time. This is Herpa's second construction equipment model and if it is as popular as last year's L580 Wheeled Excavator, it won't be the last.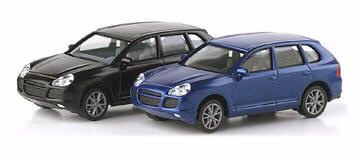 Herpa's model of the Porsche Cayenne Turbo will be available in standard or metallic finish as one of the April-May releases. Photo courtesy of Herpa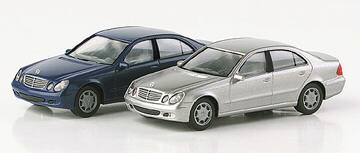 The production version of the new Mercedes-Benz E-Class is reported to be even nicer than these show models. Look for the real models this spring. Photo courtesy of Herpa.
Naturally, we all want to know what's coming in cars and trucks. In the next round of new releases (March-April), Herpa will offer the Cayenne Turbo, the "performance" version of Porsche's new sport-utility vehicle. The Cayenne Turbo is said to be the fastest SUV ever built and boasts a top speed of around 160. There will also be a model of the newest Mercedes-Benz E-Class sedan. The E-Class has historically been Mercedes' best-selling model, and is already outselling every car in its price range in the United States. Marc reports the production version will look even better than the models shown in Nürnberg.
In trucks, the big news is a new German fire truck based on the Mercedes-Benz Atego chassis. The Herpa model is based on a pumper built for the Stolberg Fire Brigade by Ziegler and is all new tooling. Look for more variations on the new facelifted Mercedes-Benz Actros. Farther down the road, Marc says we can look forward to the new Volvo FH facelift, the modified small MAN L2000 cab (now called LE-class; there will also be a crew-cab for new fire engines), accessories to allow the Goldhofer lowboy to carry the wheel-loader, and lots more in 2003.
On the first day of the show, Marc had a chance to talk with Oliver Kaschel, editor-in-chief of Der Maßstab, Herpa's magazine for car and truck model collectors. One of the questions Marc asked was why Herpa doesn't consider models of American cars and trucks. Herr Kaschel said Herpa wants to provide construction and truck models that have an international market, but they have to concentrate their passenger car and light truck model efforts on satisfying commitments to the German manufacturers. Even though Herpa is already rolling out a number of new cars, including the Audi A8, Mercedes E-Class and Maybach, the company is already working with automakers on more projects we will see later this year.
One model about which we are wondering is a 1:87 scale version of the new BMW-built Rolls-Royce Phantom that was reported to have been on display at Detroit's North American International Auto Show in early January. Herpa is the primary supplier of 1:87 scale models to BMW, but so far, they aren't confirming their involvement in the new Roller. Neither is anyone else.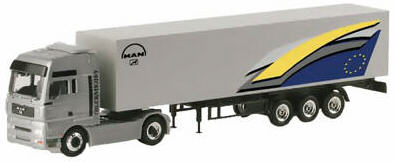 Herpa's economical Magic series models combine diecast and plastic. Photo courtesy of Herpa
How about a Herpa tractor-trailer rig for €7.50 (about $8.08)? That's Herpa's new "Magic" series of models. Magic models are a mix of diecast and plastic and Marc reports they look much better than most competing models in this price range. However, don't look for them at Promotex Online or your local hobby shop. Herpa designed the Magic series models for promotional use. Many German companies, especially the breweries, like to use truck models as premiums for their larger customers. For years, these companies were among Herpa's best customers, but recently cheap models, most often produced in China, have invaded the promotional market. The Magic series models are part of Herpa's effort to recapture this important market.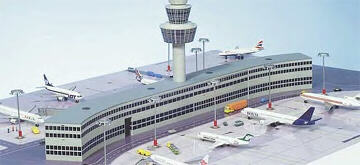 Herpa's new Terminal starter set has everything to create a miniature airport scene. Photo courtesy of Herpa.
The biggest news for the Herpa Wings line is a new Starter Set. This time, it's the "Terminal" with buildings, a control tower, eight airplane models and a host of accessories, including a ground foil to create a small airport diorama. There are also new liveries for some of Herpa's classic models, like the DC-3, DC-4 and Lockheed Constellation.
An unusual announcement is what Herpa calls their "motorail" train set. Produced in cooperation with Märklin, it's a six-piece set based on Herpa's "Monument" show truck. The set will contain a German 101-series electric locomotive and sleeper car decorated in the Monument theme and four flatcars, each carrying a Herpa truck specially printed for the Monument set. Production will be limited to 1,000 sets. The Monument train will appear in the fall.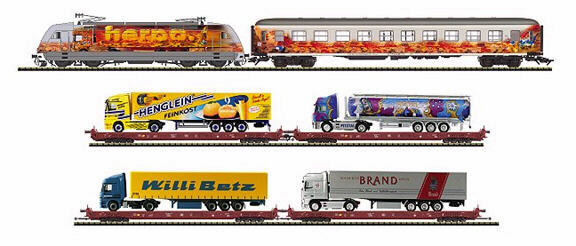 The Monument train set will be a limited edition produced by Herpa and Märklin.
Production is scheduled for Fall 2003. Photo courtesy of Herpa.
All of the new Herpa releases for March and April will be added to the Promotex Online catalog soon. Looks like a good year ahead.
Special thanks to Marc Schmidt for his great reporting from the International Toy Fair.
See you next time!
- Bill Cawthon
Bill Cawthon is an award-winning modeller and collector. His primary modeling interests are model railroading and vehicle models in 1:87 and 1:160 scales. He has written numerous articles for regional and division NMRA publications and is a contributor to the newsletter of the 1-87 Vehicle Club. He follows both the automobile industry and the European scale vehicle industry.
In real life, Bill is a full-time marketing and public relations consultant for the high-tech industry. He lives in Houston, Texas with his wife and four children.
Bill writes bi-weekly for Promotex Online. To learn more about him, click here.