Where the money is
January 15, 2003, by Bill Cawthon
In the suburbs of Chicago, there lives a gentleman named Vito Larucci. Vito has successfully combined my two favorite hobbies, scale car model collecting and model railroading, in a beautiful basement layout. Unlike the majority of those working in HO scale, he likes the modern era and one of his pet peeves is the lack of 1:87 scale models of today's American cars and trucks. Vito is certainly not alone in this, but I will say that anytime a model he likes comes along, he certainly rewards the manufacturer. When Atlas introduced its 1996 Taurus, he promptly bought two dozen.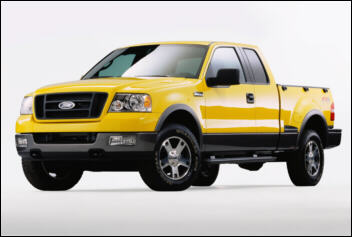 This might be what we would like. The new 2004 Ford F-150 introduced at the North American International Auto Show.
Photo courtesy of Ford Motor Company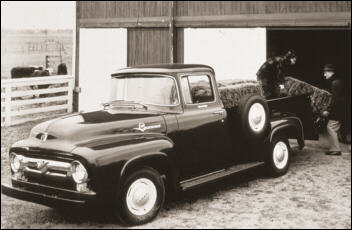 This is what experience says will sell. The 1956 Ford F-100 pickup is considered a classic of automotive design.
Photo courtesy of Ford Motor Company
Vito does buy models of foreign makes. In fact, he would even like to see models of some of the Japanese cars that sell so well in the United States. An American Camry or Accord would be welcome. But he's quite correct in saying there is a limit to how many German vehicles look right on an American layout, unless you want to have an Audi-BMW-Mercedes-Volkswagen dealership in your HO-scale town.
This week, after a few days of media- and industry-only events, the North American International Auto Show opened in Detroit. In just two weeks, the International Toy Fair opens in Nürnberg. Having seen what was displayed in Detroit and knowing a bit about what is coming in Nürnberg, I am dreading having to tell Vito that there is almost no connection between the two. And what connection does exist is due to the fact the German manufacturers were showing off their new cars and SUVs, too.
Don't get me wrong; there are lots of good models coming from Germany and Austria this year. Some of them you already know about, like the DaimlerChrysler Maybach, Porsche Cayenne and Volkswagen Touareg SUV. I was fortunate enough to get examples of the Maybach and Touareg and they are first-rate. (You can reserve your own Maybach and Cayenne right here at Promotex and I highly recommend them.)
However, models of the upcoming new Ford F-150 and Chrysler Pacifica are not likely, unless one of the American manufacturers, like Atlas or Athearn, decides to make one.
The reason, as I have said before, is not nationalism or some weird xenophobia. It is business.
In Germany, most of the models of modern vehicles are at least partially underwritten by the auto companies who use them for promotional purposes. That's not true in North America, where the modelmaker must not only shoulder all the development and promotional costs, but must pay a licensing fee to the car company, as well.
There is also a well-established collector market in Germany. Currently, it is the largest such market in the world. There are clubs, websites and at least one very nice 4-color magazine devoted to 1:87 scale vehicle models. Not surprisingly, Germans like models of German cars and trucks. Over here, the bulk of the sales are still to model railroaders and coverage of new 1:87 cars and trucks in our modeling press is comparatively rare. We do have a great 87scale club website, though.
That doesn't mean the German model companies don't see opportunity over here. The ones with whom I have spoken would like to see more sales in North America. After all, we are still the largest consumer market in the world. However, we are a hard market to figure out.
Case in point: Busch Automodelle makes more different ready-to-run 1:87 plastic scale models of American light vehicles than any other company in the world. Busch's bestseller? It's the 1950 Chevrolet 3100 pickup. Another hot model is Athearn's Ford C medium truck, whose prototype made its debut in 1957.
If you understand the realities of the American market, neither of these successes is all that hard to figure out. Either can be used in any setting from the 1950s to today. That covers a lot of the model railroad market. Either can be re-released a number of times in new paint. I've lost count of the variations of the Busch pickup, but both of Busch's major North American distributors have commissioned special runs. Athearn already has dozens of different tractors, stake beds and dry vans.
Given these facts, it's not surprising that modelmakers look to the past when it comes to the U.S. market, especially when it comes to budgeting for an injection-molded plastic model. Every such project of which I am currently aware is a model of a "classic" vehicle.
Instead of that 2004 F-150, a more likely wish model would be a really good plastic replica of something like the 1956 F-100. Based on experience, that's where the money is.
So, what's the modern-era model fan to do? Best bet would be to find out what modern American-prototype vehicles are also interesting to our fellow collectors in Germany. That's something I intend to try to learn this year. It will be very interesting to see where the interests coincide. Perhaps then we can all put a bit of pressure on Herpa and the other model companies to make a new model for all of us.
See you next time!
- Bill Cawthon
Bill Cawthon is an award-winning modeller and collector. His primary modeling interests are model railroading and vehicle models in 1:87 and 1:160 scales. He has written numerous articles for regional and division NMRA publications and is a contributor to the newsletter of the 1-87 Vehicle Club. He follows both the automobile industry and the European scale vehicle industry.
In real life, Bill is a full-time marketing and public relations consultant for the high-tech industry. He lives in Houston, Texas with his wife and four children.
Bill writes bi-weekly for Promotex Online. To learn more about him, click here.