When the cars are the stars
December 2, 2002, by Bill Cawthon
Before I get into the main topic for this column, I have good news and bad news.
Good news: If you have your 2002 Herpa Advent Calendar, and are playing by the rules, you finally got to open the first of the four weekly doors yesterday. Pretty nifty model, eh? Bad news: If you don't have your 2002 Herpa Advent Calendar, you're probably out of luck. Herpa and Promotex sold out of them and the Fulda/MAN Christmas Truck long ago. Good news: there's still a chance to win one of the Herpa special editions by entering the 1/87 Vehicle Club's Second Annual Holiday Model Contest. But you need to hurry. Complete details can be found at the 1/87 Vehicle Club website.
And one last bit of possible bad news: According to an article that will appear in Fortune magazine's December 9 edition, Boeing will either delay or, far more likely, cancel the Sonic Cruiser project by the end of the year. Alex Taylor III, the article's author, says the brutal conditions of today's airline industry have made a plane like the Sonic Cruiser an unaffordable luxury to commercial carriers.
Boeing has not confirmed the story and, as recently as September, was still adding vendors to the project team. Let's hope the Sonic Cruiser is deferred rather than deleted.
Have you visited 87rare.com? If not, you should. The 87rare site is definitely good news as you can find some real prizes there. I found a Herpa BMW M5 in South Carolina Highway Patrol colors. When BMW opened its plant in South Carolina, it presented a pair of M5s to the SCHP. Herpa produced a limited edition model of the SCHP car and I have wanted one for years.
While I was at 87rare.com, another item caught my eye: the special James Bond version of the BMW Z8 that Herpa produced as a promotional model for BMW.
Herpa began making the James Bond cars in December of 1995, with a model of the Z3 roadster seen in "Goldeneye." Just as the real Z3 was Bond's first BMW, the Bond model was Herpa's first Z3. The regular production model was not introduced until the 1996 Toy Fair in Nuremberg a few months later.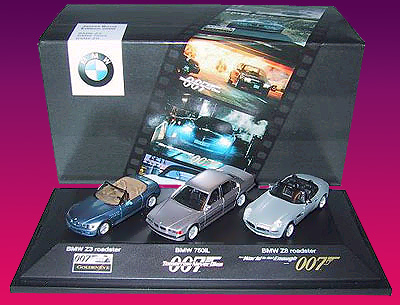 Herpa's three-car James Bond set was a limited edition produced for BMW.
Herpa followed the Z3 with the 750iL from "Tomorrow Never Dies" in 1997 and the Z8 from "The World Is Not Enough" in 1999.
In February 2000, Herpa produced a 6,000-piece limited edition set of all three Bond Bimmers.
We won't see 1:87 scale models of the cars from the latest James Bond flick. They are all Ford products and Ford has the exclusive license for car models. If you want the Aston-Martin Vanquish, Jaguar XKR or Ford Thunderbird, you have to go for 1:18 scale metal models at thirty bucks a pop. It's enough to make you hope Mr. Bond goes back to the German brands for his next ride.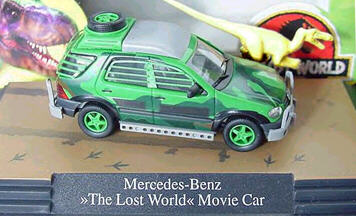 Busch's "Lost World" model was not distributed in the United States.
Photo by www.1zu87.com. Used by kind permission of Thomas Sommer
Another movie model came from Busch. As part of the new M-Class introduction, Daimler-Benz supplied ML320s and Unimogs for the film "The Lost World - Jurassic Park II." When the movie opened in theaters in 1997, Busch was already producing the 1:87 models for Daimler-Benz. Busch made a special run of ML320s with the camouflage paint and protective equipment seen on the movie vehicles. There was even a scale velociraptor. Due to licensing restrictions, the Lost World models could not legally be sold in North America, but a fair number made their way over here nonetheless. In the U.S., we had to be satisfied with the Matchbox diecast ML320 and a totally incorrect Unimog. Incidentally, should you want to make your own, slightly more accurate model of the actual Ingen Unimog, a U2450/L-38 with a crew cab and single rear axle, you can see pictures at Ultimate All-Wheel Drive and Eurotech Services International.
While movie tie-ins and merchandising are common, 1:87 scale models of movie vehicles are rare. Of course, some of that is because most movie cars aren't available as 1:87 scale models and some is due to licensing rights. But the practice of paying for automotive product placements in feature films is very common, and usually includes cross-promotion rights, so you would think there would be more models, especially from the German automakers who routinely commission promotional models of their new cars.
A case in point is last summer's hit sequel "Men In Black II," which opened over the July 4 weekend with a reported $54.1 million in ticket sales. If you haven't seen it, one of the "stars" of the movie is new-generation black Mercedes-Benz E-Class with those oversize wheels that make a real car look like a Hot Wheels toy. Even with the big rims, it's quite an improvement over the 1986 Ford LTD seen in the previous film. The slick, computer-generated vehicle into which the E-Class transforms is an even larger improvement over the first-generation cruiser.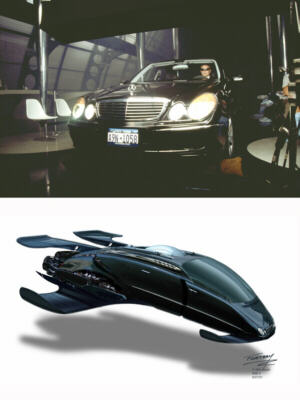 The MIB Mercedes "before and after." There was a toy replica of the "Strike Cruiser" (bottom), but there was never a model of the real E-Class.
Images courtesy of DaimlerChrysler.
DaimlerChrysler was heavily involved in promoting the film, even hosting "MIB" computer games on their corporate website. According to the company's press release:
"Behind the attractive film role for the new E-Class is a joint international marketing campaign by Mercedes-Benz and Columbia TriStar, a part of Sony Pictures Entertainment Group. In addition to involving the E-Class in 'MIB II', this effort also involves globally coordinated marketing activities including a global advertising campaign in movie theaters and/or on TV as well as in print media in over 20 countries."
What these activities did not include was a model of the car. To my knowledge, no model of the MIB E-Class was ever produced, in any scale, even for DaimlerChrysler itself to distribute in Germany, where the film did over $30 million at the box office. The closest thing was a Hasbro "MIB Strike Cruiser" toy.
This is puzzling because everything was in place: especially for a model in 1:87 scale.
By the time the "Men in Black II" made its American theatrical debut, Wiking was making promotional models of the new E-Class for DaimlerChrysler. It would have been a simple matter to produce a run in black, even with the standard wheels, and add some special packaging. As far as I have been able to discover, there was not even a black version of the Mercedes promotional models, which are normally offered in a variety of colors.
Of course, Wiking may produce a black E-Class sometime in the future, but it still seems like a missed opportunity to me.
Certainly one of the most famous incidents of combining a hot new car and feature film is the Mustang convertible in "Goldfinger," the third James Bond movie. Of course, Busch hadn't even begun making 1:87 car models in those days, but they now make a nice model of the 1964 Mustang convertible like the one Bond chased through the Furka Pass in Switzerland.
I spent some time going through my catalogs, looking for other car models whose prototypes had been featured on the silver screen. I came up with a few and would be interested to hear of examples you might find. Just don't mention the 60s-era VW Beetle in Disney's "The Love Bug."
Marge, the kids, and I all want to wish you a joyous and safe holiday season. When you are making out your gift lists, don't forget to add something for your church or favorite charity. It's been a tough year for a lot of people, and your gift can help make things a little better.

See you next time!
- Bill Cawthon
Bill Cawthon is an award-winning modeller and collector. His primary modeling interests are model railroading and vehicle models in 1:87 and 1:160 scales. He has written numerous articles for regional and division NMRA publications and is a contributor to the newsletter of the 1-87 Vehicle Club. He follows both the automobile industry and the European scale vehicle industry.
In real life, Bill is a full-time marketing and public relations consultant for the high-tech industry. He lives in Houston, Texas with his wife and four children.
Bill writes bi-weekly for Promotex Online. To learn more about him, click here.