State of the art: Then and now
November 15, 2002, by Bill Cawthon
Do you remember your very first HO-scale vehicle? I do. Actually, in my case it was "vehicles." To be specific, Revell's set of seven 1961 Chrysler cars. From the moment I first saw them I wanted them. If I recall correctly, the set was about five dollars, a fair sum back then, but it shot to the top of my "must have" list.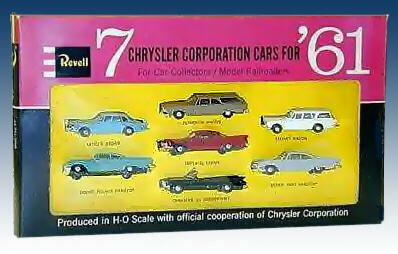 My first HO scale cars looked much like this, although I believe the colors in my set were different. This box may have been "repopulated" with the individual models that came later.
Original photo courtesy of 87thscale.info
When they were originally developed, it's likely Revell was planning to make the set an annual series, much the same way AMT and Jo-Han did with the larger models. By the late 1950s, HO had replaced the larger Lionel trains as the most popular model railroading scale and there were few small scale vehicles other than the Moko Lesney Matchbox cars. Revell was already making HO scale truck models and saw an opening for models that could be used with them as scenery accessories. Revell hoped they might also appeal to collectors of small vehicle models.
The timing could not have been worse. By the time the Revell models hit the market, Aurora had introduced their new HO Model Motoring sets. Model railroading went into a slump from which it took years to recover. Model Motoring layouts, even those that had scenery and structures like a model railroad, didn't need static car models: their cars moved.
The collector market was little help. As is still true today, the majority of Americans who collected miniature vehicle models preferred diecast cars. Fans of plastic models liked the larger 1:25 scale promotional models or "3-in-1" kits they could build and customize.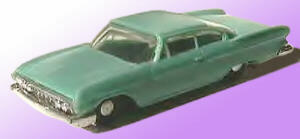 1961 Dodge model by Revell. Even heavily tinted rose-colored glasses can't disguise the fact the model isn't competitive with modern 1:87 scale products.
Original photo courtesy of 87thscale.info
Revell did offer the HO Chrysler cars in kit form with a sprue of chromed accessories to customize the models. There were even add-on fins. The "Convert-A-Car" remained on the market for years, outlasting the original Revell company. Heljan acquired the tooling and continued to produce the set. At the end, it was sold under the Con-Cor name, but by then the tooling was worn out and most of the pieces were so distorted as to be unusable.
I have seen the Revell Chrysler cars called "promotional models," but I am a bit doubtful about that, for one simple reason. My Dad was an executive with Chrysler from 1955 to 1962 and he was very good about bringing home any promotional models he received. Even my little sister got her share of 1:25 scale car models. By 1960, he was director of corporate purchasing. Had the Revell cars been typical promotional models, I am pretty sure a set would have found its way to him. As it was, my set came from the local Kresge's five-and-dime.
At the time, those cars were pretty special to me. Of course, mine are long gone now. But the memories returned when I visited www.87thscale.info, an excellent European web site devoted to 1:87 scale models. The editors are all enthusiastic collectors and have assembled a list of what seems like almost every company that ever made an HO-scale vehicle model. Revell's entry included pictures of those miniature Mopars.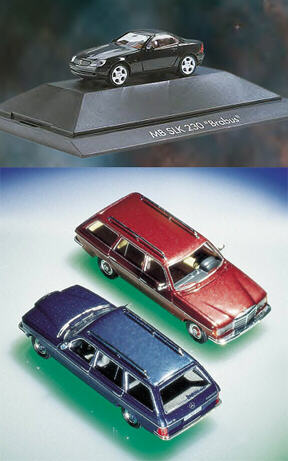 Prime examples of today's state of the art. Top: Herpa's Private Collection model of a Mercedes SLK 230. Bottom: Busch 1977 Mercedes W123 station wagon CMD version.
Top: Original photo courtesy of Promotex, Inc.
Bottom; Photo courtesy of Busch Automodelle
Talk about a blast from the past. I probably spent an hour just looking at the pictures and remembering old friends and good times (while conveniently forgetting things like Miss Pacheco's sixth grade class).
After my visit to 87thscale.info, I wanted to see if I could recapture a small piece of my childhood. I decided to try my luck on eBay. Sure enough, there were a few of the old Revells for sale. One auction was almost ending, so I bid an amount that I will never tell my wife about and came away with a Dodge like the one in the picture.
Reality can be cruel: my rose-colored memories notwithstanding, the models that were so special then wouldn't rate a second glance today. Some modern 1:87-scale vehicle models have almost as many parts in their interiors alone as were used to make those little Dodges, Chryslers and Plymouths. In fact, of the seven models, only the Chrysler even had an interior. It had to: it was a convertible.
The Revell models all had very basic components: a one-piece body; a clear "glass" insert; an insert combining the grille and front bumper; a rear bumper and a chassis into which snapped two one-piece wheel/axle moldings. The wheel covers were painted silver. Overall, the tooling lacks the clarity to which we have become accustomed and the assembly tolerances were, um, generous. In truth, my little Dodge lacks the definition and detail that time and my memories had filled in for me.
To be completely fair, the Revell model was close to state of the art for 1961. Even Wiking did not begin adding interiors to closed-roof models until 1966 and models from Herpa and Busch were still years in the future. The advances in technology that would allow the production of today's incredibly fine tooling were science fiction back then.
The art of modelmaking in 1:87 scale has advanced so far that modern miniatures have features that were lacking on much larger models in 1961. Compared to one of the present Herpa Private Collection, Busch CMD, or Wiking new generation models, the old Revell shows it is ready to assume its role as honored ancestor.
So where do we go from here? As to where the state of the art will be in 2043, I can't even imagine. That goes for real cars and the models of them. This year's flock of new cars look nothing like what we imagined in 1961. The fins are long gone and they don't even fly. On the other hand, they are much more practical.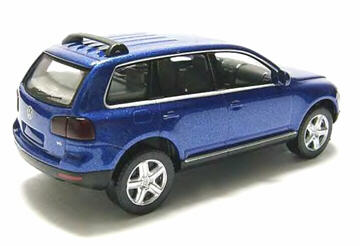 One model that's definitely in our future is Wiking's impressive new Volkswagen Touareg, now in promotional distribution in Europe.
Photo courtesy of 87thscale.info
In the near term, today's 1:87 scale car models remind me of the stage 1:25 scale models had reached in the late 1950s. Perhaps, as happened with them, there will be new features like opening doors or hoods that open to reveal engines, like the Herpa trucks. Maybe Herpa will even put separate steering wheels in all their car models. One can hope.
In any event, I am happy having my samples of the state of the art today and from days long ago. Now if I could find some of those Wikings I bought in 1966…
Special thanks to Christian Grottendieck (Germany), Eric Kersbergen (Holland), Albert Prats (Spain) and Jean-Marc Bergez (France), the editors of 87thscale.info for permission to use their photos. Please note that all original images are Copyright © 2002 by their respective owners and are used by permission.
See you next time!
- Bill Cawthon
Bill Cawthon is an award-winning modeller and collector. His primary modeling interests are model railroading and vehicle models in 1:87 and 1:160 scales. He has written numerous articles for regional and division NMRA publications and is a contributor to the newsletter of the 1-87 Vehicle Club. He follows both the automobile industry and the European scale vehicle industry.
In real life, Bill is a full-time marketing and public relations consultant for the high-tech industry. He lives in Houston, Texas with his wife and four children.
Bill writes bi-weekly for Promotex Online. To learn more about him, click here.