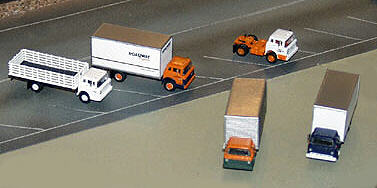 Athearn's new 1:160 scale Ford C-Series truck models on display at the International Model and Hobby Expo.
Detail from photo by Bob Johnson. Used by permission.
Amazing Americans
October 15, 2002, by Bill Cawthon
I give up predicting the future. It was just a couple of months ago that I said Atlas's new Taurus would be the hot vehicle model for N-scale fans. Just over a month later, Athearn dropped a little bombshell, spoiling my reputation as a seer.
On the first day of the International Model and Hobby Expo in Chicago, I got an e-mail and photo from my good friend Bob Johnson. It seems that, after years of rumors, Athearn had finally decided to venture into 1:160 and one of the first products would be a junior version of their popular Ford C-Series truck. Bob is strictly a fan of HO scale models, but he admitted the 1:160 version was even nicer than its 1:87 predecessor.
The Athearn announcement made 2002 an amazing year for N-scale fans. I don't think there has been a year where two American companies each announced a new 1:160 ready-to-run injection-molded vehicle model.
While they won't be on retailers' shelves for a little while, I was fortunate enough to have a chance to give the new Athearn Ford C model a thorough examination. It's first-rate. In fact, it's better than any other 1:160 truck model I have ever seen - plastic, metal or resin. Mind you, I am not putting down GHQ's wonderful pewter models or Herpa's exquisite Mercedes-Benz Actros. It's just the Athearn offers all of the detail found on the best of the existing models, adds detail printing worthy of Micro-Trains and wraps it up in a package that retails for $10-$12, depending on the model you select. On the Roadway van model I examined, there were features like photo-etched cab mirrors, a detailed chassis (with freestanding driveshaft) and clear headlight inserts. The van body details included the box height information on the front corners to remind drivers to be careful of their clearances.
So how successful should this new Athearn model be? Well, consider the following facts: Ford introduced the C-Series in 1957 and many are still on the road today. Its styling remained largely unchanged for the more than three decades it was in production. This covers the late steam-diesel transition to modern eras, the most popular in N-scale. Athearn is producing the C-Series in single-axle tractor, dry van and stakebed versions, and in several colors. Add to that all the advantages I noted above and it could be one of the most popular N-scale vehicle models ever produced for the American market. Almost every N-scale layout and most Ntrak modules set in the post-steam era should be able to find space for at least one.
Beyond the fact Athearn has created a very nice model is another fact; even more important: manufacturers are realizing there is a profitable market for high-quality, ready-to-run, 1:160 scale models of North American vehicles. Athearn is the second American model railroad manufacturer to venture into this area. Atlas Model Railroad Co. led the way and has now produced three different models: the 1997 Ford F-150 pickup, 1984 Ford LNT 9000 tractor and 1996 Taurus sedan, each one nicer than the last. I have had my N-scale Taurus models for a couple of months and I am still enjoying them. In my opinion, the 1:160 model is nicer than its 1:87-scale brother.
So how do we persuade our friends across the Atlantic to take a shot at this market? It's a huge leap for them. Not only must they contend with American manufacturers and licensing, they are going to be at a price disadvantage. Their models are produced in Europe. Athearn and Atlas use facilities in China, where things like hand assembly are far less costly.
Moreover, the American N-scale market is notoriously difficult to quantify. N-scalers don't join large organizations like the NMRA and firm statistics on the industry are hard to come by. Industry analysts have to go by retail sales data and anecdotal evidence to estimate the dollar volumes being spent.
On the other hand, it has been known for years that N-scale is second only to HO in terms of market share. In addition, modern computer-aided production method make producing the tooling for a second scale is less expensive that it used to be. Busch demonstrated the feasibility a couple of years ago when they released a 1:160 version of their very popular 1:87 Chevrolet pickup. The company already has a reasonable stable of modern American vehicles it could shrink to N-scale.
Why is this an issue? We already have Athearn and Atlas: why worry about Busch, Herpa or Wiking? For the simple reason that both Athearn and Atlas are model railroad companies and their focus will remain on things like locomotives and rolling stock. If we hope to see an increasing variety of truly topnotch cars and trucks, we will have to prove to a broader base of manufacturers that there is a ready market for them.
So I am going to ask my fellow N-scalers to do something I know they will find very difficult. Go out and buy the Athearn and Atlas models. While you're at it, pick up the Promotex 4-pack of tractor-trailer rigs.
If we all work together, who knows what might happen? I said I wasn't going to try to predict the future, but since there is money to be made, Herpa might be inspired to produce smaller versions of those nice Macks and Ford Aeromax trucks. Perhaps even that beautiful Liebherr L580 wheel loader.
See you next time!
- Bill Cawthon
Bill Cawthon is an award-winning modeller and collector. His primary modeling interests are model railroading and vehicle models in 1:87 and 1:160 scales. He has written numerous articles for regional and division NMRA publications and is a contributor to the newsletter of the 1-87 Vehicle Club. He follows both the automobile industry and the European scale vehicle industry.
In real life, Bill is a full-time marketing and public relations consultant for the high-tech industry. He lives in Houston, Texas with his wife and four children.
Bill writes bi-weekly for Promotex Online. To learn more about him, click here.