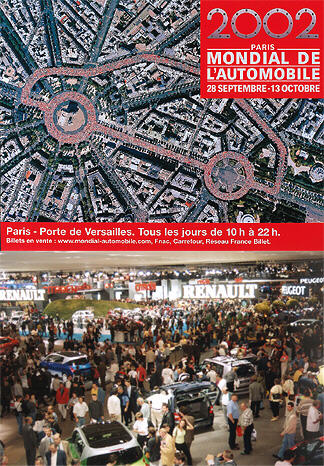 The 2002 Paris Auto Show will host more than a million people in 2002. Images courtesy of Mondial de l'Automobile.
You'll always have Paris
October 1, 2002, by Bill Cawthon
For Ingrid Bergman and Humphrey Bogart in Casablanca, Paris was a lovely memory spoiled by the invasion of the Germany Army. How times have changed. From September 28 to October 13, Paris will be generating some more lovely memories. This time, they will be enhanced by invading Germans, Italians, Britons and more than a few Americans, not to mention scores of people from many other nations.
As I write this, French president Jacques Chirac has opened the 2002 Mondial de l'Automobile to the public. After a few days of industry- and media-only events, the first of an estimated 1.4 million people are beginning to pass through the entrance to the Porte de Versailles to see the latest products from the automobile industry and a major exhibit of historical vehicles from the tiny Principality of Monaco and its monarch, Prince Ranier.
Paris is the original home of the big automobile show. The first international auto exhibition was held at the Jardain des Tuileries in 1898. Almost 140,000 visitors came to see 232 models being displayed by the exhibitors. Back then, the cars had to earn a place by successfully making a trip from Paris to Versailles and back again. Today, if the cars are driven at all, they make a short journey from the transporter trailer to the display stand.
In the 104 years since that first show, hundreds of cars have made their first public appearance in the City of Lights and millions have paid to see them.
While all auto shows are put on in a spirit of optimism, the Paris show stands apart. Perhaps it's the city, but the Paris show is more of a celebration: a big party for car companies. Even now, when the news is filled with recession or the possibilities of war, exhibitors are upbeat, enjoying the ambiance that has become a trademark of the Paris show.
This year, fifty models will make their official debut at the Paris show. Chrysler CEO Dieter Zetsche said he had never seen so many introductions. Some are cars you have seen before while others are truly brand-new. The models range from the tiny Smart Roadster and Ford StreetKa to the big DaimlerChrysler Maybachs with their V12 engines. SUVs are also well represented by new entries from Porsche and Volkswagen, among others. Ford is showing off its new Fiesta-based Fusion, which may find its way to a Ford dealer near you.
While you will be able to read about the real cars in many places, I want to talk about a few memories of the Paris you can enjoy even if you can't get to the show.
Models of a number of the new vehicles have already been announced, or will be soon. There are rumors of others and, of course, hopes for more.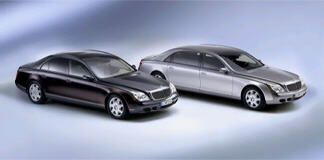 DaimlerChrysler's new Maybach sedan will soon appear as a Herpa model.
Picture courtesy of DaimlerChrysler AG.
Herpa will be producing models of the new DaimlerChrysler Maybach. Named for Wilhelm Maybach, Gottlieb Daimler's protégé and the developer of the first Mercedes, DaimlerChrysler's ultimate luxury car will set back lucky buyers at least $300,000. The model, fortunately, will be somewhat less expensive.
Audi is unveiling its new A8 sedan, its answer to the BMW 7-series. The A8 will have a 4.2-liter V8, standard all-wheel drive and a host of features befitting a top-of-the-line car. Look for the A8 at North American Audi dealers next summer. Look for the Herpa model at Promotex somewhat sooner.
The new Porsche Cayenne has a reported top speed of 160. Look for the new Herpa model in the near future.
Photo courtesy of Dr. Ing. h.c. F. Porsche AG.
The new Porsche Cayenne and Volkswagen Touareg will also appear as Herpa models in the future. The controversial Cayenne, Porsche's first foray outside of the world of sports cars, is said to be the world's fastest SUV. VW's similar Touareg (pronounced "tour-egg"), which was jointly developed with the Cayenne, will have different engines and a much lower price.
One of the new cars that will appear in model form is being built closer to home. Just like its predecessor, the Z3, BMW's Z4 roadster is produced in Spartanburg, South Carolina. Herpa's new 023122 (standard finish) and 033121 (metallic finish) Z4 models are among the releases for November-December and pre-production photos are already appearing in some of the European hobby publications.
As you might expect from a show dominated by European brands, the 2002 Paris show is filled with small cars. This year, a couple of sports cars are among the new models.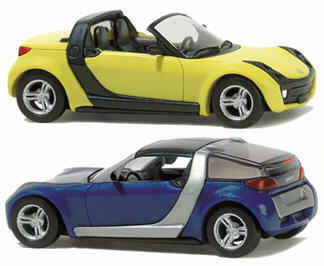 Busch's models of the new Smart Roadster were introduced along with the real cars.

Photo courtesy of Busch Automodelle.

DaimlerChrysler's small car division has shed its former name "Micro Compact Car Smart GmbH" to be come simply "Smart GmbH." To go along with the new name, Smart is introducing a new roadster based on the Smart City Coupe. Busch is producing models of the new Smart Roadster in both closed coupe and open styles. The first models were introduced at the Paris show along with the real cars. They will be available through Smart Centers in Europe, but those of us not on the Continent will have to wait until the first part of 2003. The Smart Roadster is reportedly one of the cars DaimlerChrysler hopes to bring to the United States in the next two years.

One of the more spectacular debuts came on September 27, when Australian pop star Kylie Minogue unveiled Ford's new StreetKa, a small roadster with a body by Pininfarina. The StreetKa addresses one of the original Ka's biggest drawbacks: its wimpy engine. While the new StreetKa won't be winning any drag races with Mustangs or Camaros, at least it will be a more spirited ride. Nothing is for sure at this point, but Rietze produces models of a number of the German Fords, and the StreetKa is a possibility. Sadly, the full-size StreetKa isn't a possibility in America, at least for right now.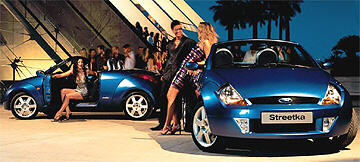 It is hard to find a picture of Ford's new StreetKa without Kylie Minogue or another pretty girl in it, so I quit trying. A Rietze model of the StreetKa is a possibility.
Photo courtesy of Ford Motor Company.
A new Ford that supposedly will be appearing in North American showrooms is the new Fusion. The Fusion first appeared last year as a concept vehicle and is taking its bows as a production model in Paris. It's a crossover vehicle based on the subcompact Ford Fiesta (the German Fiesta, not the boxy Korean thing Ford flogged on the North American market a few years back). Once again, the Fusion is a possibility in scale model form from Rietze.
Based on past experience, we may also see models of some of the French brands, like Peugeot and Citroën. Both AWM and Rietze have offered models of those companies' products.
One brand we probably won't see in scale model form is Opel. GM's struggling German subsidiary has apparently changed their licensing program making it unlikely we will be seeing any models of the new Meriva. That's too bad; Opel's new designs were getting interesting.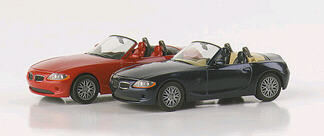 Herpa's new BMW Z4 is scheduled as a November-December release.
Photo courtesy of Herpa Miniaturmodelle GmbH
There will other new models in the months to come. Herpa has just released information about its final new models for 2002 and Wiking will have a few new items among their December new products. Perhaps even the final release of the Volkswagen Phaeton model scheduled for last June. And we're less than four months away from Spielwarenmesse 2003, the International Toy Fair in Nürnberg, Germany, which opens at the end of January.
In the meantime, look for the new Z4 models to appear at Promotex before the holidays. We may not be able to make it to Paris, but we can share in the memories.
See you next time!
- Bill Cawthon
Bill Cawthon is an award-winning modeller and collector. His primary modeling interests are model railroading and vehicle models in 1:87 and 1:160 scales. He has written numerous articles for regional and division NMRA publications and is a contributor to the newsletter of the 1-87 Vehicle Club. He follows both the automobile industry and the European scale vehicle industry.
In real life, Bill is a full-time marketing and public relations consultant for the high-tech industry. He lives in Houston, Texas with his wife and four children.
Bill writes bi-weekly for Promotex Online. To learn more about him, click here.