A Century of Cadillac
September 15, 2002, by Bill Cawthon
On August 22, 2002, Cadillac hit the century mark. One of the world's most famous nameplates celebrated with one of its best sales months in a long time, leapfrogging over BMW and Mercedes and finishing just behind Lexus in the luxury car market. The Cadillac DeVille was once again America's favorite luxury vehicle.
Cadillac reigned supreme among American brands for almost fifty years. After surpassing Packard, it was the preferred luxury car until Lincoln dethroned it in 1998. Cadillac stumbled badly after that as Mercedes, and then Lexus captured the luxury crown. Cadillac fell as low as sixth place among luxury marques until it began to stage a turnaround last year. Now, thanks to new models (and some very aggressive financing from General Motors), the division that many auto analysts had written off is coming on strong again.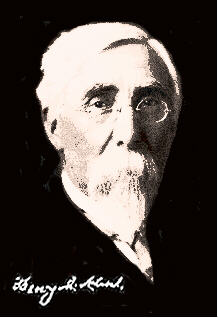 Henry Martyn Leland
Cadillac is no stranger to overcoming adversity. It was born out of the combination of a rejected engine and a failed automobile company.
Cadillac's story really begins on February 16, 1843, when Henry Martyn Leland was born to a family of Quaker farmers in Barton, Vermont. By time he reached his early teens, Leland's family had quit farming and moved to Massachusetts to seek their fortune in industry. He trained as a machinist's apprentice and when the Civil War broke out, Leland went to the Springfield Armory where he helped to build and operate machines used to make rifle parts.
Henry Leland had a passion for precision and made a name for himself in New England. In 1890, he moved his family to Detroit, where a new industry that would demand his talents was just beginning. He met Robert Faulconer, a wealthy lumberman, and a talented tool designer named Charles Norton. The trio formed a company. Four years later, Norton left the company, but Leland and Faulconer continued to produce precision gears. By 1896, the company was also making steam engines for the city's streetcars and gasoline engines for boats.
Within five years, Leland was under contract to Oldsmobile, making engines for the new runabout. He redesigned the engine, giving it a substantial power boost, and offered the new design to Ransom E. Olds. Unfortunately, Oldsmobile was still recovering from a disastrous fire and could not afford the time to retool for the new engine.
Leland's opportunity came a year later, when William Murphy and Lemuel Bowen called Leland in as a consultant to the liquidation of the Henry Ford Company (Ford had a few false starts and managed to antagonize most of the influential financiers in Detroit before he finally formed today's Ford Motor Company). Leland offered them the improved Olds engine and proposed the company stay in business. On August 22, 1902, a new company was born, named for Antoine de la Mothe Cadillac, the founder of Detroit.
The first Cadillac took its maiden drive on October 17, 1902, with Alanson Brush at the wheel. Alanson Brush was a Leland and Faulconer engineer who went on to develop his own car.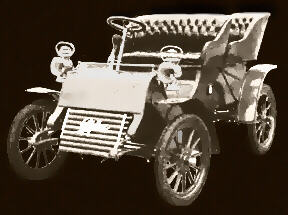 1903 Cadillac Model "A" the company's first production model.


Photo: General Motors
In January 1903, Cadillac made its debut at the Third Annual National Automobile Show in New York City. Sales Manager William Metzger received 2,286 orders for the new car and declared the Cadillac to be "sold out" before the show ended. The factory turned out almost 2,500 cars its first year, quite a feat for the time.
The Cadillac was a success in large part due to Leland's passion for precision. Cadillacs did not have the unfinished look common to most cars of the day and they were reliable. On top of everything else, the new Cadillac Model A carried a price tag of just $750, a comparative bargain.
Cadillac soon moved to a more upscale design, introducing the 4-cylinder Model K in 1905. The Model K was a "no compromise" automobile and the first American car to win the Dewar Trophy.
The Dewar Trophy was one of the most prestigious awards in the early days of the automobile. It was presented by the Royal Automobile Club to recognize each year's most significant advance in automotive technology.
Leland sent three Model Ks to London to compete for the trophy. The cars were driven through city streets, run on a test track and then torn down. The parts were mixed up and randomly selected to rebuild three cars. After reassembly, two started on the first crank, the third on the second. Such precision in manufacturing was unknown in the auto industry and the 1908 award went to Cadillac.
In 1909, General Motors bought Cadillac and brought Henry Leland in as division president. His son, Wilfred, became a division executive. The following year, Cadillac became the first car with an enclosed body as standard equipment.
Cadillac's next major advance came in 1911 with the introduction of the first successful electric starter. The system, the same found on modern cars, was developed by Charles Kettering at his Dayton Engineering Laboratories Company (later Delco). The Model K's successor, the Model 30, was the first car with a generator, battery, electric lights and starter. This achievement earned Cadillac the 1912 Dewar Trophy and made it the only car brand to ever win twice. The Royal Automobile Club proclaimed Cadillac "The Standard of the World," a slogan Cadillac used for years.
In 1915, Cadillac became the first automotive brand to offer a standard V8 engine.
Cadillac's history was just beginning, but Leland's time with his creation was ending. During World War I, Leland and GM president William Durant began having a series of disagreements that ultimately resulted in Henry and Wilfred Leland leaving GM in 1917. Henry Leland was 74 years old, but he went on to form an aircraft engine manufacturing company and another car company. This time, he named them for another of his heroes, Abraham Lincoln. Henry Leland died on March 26, 1932 at the age of 89. The state of Vermont put up a historic marker near the site of his birth.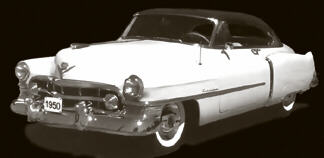 Cadillac finally outsold Packard in 1950 with cars like this Series 61 Club Coupe.

Photo: General Motors
Even after Leland left, Cadillac continued to create new benchmarks in the automotive world. It offered the first car designed by a stylist, the 1927 LaSalle, and the first clashless synchromesh transmission in 1928. That was the same year Cadillac became the first car with standard shatterproof safety glass. You won't be surprised to learn that Cadillac was the first car with standard chrome plating. That came in 1929. In 1930, Cadillac became first production car with an available 16-cylinder engine.
Yet, with all these innovations, Cadillac still couldn't catch up with Packard, the dominant player in the American luxury market. Packard, with its loyal customer base, including General Douglas McArthur, and its junior car line, continued to outsell Cadillac almost every year, until 1949.
The 1950 Cadillac changed everything. With fresh styling and a high performance V8 engine developed with Oldsmobile, Cadillac swept past Packard and began the longest continuous reign of a market segment by a single brand in American automotive history.
In the past fifty years, Cadillac has epitomized both the dreams and excesses of the American automobile. There have been classics, like the 1959 Cadillac Eldorado, and clunkers, like the Cimarron. A couple of years ago, when GM announced it was dropping Oldsmobile, the company said it was also considering cutting another brand. Many thought it might be Cadillac. In quick succession, Lincoln had trumped it with the Navigator, then Mercedes had become the first foreign marque to ever capture the top position in the luxury market, followed by Lexus. Cadillac was no longer "The Standard of the World" and it seemed no one at GM knew quite how to turn it around.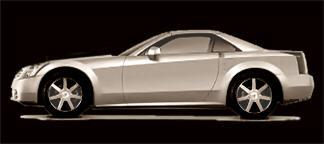 Cadillac's 2003 XLR shows the new styling trend at Cadillac that is helping to bring new customers to the brand.

Photo: General Motors
Fortunately, there were people at GM determined to keep Cadillac going. New models were introduced to attract new customers while enough tradition was retained to satisfy the faithful. The Escalade has become a success and is now thousands of sales ahead of its Dearborn-based rival. The new CTS, with its edgy styling, has also proven popular, completely eclipsing the Catera it replaced.
Cadillac is now talking about moving upmarket, taking on the heavy hitters from Mercedes and BMW. There is talk about V12 engines and $100,000 roadsters. Most important, there is a lot of new confidence at America's oldest luxury car company.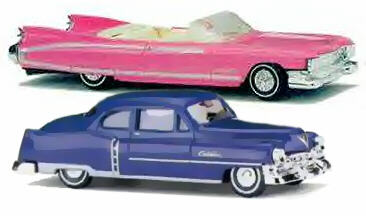 Busch offers the most Cadillac models. Pictured are the early 1950s Cadillac Series 62 and the classic pink 1959 Eldorado.

Photo: Busch GmbH
For all its history, there are very few models of Cadillacs available to the 1:87 scale vehicle collector. If you want quality plastic models, Busch is the only source. All of the Busch models were actually developed by Otto Duvé's Praliné, which Busch bought after Duvé went bankrupt in 1993. The Busch models currently produced include a 1959 Eldorado convertible, a 1966 hearse and an early '50s model that is an amalgam of a couple of model years. The '50s version is offered as a two-door sedan, a convertible and a "station wagon" that can be produced as either an ambulance or a hearse. There was also a 1966 limousine, but that model is "on holiday," as Busch puts it.
One note before I close. The 1/87 Vehicle Club's Second Annual Holiday Model Contest is now open. This year's prize pool has a retail value of nearly $500 (US) and includes some nice items from Herpa and Promotex. You can get more details and contest rules at the 1/87 Vehicle Club web site: http://www.1-87vehicles.org .
See you then!
- Bill Cawthon
Bill Cawthon is an award-winning modeller and collector. His primary modeling interests are model railroading and vehicle models in 1:87 and 1:160 scales. He has written numerous articles for regional and division NMRA publications and is a contributor to the newsletter of the 1-87 Vehicle Club. He follows both the automobile industry and the European scale vehicle industry.
In real life, Bill is a full-time marketing and public relations consultant for the high-tech industry. He lives in Houston, Texas with his wife and four children.
Bill writes bi-weekly for Promotex Online. To learn more about him, click here.