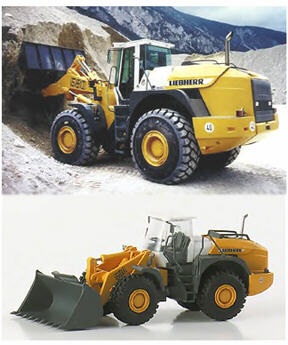 Herpa's new model of the Liebherr L580 Wheel Loader is faithful to the prototype.

Top photo: Liebherr GmbH. Bottom Photo: Herpa

Dear Mister Wheel Loader
September 1, 2002, by Bill Cawthon
I had originally intended to write this column about Cadillac's 100th birthday. But I got one of Herpa's new Liebherr L580 Wheel Loaders and changed my mind.
Herpa announced model no. 148122 at the 2002 International Toy Fair in Nürnberg, Germany and it became one of the new releases for July-August. The L580 is Herpa's first project involving a construction vehicle and it is definitely a nice piece of work. Based on Liebherr's published specs, the model is a very accurate reproduction of the prototype, right down to the "Liebherr" markings on the cab windshield and rear window. All of the major hydraulic actuators for steering and bucket control are present on the model. There is even a hatch on the rear deck that opens, revealing the top of the engine (Herpa also makes a Liebherr service van). The plastic handrail assemblies are thin and delicate enough to make some HO locomotive manufacturers green with envy.
One of the best things about the model is the price. At $29.95, the fully assembled Herpa L580 compares very favorably to the Kibri kits, especially when one considers the amount of time it takes for assembly and painting.
While it's an obvious choice for a heavy-equipment fan, the Herpa model also has a place on a modern-era model railroad layout. In the full-size world, wheel loaders are becoming increasingly popular in mining, gravel quarries and similar operations because they are faster than crawler machines. Even though they are more expensive to buy and run than their tracked counterparts, they are better suited to handle material blending duties, and are quicker back to a mine face after blasting. Wheel loaders may also be found on construction and demolition projects.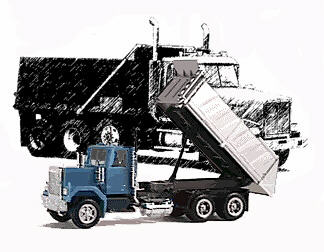 The L580 can fill a conventional dump truck in just a few passes, so you'll want to have a few trucks like the Promotex No. 450110 GMC General ready to carry the loads.

Photo: Promotex
The real L580 is Liebherr's largest wheel loader, but it is actually a medium-class machine well suited to material handling and stockpiling jobs. With a working weight of 24,740 kilograms (54,428 pounds) and a tipping load of 17,850 kilograms (39,270 pounds), it is designed to compete with 30-ton loaders in productive work while being more economical to buy and operate. With its standard loading bucket, the L580 can move over 6.5 cubic yards of material at a time. To give you an idea of how much volume that is, a typical North American tandem-axle dump truck with a 16-foot body has a capacity of around 19 cubic yards, meaning an L580 can fill it in three passes (from loading the bucket to emptying it into the dump truck). A 44-foot open-top aggregate railroad hopper car can handle between 95 and 106 cubic yards of material. That's still a fairly quick job for the L580, so they might be found in a large gravel quarries or aggregate operations, with a steady stream of trucks or railcars to handle their output.
So, is the Herpa model prototypical on a North American-themed layout? Yes. While we may be more familiar with equipment from Caterpillar and other companies, Liebherr sells lots of heavy equipment, including the L580, in the U.S. Their main U.S. sales offices are in Newport News, Virginia and, from what I can tell, Liebherr equipment is working all over the country.
When it comes to transporting an L580, Promotex offers a couple of options. Probably the best bet is Promotex' No. 6302 Kenworth T-600 with a modular lowboy trailer. You could also use the No. 5307 5-axle or the new 5332 tri-axle dropdeck trailers with an appropriate tractor, but there might be some problems due to the L580's 11'7" overall height. Bob Johnson, who is not only an outstanding truck modeler, but knows a great deal about prototype traffic standards, notes that, using the drop-deck trailer, the load would be too high for the 14-foot clearances common in most U.S. cities. Whichever transport you select, you will need to add some "Oversize Load" placards to the front and rear. The L580's bucket is over two feet wider than the 102" maximum allowable trailer width. Even if you detach the bucket for transport, as is typically done in the real world, the L580's tires will still hang over the sides by a couple of inches.

Promotex' No. 006302 Kenworth T-600 with modular lowboy trailer is your best bet for a highway transport for the L580.
Photo: Promotex
So, what might be next from the folks in Dietenhofen? If Herpa is not ready to tackle tracked vehicles, Liebherr also makes smaller wheel loaders as well as mobile cranes and some very serious mining trucks. I would personally like to see a good 1:87 scale model of one of Volvo's articulated dump trucks. Another possibility would be the various different attachments that can replace the bucket for other tasks, like clearing demolition sites or logging.
As for what's next from me? Cadillac and some highlights of its first hundred years.
See you then!
- Bill Cawthon
Bill Cawthon is an award-winning modeller and collector. His primary modeling interests are model railroading and vehicle models in 1:87 and 1:160 scales. He has written numerous articles for regional and division NMRA publications and is a contributor to the newsletter of the 1-87 Vehicle Club. He follows both the automobile industry and the European scale vehicle industry.
In real life, Bill is a full-time marketing and public relations consultant for the high-tech industry. He lives in Houston, Texas with his wife and four children.
Bill writes bi-weekly for Promotex Online. To learn more about him, click here.