Small Talk
August 2, 2002, by Bill Cawthon
First and foremost, let me apologize for being a bit late. Normally, I write these columns a few days in advance of the date they are supposed to appear, but July was very busy and I flat ran out of time. [webmasters note August 8th, 2002: Me too!] Since I have just a little time, I am going to talk about some little models.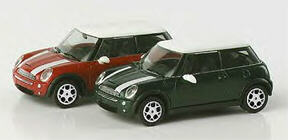 Herpa's Mini Cooper S models are scheduled for release this fall.

Photo: Herpa
One year ago, I wrote about the new Mini from BMW. Since Herpa has announced a model of the Cooper S version for the fall, I thought it might be a good time to bring you up to date.
The Mini has been everything BMW had hoped and even many of those who are loyal to the original have begun to admit it's a pretty good car. Although it has only been on the American market since March 22, and in limited distribution (Texas still does not have a Mini dealership!), the new Mini has already nearly equaled the six-year sales record of the original version. In fact, the Mini should easily hit 10,000 sales before my next column. The zippier Cooper S outsold the base model last month and may ultimately prove to be the more popular of the two versions.
Speaking of multiple versions, you can count on at least one more variant of the full-size Mini: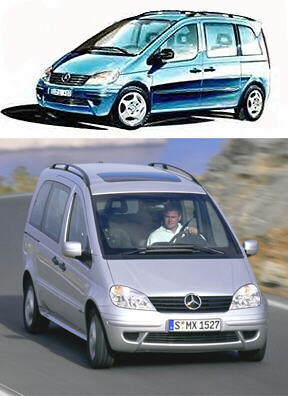 Mercedes' new Vaneo as a 1999 concept (top) and a production model.

Images courtesy of DaimlerChrysler AG

a convertible. A senior official with BMW has already said it's already in the works. As the Minis become more common, I am sure you will see other ideas as creative owners and the aftermarket parts makers get in on the act. And you can bet BMW will be paying attention.

I recently received Herpa's most recent Mini release, the 045599 "Follow Me" version. The prototype is based on a demonstrator being evaluated at some German airports. It reminds me of what a Mini might look like in British police service, with the new high-visibility Battenburg blue-and-yellow checkerboard pattern.

Another new model is the Vaneo. The Vaneo is the latest in the growing family of small vehicles from DaimlerChrysler. It is based on the popular Mercedes-Benz A-Class and has a phenomenal carrying capacity for a vehicle its size. A true multi-purpose vehicle, the Vaneo can be a family transport or commercial minivan. Herpa's new model captures the Vaneo's unconventional looks, right down to the nearly yard-tall taillights. Both front and rear windshield wipers are printed in black as are the door handles. The Mercedes star on the grille is chromed. The molding is very sharp and clean and overall, it's a good-looking model.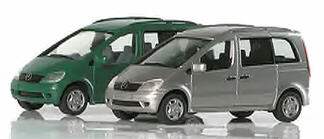 New Vaneo models from Herpa. A German taxi version will be among the September-October new releases.

Photo: Herpa
My only complaint is the molded-in steering wheel, which is especially noticeable in the light gray interior of the standard model. One of these days, I hope someone in Dietenhofen decides to decree that all future Herpas will have separate steering wheels, just like the models from Busch and Wiking.
Herpa's Vaneo model comes in dark green standard finish as No. 023092 or silver metallic as No. 033091. The metallic version has a black interior, which helps hide that steering wheel, so it gets my nod as the more desirable of the two.
DaimlerChrysler currently has no plans to bring the Vaneo to North America, but that could change. The U.S. and Canadian markets will be getting the Smart and a redesigned A-Class by 2004, along with the next-generation Vito minivan, and the Sprinter will be wearing a Dodge badge in the near future (recently-announced plans call for the Freightliner version to be dropped in 2006).
Let's get even smaller now. Herpa's 1:160 version of their Peter Litger-designed show truck is finally available. Herpa model No. 065160 was announced last year as a January-February release, but did not make it into actual production until this summer. As always, the Mercedes-Actros LH tractor is beautifully reproduced: Herpa still makes the best large truck model in N-scale. And Herpa took no shortcuts with the printing. Even the cab is printed on the sides, front and top. Best of all, the slogan, "the world you can control," is in English.
Herpa's other truck model for this year, the 065177 Kühne & Nagel tractor-trailer rig, is also printed in English and has multiple prints on the cab. I see Kühne & Nagel containers fairly often here in Houston, so this model is fair game for the layout.
While the most popular N-scale model of 2002 is likely to be Atlas' new 1996 Ford Taurus,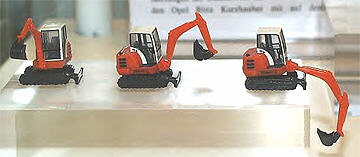 Wiking's 946-1 Schaeff HR18 Mini Excavator in 1:160 photographed at the 2002 International Toy Fair.

Photo courtesy of Wiking-Archiv.

in my opinion the best new 1:160 vehicle model this year is Wiking's Schaeff HR18 Mini-Excavator. A junior version of the model introduced last year, the "mini-mini" excavator has a moveable arm, rotating bucket and cab and a detailed cab interior. It does not have freely moving treads, but there are wheels (like on the Roco Minitanks models) so you can move it around. It's a nice enough model to inspire small construction scenes in model railroad layouts across North America. Incidentally, Schaeff is now a subsidiary of Terex, an American heavy equipment manufacturer probably best known for its giant mining trucks, and the HR18 is sold in both the U.S. and Canada.

That's it for this time. Next column will be on time for sure. See you then! [webmasters note: yep - for sure!]

- Bill Cawthon

Bill Cawthon is an award-winning modeller and collector. His primary modeling interests are model railroading and vehicle models in 1:87 and 1:160 scales. He has written numerous articles for regional and division NMRA publications and is a contributor to the newsletter of the 1-87 Vehicle Club. He follows both the automobile industry and the European scale vehicle industry.

In real life, Bill is a full-time marketing and public relations consultant for the high-tech industry. He lives in Houston, Texas with his wife and four children.

Bill writes bi-weekly for Promotex Online. To learn more about him, click here.