W.C. Durant: Salesman Extraordinaire
May 1, 2002, by Bill Cawthon

Everyone is familiar with Henry Ford. You probably learned about him in grade school. After all, he developed the car that put America on wheels. But schools don't talk much about the man who, more than anyone else, developed the modern American automobile company.
William "Billy" Durant founded General Motors. Building on his success with a single automobile, he was the first to assemble a group of automobile companies under a common management and the first to introduce automobile financing. The men he brought into his enterprises became legends in automotive history. They included Alfred Sloan, Charles Kettering, Walter Chrysler and Charles Nash. He created Chevrolet. He even tried to buy Ford Motor Company.
At one time, Durant was one of richest men in the world. When he died, he was almost penniless.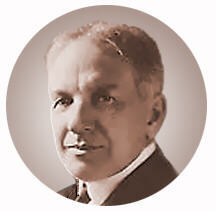 William C. Durant
Unlike most of those we associate with the early days of the automobile, Durant was not an engineer, mechanic or even a tinker. He was a salesman and an entrepreneur.
William Crapo Durant was born on December 8, 1861, in Boston, Massachusetts (Durant's middle name is pronounced "cray-po."). He was the grandson of former Michigan governor Henry H. Crapo. When he was still very young, Durant's family followed his grandfather and moved to Flint, Michigan.
Although he was bright, Durant left school at the age of sixteen following a "disagreement over morals" with the school principal. After leaving school, Durant got a job as a laborer at a relative's lumberyard. Dissatisfied with manual labor, he left after a few months. Durant tried a variety of other jobs until he discovered the profession for which he had been born. Durant was a natural salesman.
Durant also had flair as an entrepreneur. He landed a job running the Flint City Waterworks, which was in serious trouble at the time. Within eight months, the waterworks was out of debt and Durant had become a respected member of the community.
Durant got his start in the transportation business in 1886 by borrowing $1,500 to acquire the Coldwater Road Cart Company. To take care of production, he brought in Josiah Dallas Dort, from Ypsilanti, Michigan. The partners named their new enterprise the Flint Road Cart Company. Soon, the firm was renamed the Durant-Dort Carriage Company and by 1890, it was the nation's largest carriage company and Durant was a millionaire at twenty-nine. The original Durant-Dort Carriage office building is still standing at 315 West Water Street in Flint. It served as the base for Durant's growing business empire until 1913.
Durant got interested in automobiles in the early Twentieth Century. He didn't care about the cars themselves, which he regarded as smelly, noisy and frightening to animals, but he realized there could be a good business in selling them.
His opportunity came in 1903 when James Whiting asked him to help promote Buick automobiles. David Dunbar Buick was an innovative tinker, but a terrible businessman. Benjamin and Frank Briscoe had taken over his failing company and sold it to Whiting, who also owned the Flint Wagon Works.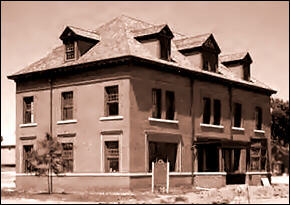 Original Durant-Dort Office Building in Flint, Michigan. This was Durant's base of operations from the days of his carriage business until he opened Chevrolet. Photo from the Michigan Historical Center.
Durant took control of Buick and quickly turned it around, although poor David Buick lost almost everything. (The story of Buick is both complex and a bit sad: worthy of a future column of its own.) His success with Durant-Dort repeated itself and Buick joined Reo, Maxwell-Briscoe and Ford as one of the nation's top car companies.
Following the Wall Street Panic of 1907, Benjamin Briscoe suggested the big companies merge. The companies explored the idea, but negotiations fell apart after Ford and Reo pulled out. Durant, however, was convinced this concept was the wave of the future.
On September 16, 1908, Durant invested $2,000 and incorporated General Motors of New Jersey. On In less than two weeks, the company was worth $12 million. On September 29, Durant sold Buick to General Motors. Durant moved rapidly after that. In its first year, his new corporation had purchased Oldsmobile, Cadillac and Oakland (predecessor of Pontiac) as well as some smaller companies. In 1909, Durant offered Henry Ford $8,000,000 for his company. Ford agreed to the sale and the General Motors Association agreed to the purchase. However, even Durant's legendary salesmanship failed to convince his bankers and the deal fell through.
Durant first ran into trouble in 1910. His aggressive expansion drove GM deep into debt. By mid-1910, GM owed the First National Bank of Boston $7 million. The bank became concerned and cut off GM's credit line. GM's creditors wanted to dissolve the company and sell off its assets. After long negotiations, they agreed to a bailout in return for a major share of the company's stock and control of the board of directors. Durant was forced to give up his management position and accept a position on the board of trustees.
Even though he was out of GM, he was not out of the automobile business. Moreover, he still had a considerable amount of money. From 1911 to 1914, he bought or formed a number of new companies. One of these was Chevrolet. The early history of Chevrolet is not only confusing, it is actually quite controversial and there is a curious lack of documentation about its early business dealings. What we know for sure is that the car is named for Swiss-born racing driver Louis Chevrolet and that Durant provided the financing. The Chevrolet Motor Company was established on November 3, 1911. Durant brought former Buick manager Bill Little in to run the new company. However, there was a problem: Louis Chevrolet's vision was of a high-quality premium car. Durant knew the money was in building a smaller, inexpensive car. According to some accounts, Durant switched designs while Chevrolet was visiting Europe in 1913. Other accounts claim Chevrolet was only a hired consultant. Whatever really happened, Chevrolet left the company and Durant built Chevrolet into another major success. Incidentally, one Chevy legend we know to be true is the origin of the Chevrolet "bow tie" logo. Durant saw the design on some wallpaper in a Parisian hotel and liked it. In later years, he admitted he had torn off a piece and kept it in his wallet.
Between 1914 and 1915, Chevrolet sold 15,000 cars, a huge number for the time. By contrast, General Motor's 1915 market share had dropped to 5% from its pre-crisis peak of 22%. On the other hand, GM was improving financially under the leadership of Charles Nash, one of Durant's former protégés. The trust agreement set up as part of the 1910 bailout was about to expire and it was likely to be renewed.
Durant had other ideas. He had been leveraging Chevrolet to buy up GM stock. By the time the board met to renew the trust, he owned almost half of GM's outstanding shares.
When the board met in 1916, Nash talked to Durant before the meeting, asking him to not make any trouble when the trust was renewed. Durant replied, "There won't be any trouble, Charlie, we won't renew the agreement, but there won't be any trouble. It just so happens that I own General Motors."
With Durant back at the helm, Chevrolet was merged into General Motors. To appease the bankers, Durant nominated Pierre du Pont as chairman. Durant was to be president of GM and in day-to-day control of operations.
Although Durant was a terrible executive, he recognized good ones. To keep Walter P. Chrysler as head of Buick, he gave him a raise from $50,000 to $500,000 per year, a huge sum for those times. He bought Delco and Hyatt Roller Bearing to gain Charles Kettering and Alfred P. Sloan.
After the end of World War I, the auto business was booming. Durant bought a controlling interest in Fisher Body and opened GM of Canada. In 1919, he created General Motors Acceptance Corporation, the first large non-bank financing source for automobile loans. This was a brilliant move. Henry Ford despised the idea of instalment loans and refused to allow them. This was one of the decisions that cost him the lead in the American automobile industry.
Durant was creating a giant empire and wanted a building that suited it. The new General Motors building on Detroit's Grand Avenue was to be the largest office building in the world. It was to be called the Durant Building and have a "D" on the corners near the top.
But Durant's empire was already in trouble. His brash style caused Chrysler to leave. His expansion had once again leveraged GM's finances to the hilt, leaving it almost $80 million in debt. To complicate matters, the national economy stumbled.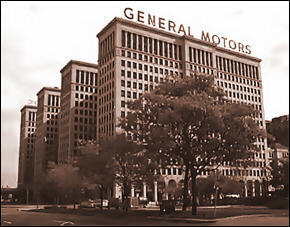 GM Building in Detroit, Michigan. Designed by Albert Kahn, it was originally to be called the Durant Building. It was finished three years after Durant's final ouster from GM. Photo from the Michigan Historical Center.
Car sales slowed and the bond market grew soft. GM's stock went into a tailspin. Durant tried to prop up GM's stock by buying on margin with his own considerable assets, but nothing worked. Once again, the bankers, concerned that Durant's failures could be tied to GM, demanded Durant's resignation. In 1920, after losing $100 million of his own money, Durant was forced out of GM for the last time.
Durant never failed to believe in himself. Just as before, Durant just formed another company. Just two months after his departure from GM, and without a product to sell, Durant incorporated Durant Motors. Always the consummate salesman, Durant hustled 30,000 orders for his new Durant Four before the first one rolled off the line. In 1922, he added a budget model called the Star. As the Roaring Twenties got rolling, Durant added other brands. In 1927, he announced the formation of Consolidated Motors as a competitor to GM. By shrewd investments, he had rebuilt his fortune. In 1927, Durant was worth about $50 million. That would be equivalent to over a half-billion dollars today.
This time, however, the magic failed. While he was building his new empire and playing the market, Durant had neglected his business. When the stock market crashed in 1929, Durant was completely exposed. Durant Motors went broke.
Durant tried one more time, a failed attempt to build a small French car, but the Depression killed the company before it even got off the ground. On February 8, 1936, Durant filed for bankruptcy, listing assets of only $250.
Over the next four years, Durant tried a number of ways to recreate his success. None of them worked. In 1940, he opened a bowling alley in Flint. Still the empire-builder, Durant believed bowling would become a popular family activity and envisioned a chain of 50 bowling alleys across the country.
In 1942, Durant suffered a massive stroke. No longer physically able to participate in the world of commerce, he and his wife moved to an apartment in New York City where they lived quietly.
William Crapo Durant died on March 18, 1947, at the age of 85.
Although he had created it, General Motors refused to grant Durant a pension. In his final years, he was partially supported by a small group of his old friends, including Alfred Sloan and Charles Mott.
On April 25, 1996, Durant was inducted into the Business Hall of Fame. He is also honored at the Automotive Hall of Fame in Dearborn, Michigan.
More than a half-century after his death, William Durant remains a controversial figure. Accounts of his life seem to be colored more than usual by the writer's opinion. He was a flamboyant pitchman in a world then dominated by mechanics, engineers and accountants. Although it cannot be denied that Durant caused a lot of grief to some, he made others successful beyond their imaginings. He was a terrible manager, but a brilliant salesman with an incredible vision. By aggregating small businesses, he created the largest automobile manufacturing company in the world and jobs for millions of people over GM's ninety-four year history. He gave ordinary people a way to buy an automobile when the manufacturers of the time, including Henry Ford, believed that financing an automobile would be the end of America.
William Durant once said, "Forget past mistakes. Forget failures. Forget everything except what you're going to do now and do it." It is a fitting statement from one of America's greatest entrepreneurs.
See you next time!
- Bill Cawthon
Bill Cawthon is an award-winning modeller and collector. His primary modeling interests are model railroading and vehicle models in 1:87 and 1:160 scales. He has written numerous articles for regional and division NMRA publications and is a contributor to the newsletter of the 1-87 Vehicle Club. He follows both the automobile industry and the European scale vehicle industry.
In real life, Bill is a full-time marketing and public relations consultant for the high-tech industry. He lives in Houston, Texas with his wife and four children.
Bill writes bi-weekly for Promotex Online. To learn more about him, click here.