Easter Eggs
April 1, 2002, by Bill Cawthon
Even though Easter was yesterday, I would rather write of fun than fools.
In truth, the Easter Eggs that inspired this column don't come from the Easter Bunny. I am thinking of the Easter Eggs often hidden in computer programs. My first contact with Easter Eggs came when I switched from a PC to an Apple Macintosh. One of the many pleasures of the switch was trying out the combinations of keystrokes and instructions that would lead to hidden graphics.
"...Easter Eggs (are) really nothing more than 'geek - tagging.' The software equivalent of 'Kilroy was here,' wrote programmer David Kerry in 1999. "Artists sign their paintings -- and programmers have unusual ways of doing the same."
I have found a few "Easter Eggs" in the world of 1:87 scale models. These are little details that are seldom, if ever, mentioned in the promotional literature but their discovery adds enjoyment to the model. These features are not absolutely necessary, but it seems like the artists at the model companies occasionally like to show off their true mastery of the craft.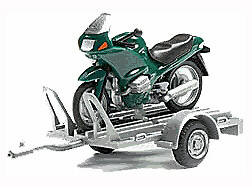 Herpa No. 051224 includes a detailed BMW R1100RS.
Photo: Herpa
Recently, I ordered Herpa's No. 051224 from Promotex Online. . Herpa describes the model as a trailer with a BMW motorcycle and it's a perfect example of what I am trying to describe. When I ordered it, I was expecting the basic standard HO motorcycle: a simple model, made up of two pieces (motorcycle and handlebars) with some painted detail.
While the trailer was what I expected, the motorcycle is a little gem. It is a delightfully complex 1:87 scale model of a BMW R1100RS. The R1100RS appeared in 1993, the 70th anniversary of BMW's first motorcycle. Though, at almost $14,000, it was quite expensive, the R1100RS became one of BMW's best sellers. Cycle World called it the "Super Boxer" because it was the first Beemer to be equipped with the R259 Boxer engine. This 1085cc, 2-cylinder powerplant developed 80 hp at 7000rpm. While it was not as speedy as some Japanese superbikes, it was a fast grand touring bike known for its smooth ride and longevity. These qualities made it a favorite of law enforcement agencies, especially in Europe.
There are 1:87 motorcycle models from Preiser and Roco, as well as some white metal models of older Harleys, but the Herpa model is the best I have seen. The detail work is outstanding, capturing not only the cylinder head detail, but also both the Telelever front suspension and BMW's patented Paralever rear suspension. The seat is a separate piece, molded in black. The three-spoke wheels are separate pieces with rubber tires and they are free-rolling, something unique in HO-scale motorcycle models. The fuel tank and fairings are well-molded and pad-printed with headlight and turn signals. You'll need to add the rear turn signals and taillight with a dab of paints. BMW motorcycle fanatics may point out that the R1100RS was not sold in the "Polizei" green of the Herpa model. However, I discovered that BMW did sell other bikes in green, including the very similar K1100RS, so I will leave it at that.
The trailer, while not as impressive a feat as the motorcycle, is a very nice model in its own right. Instead of the typical hook-and-eye trailer hitch, Herpa provides a scale ball hitch that may be added to any model you choose. This makes a much more realistic arrangement, needing only a bit of scale safety chain. The trailer can accommodate either one or two motorcycles. It's too bad Herpa doesn't sell the bikes by themselves, but, considering they're just $8.75, you can always order two 051224s and modify the extra trailer for some other use.
Most of us don't consider motorcycles in selecting models for our collections or as scenery accessories for our layouts. Motorcycles are everywhere these days and good models are in short supply. BMW sold the R1100RS in the U.S. from 1993 to 2000, so Herpa's model is completely prototypical. This model will look great on a layout or make a nice addition any collection of scale model vehicles.
Wiking has a few of their own Easter Eggs scattered through their model line. These are models with extra features you might not discover even after you have had them a while.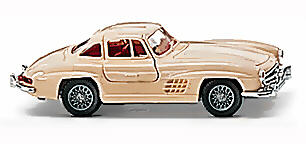 Wiking 833-02 Mercedes-Benz 300SL in ivory. Recently re-released in red as model 833-03.
Photo: Wiking
The first of these is the No. 833 Mercedes-Benz 300SL Gull-Wing. This is one model whose features were well promoted when it was first introduced, but never thereafter. The 300SL, now in red for its third production run (the first runs were silver, then ivory), comes with the famous gull-wing doors that open and a hood that raises to reveal a nicely detailed engine compartment. A acquaintance of mine collects 1:25 and larger car models and was amazed at the details on the Wiking 300SL. The No. 834 300SL convertible does not have doors that open, but it does share the Gull-Wing's hood and engine bay.
Other Wiking models with opening engine covers include the No. 817 Jaguar E-Type convertible and the No. 829 BMW 507 roadster. I have owned one of the BMW models for a couple of years, but it wasn't until Wiking re-released it in a different model that I realized the hood opened. When Wiking replaced the original blue version with a red model, the hood was not closed all the way in the promotional photographs.
One of my favorite Easter Eggs is the now-discontinued No. 070 Mercedes E230 Binz Ambulance. I own some of the Herpa Binz ambulance models and originally bought the Wiking to convert to a Mercedes hearse for my Halloween diorama. At the time, production of the Wiking model was ending and they were quite inexpensive, around $7.50. Rather than sacrificing one of the pricier Herpa models, the Wiking looked like the way to go. While I was looking it over to determine the modifications I would need to make, I noticed what looked to be an unusual mold-parting line on the back. Upon closer examination, I discovered the rear door opened on a beautifully designed hinge that swung the door up and away from the body, just like on the prototype. I immediately bought another to leave "as is."
As the modelmakers compete for new benchmarks in scale detail, Easter Eggs will become more common. Herpa's new 033053 BMW 745i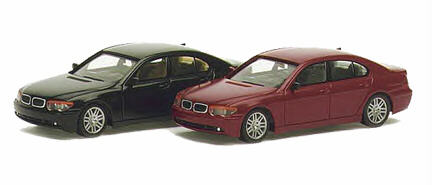 Herpa BMW 745i in standard black (No. 023054) or metallic red (No. 033053).

Photo Herpa

carefully recreates the IDRIVE knob on the center console and the intricate design of the headlights. There is a chrome 4-ring logo on the steering wheel of Busch's new 49255 Audi A4 Avant CMD. Almost any Herpa truck will reward close examination with details beyond the average model.

Even if you purchase scale vehicle models only as a scenic accessory for a model railroad, you should take a moment to look at all you are really getting. Except for some of the highly decorated Herpa trucks, none of the models I have described are particularly expensive and they are worth every penny.

Happy Easter Egg hunting! See you next time.

- Bill Cawthon

Bill Cawthon is an award-winning modeller and collector. His primary modeling interests are model railroading and vehicle models in 1:87 and 1:160 scales. He has written numerous articles for regional and division NMRA publications and is a contributor to the newsletter of the 1-87 Vehicle Club. He follows both the automobile industry and the European scale vehicle industry.

In real life, Bill is a full-time marketing and public relations consultant for the high-tech industry. He lives in Houston, Texas with his wife and four children.

Bill writes bi-weekly for Promotex Online. To learn more about him, click here.