An Airport of Your Own
January 15, 2002, by Bill Cawthon

It's been a while since I did a column for aircraft fans. Truth be told, it has been a tough time for the airlines and for the aircraft manufacturers. Travel is down, carriers are cancelling aircraft orders and some airlines are going away. The list of "fallen flags" has grown depressingly larger over the past few months. TWA and Swissair are just two of the more prominent casualties. However, Boeing sent me some good news and the new Herpa Wings releases for January and February provided a bit of inspiration, too.
First, the Boeing news. In spite of a "challenging" fourth quarter in 2001, Boeing delivered 527 new jetliners last year. That is 62% of the total aircraft deliveries for the entire commercial aircraft industry. In addition to the completed aircraft, Boeing received commitments for 335 new orders with the majority for planes to be delivered within three years. The air transportation industry gave the 767 a strong vote of confidence as Boeing booked 51 new orders for that plane last year. Another milestone was reached as the 1,000th Next Generation 737 was rolled out.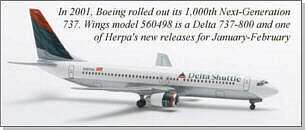 Boeing and McDonnell-Douglas products account for about 80% of all commercial airliners over 100 seats in service worldwide (McDonnell-Douglas is now part of Boeing).
More good news: According to Alan Mulally, CEO of Boeing Commercial Airplanes, the company remains committed to the development of the Sonic Cruiser. Recent events have prompted some airlines to reconsider ultra-high-capacity aircraft like the upcoming Airbus A380, so Boeing's decision to develop a smaller, faster plane may prove to be the wiser route.
The company will also begin a new program to replace more of the planes currently in service. Currently, more than 3,000 jetliners being flown by commercial carriers worldwide are between 20 and 30 years old. This includes planes like the 727, DC-9 and DC-10 as well as early versions of the 737 and 747. Boeing is also eyeing the Airbus A300s as a sales opportunity. So many advances have been made in aircraft design and manufacture since these earlier planes went into service that Boeing believes it can make a compelling case for fleet modernization. In addition, the new aircraft will incorporate Boeing's recent security developments, a selling point for both operators and flight crews. Not to mention passengers and insurance companies...
One thing that is of particular interest to aircraft model collectors is the fact Boeing acquired some new customers this year. This opens the door for more new models from herpa, herpa wings, wooster and Dragon Wings.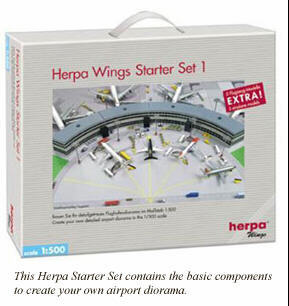 Among Herpa's January-February releases are some new accessories for their 1:500 scale Wings models. At my age, a 1:500 scale automobile is going to be nearly invisible, but I became interested nonetheless. So, I started really looking at the full range of accessory products offered by Herpa. With the sets currently available, it's easy to create your own airport on a tabletop or bookshelf. To me, this would be an almost irresistible way to display your Wings collection. Herpa makes buildings for passenger and cargo service, a control tower you can assemble in a variety of configurations, jetways and a full assortment of support and servicing vehicles. You can even get the large fuel tanks needed to handle the appetites of the big jets and a hangar capable of housing a 747 jumbo jet.
Creating a display is easy. If you don't want to create a base, Herpa does it for you. Check the online catalog and you'll find Wings accessory item 519793, a 40mm X 60mm (16.5" X 23.6") printed mat with appropriate markings. It has room for eight planes and terminal buildings. A firm base, like a bookshelf, is all that's needed. To make your display more permanent, a spray adhesive like 3M Spray-Mount will do the trick. As you might guess from the name, Spray-Mount is designed for mounting photographs and, depending on how you apply it, can provide either a temporary or permanent bond. It's available at most art supply and craft stores.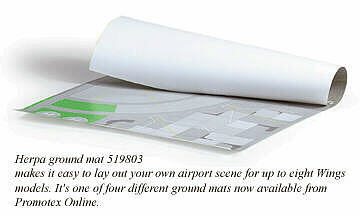 If you do want to get more creative, white matte board is the way to go. Don't use the thin poster board; go to a craft store or picture framing service and get the real thing. Matte board is not only stronger, it will stand up better to paint and give a brighter finish to markers. Be sure to get the smooth surface matte board (it's also known as "plate" in the trade). The Herpa structures are designed for flexibility, so you can position them on the board in any fashion that appeals to you. Be sure to use a couple of Wings models to make sure you allow enough room for the planes. Once you are satisfied, mark the structure outlines with a pencil and go to work. You can create the large concrete and grassy areas with acrylic paint (acrylic paint will be more opaque than water colors and oil paints take forever to dry). You can also use markers, but I don't think you will be as happy with the results. Used carefully, those fine-point "white-out" pens will produce nice runway and apron markings. If you want to make the investment, an artist's opaque white ink can be used with a technical pen for even better results. Those items you may find at Michael's or Hobby Lobby, but you're more likely to find them at a retailer that caters to the professional graphics trade.
Once you have the base and buildings taken care of, it's time for the real fun. The servicing and loading areas of any airport are bustling with activity. Fuel and catering trucks, baggage trains, and the massive tugs used to move the aircraft are all available in scale form. There are also security and fire service vehicles, passenger cars and tractor-trailers to complete the scene. By the way, if you have small children, small, climbing pets or friends who have difficulty keeping their hands to themselves, you may want to attach your vehicles to your base with a pinpoint's-worth of gel-type super glue. And take it from one who knows; you should use tweezers to handle the model once the glue is applied.
The beauty of creating a display like this is you can show off a number of aircraft in a setting that will not only be enjoyable for you, it will be immediately interesting to others. Who knows, you might even get another person interested in the hobby. Of course, you have many options as to what you display. A real airport terminal must be capable of serving the wide variety of aircraft flown by the major airlines. And there's no rule that says you can't transfer terminal rights from one airline to another as the mood strikes you. Change is good, especially when a new Herpa Wings model lands at your own airport.
See you next time!
- Bill Cawthon
Bill Cawthon is an award-winning modeller and collector. His primary modeling interests are model railroading and vehicle models in 1:87 and 1:160 scales. He has written numerous articles for regional and division NMRA publications and is a contributor to the newsletter of the 1-87 Vehicle Club. He follows both the automobile industry and the European scale vehicle industry.
In real life, Bill is a full-time marketing and public relations consultant for the high-tech industry. He lives in Houston, Texas with his wife and four children.
Bill writes bi-weekly for Promotex Online. To learn more about him, click here.