Fridolin: The Man and the Car
November 1, 2001, by Bill Cawthon

Things have gotten far too serious in the last couple of columns. It's time to lighten up a bit. It's time for another of Oddball's Autos.
It is probably safe to say the majority of North Americans have probably never heard of the Fridolin. Even though it's old enough to be exempted from the EPA regulations, to date I have found only a single instance of one making it to the U.S. (Of course, one's enough for Oddball's very loose rules as to American prototypicality.) There were not many Fridolins made and only a relative handful survive.
Fridolin is an unusual name in the U.S., but it is somewhat more common in Western Europe. Roman Catholics remember Fridolin as a saint who died about 650 A.D.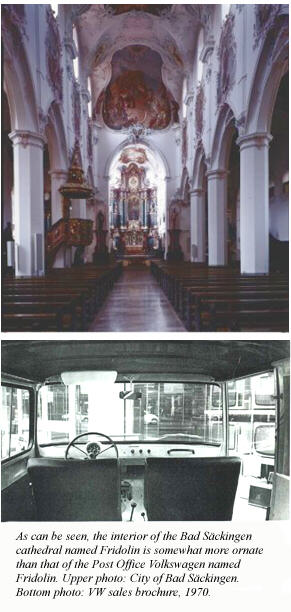 Germans remember Fridolin as the little yellow Volkswagen the mailman drove.
St. Fridolin was an Irish Benedictine monk best known for rebuilding monasteries in France and Germany. He was called the "Apostle of the Upper Rhine." He also built a monastery and school at Säckingen in what is now the southern German state of Baden-Württemberg. The image of his crosier was part of that city's coat of arms.
The other Fridolin's official name is "Typ 147 Sonderfahrzeug Post" (Type 147 Special Postal Vehicle). In the early 1960s, the German Postal Service (Deutsche Bundespost) was looking for a cheap, reliable, cheap, easily maintained, cheap, user-friendly utility car to use for parcel and special deliveries as well as mailbox collection. The Volkswagen 1200 Beetle was too small and carriers complained that it was awkward to load and unload. The Transporter (what we call the VW micro-bus or van) was too big. The German postal service also had responsibility for telephone service, so the new vehicle also needed to be able to carry the parts and tools needed for those jobs. In addition, it needed to be inexpensive. Did we mention cheap?
The German government was one of Volkswagen's biggest customers so the Bundespost's representatives met with those from Volkswagen and the Westfalia body works in Wiedenbrück to develop the new vehicle. Postal specifications included: Two square meters of loading space (about 21.5 ft2); payload between 350 and 400 kilograms (770-880 lbs); maximum exterior dimensions of 3750mm long,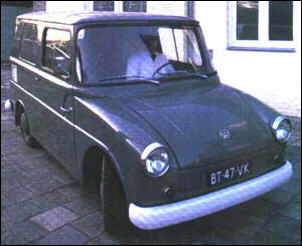 1440mm wide and 1700mm high. In keeping with the desires of its personnel, the Bundespost also required sliding side doors for driver and passenger.
In January 1963, Westfalia presented a full-size design model. The Bundespost approved the concept and commissioned the construction of three prototypes to be completed by August. Volkswagen delivered the first one on August 9 and the new vehicle was officially unveiled during the 1963 Frankfurt International Auto Show. Instead of being displayed at the show hall, the Fridolin made its debut at the regional postal center in Frankfurt. Production began in February 1964. The Fridolin's run ended 6,126 copies later in 1973. Most of the early production went to the German and Swiss Postal Services but in later years, Volkswagen sold the little cars to other government agencies and to customers in the private sector as well. Fridolins could be found on airport service ramps, monitoring traffic and making light deliveries. In 1966, a magazine club in Lippstädter became the first private buyer of the Type 147.
Technically the type 147 is a mixture of different air-cooled VWs. It was built on a Karmann Ghia floorpan and used a standard 1200cc rear-mounted Beetle engine. While there is no common sheet metal, the front is vaguely similar to the 1500 and the back is reminiscent of the early Transporter. The Westfalia body includes sliding doors for driver and passenger. As mentioned earlier, low cost was important. Fridolins had very spartan interiors and painted bumpers and hubcaps. Since the Fridolin was both larger and heavier than the Beetle, performance was more stately than sizzling. Even with the larger 1300cc engine of the later Beetles, quarter-mile times lent themselves more to measurement with egg timers rather than stopwatches.
So how did the Type 147 get the name "Fridolin?"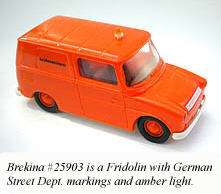 Legend has it that when the design was first presented, one of the Westphalia employees said: "Hey, it looks a little like Fridolin! (a fellow employee at the Westphalia works)" At the time, it was a joke, but the moniker stuck and everybody still refers to the Type 147 as a Fridolin.
As I noted earlier, few Fridolins survive today and restoration is a challenge. Fridolins were designed for daily government duties and tended to be well used before they were sold off. While mechanical components are plentiful because they were off-the-shelf VW pieces, the bodies are usually in bad shape. Typical of most bodies produced in small quantities and short runs, the Fridolin's outer skin has a real problem with rust. Moreover, there is not a ready supply of replacements. Still, devotees of the offbeat little vehicle have managed to save more than a few Fridolins from oblivion.
Although there are models in other scales, Brekina and Schuco make the only 1:87 scale models of the Fridolin currently on the market. In case you are not familiar with the company, Brekina Modellspielwaren is a modelmaker located not far from the French border in Teningen, Germany. In fact, the Brekina works are about an hour's drive northwest of where St. Fridolin founded his monastery in Säckingen. Brekina's quality ranges from pretty good to outstanding. As with their competitors, the newer models tend to be of higher quality. We'll hit on comments specific to the Brekina Fridolin in a minute.
Since its founding, Brekina has concentrated on models of classic German vehicles like BMW, Opel and Mercedes-Benz. Of course, the older Volkswagens are well represented from the 1200 to the first generation Golf (U.S. Rabbit) and the T1 and T2 Transporters. Three versions of the Fridolin are listed in Brekina's 2001 Auto Book. Model 25900 is a plain blue or gray van with no markings. 25903 is an orange Fridolin with "Straßenmeisterei" (street department) markings and an amber light introduced in 1999. The last current product is in set 90364 celebrating the 100th anniversary of AvD, one of the German auto clubs.
There are other models, if you are willing to hunt a bit. Brekina released the German Postal Set that included the Fridolin in June 1997. That set was only available through the branches of the German Post Office. It has sold out and is now a collector's item. One would assume there has also already been a set of the Swiss PTT (Post-Telephone-Telegraph) versions. Another model still on the market includes the 25902 Lufthansa version that you may be able to find on the Internet. The basic Type 147 Fridolin will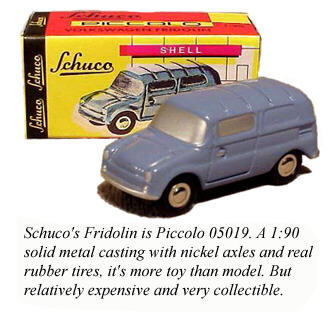 set you back about nine dollars if your hobby shop orders it from E-R Models. For a little more, you can order them online direct from German Aircooled in Mission Viejo, California.
Dickie-Schuco GmbH is a new name for Schuco, a company with which fans of German toys are very familiar. In addition to many other items, they make a line of 1:87-1:90 solid cast metal cars with free-rolling nickel axles and rubber tires. The line is called "Piccolo" and, while the models are a bit shy on detail, they are highly prized among collectors. When I was a boy, I had a few Piccolos. Having seen the prices they would bring from Schuco fans, I sure wish I had them now! Schuco Piccolo model 05091 is a VW Fridolin. To be honest, I am not sure who retails Schuco in North America these days, but I have seen the models for sale online.
Not too long ago, I got a Brekina 25900, the plain Type 147 in gray. In terms of scale accuracy, the Brekina model is well done. Any variations from prototype dimensions are beyond the ability of my instruments to measure (and therefore my ability to care).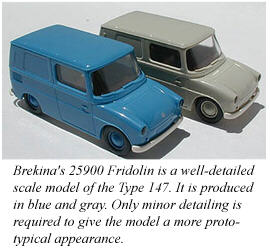 At first glance, one might assume the model is a bargain-basement corner-cutter with its body-colored wheels and lack of brightwork, but that would be incorrect. As I mentioned earlier, one of the main specifications laid down for the Type 147 was low cost. There was minimal chrome and wheels were often painted the same color as the body. For the Fridolins lucky enough to get chrome hubcaps, the wheel and hubcaps were the same as those on the VW 1500 (Brekina offers models of the VW 1500 if you want to do the wheel-swapping). The bumpers were also painted, usually either body-colored or white. Another common color is black, probably because of the many ex-Swiss postal vehicles. In all of the Fridolin pictures I saw, there were no chrome bumpers.
However, there is one shortcut that puzzles me. The taillights are painted black. Careful research proved the real Fridolin's taillights, like just about every other taillight on the planet, are red. Why Brekina chose black is a mystery. In any event, I touched them up with a silver paint base and a top coat of Tamiya transparent red acrylic. I also touched up the headlamp bezels, door handles and rear hatch latches with Polly Scale Stainless Steel. The front turn signals got a base coat of silver followed by Tamiya transparent amber acrylic. Any other painting is up to you. Don't forget to give your model a couple of light coats of your favorite gloss or matte finish. This will not only make the model look better, it will kill the dust-collecting static charge found on unpainted plastic models.
I haven't quite decided what to do with my little gray Fridolin. Perhaps it would make a good substitute truck for those trips to the scrap yard or parts store that Oddball's resident shade-tree mechanic is always making. It's not as heavy-duty as the current Busch 1950 Chevy 3100, but it's more in keeping with the rest of the iron on Oddball's lot.
Volkswagen facts: In 1968, VW sold 569,292 Beetles worldwide. The VW 1200 outsold the Chevy Chevelle, Ford Mustang and Plymouth Fury. It also beat the combined sales of all Chrysler models like the Newport, New Yorker, etc., as well as all models of Buick and Oldsmobile. In August 2001, Volkswagen sold more passenger cars in the U.S. than Chrysler, Dodge and Plymouth combined.
- Bill Cawthon
Bill Cawthon is an award-winning modeller and collector. His primary modeling interests are model railroading and vehicle models in 1:87 and 1:160 scales. He has written numerous articles for regional and division NMRA publications and is a contributor to the newsletter of the 1-87 Vehicle Club. He follows both the automobile industry and the European scale vehicle industry.
In real life, Bill is a full-time marketing and public relations consultant for the high-tech industry. He lives in Houston, Texas with his wife and four children.
Bill writes bi-weekly for Promotex Online. To learn more about him, click here.