A Little Slice of Heaven
September 15, 2001, by Bill Cawthon

On Friday, September 7, I took an early flight from Houston to Chicago. It was the first time in 33 years I had been back to the Windy City. My destination was the 2001 International Model and Hobby Show at the Donald E. Stephens Convention Center in Rosemont. The IHMS brings together 400 manufacturers, distributors and importers who present the latest in everything from Z-scale buildings to large remote-controlled airplanes. Having the opportunity to attend is sort of like being a kid who has been granted access to the candy store of his dreams. Of course, the downside is that nothingís for sale at the show. Therefore, you walk away with lots of literature and an incredible wish list.
As you might expect, I was looking around to see what was happening in the world of 1:87 and 1:160 scale vehicles. Unfortunately, Promotex didnít make this show this year, but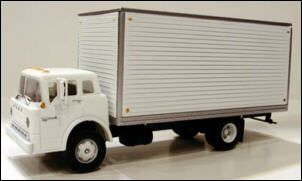 Bill Brillinger is pretty good about keeping us up-to-date on new products from Herpa. Therefore, I am going to mention a few other companies.
Most of you who are familiar with Athearn think of them as strictly a manufacturer of HO locomotives and rolling stock. However, Athearn has made vehicle models on and off for a number of years. This year, Athearn introduced their best model yet, the Ford C-Series truck. This COE, which will be offered in single-axle tractor, stake bed and van body versions, is based on a versatile prototype that has been seen on North American roads for more than forty years. The Athearn model will come pre-assembled and painted in a variety of colors. It will also be produced in the liveries of various trucking companies, the first of which will be Roadway Express. Roadway and Fordís C-cab have been linked for so long that a Roadway Pickup and Delivery truck is part of the permanent collection of the Henry Ford Museum in Greenfield, Michigan.
Eight new models in 1:87 and 1:160 scales made their debut at the Classic Metal Works booth. A Metro delivery van suitable for any time from the late 1940s to the early 1960s; a 1948 Ford Panel Delivery; 1955 Chevrolet Belair Hardtop; 1967 Dodge Charger; 1951 Chevrolet Fleetline sedan; 1951 Hudson Hornet; 1958 Corvette and a 1951 Ford F6 Stake Bed. All models will be produced in multiple colors and the majority in both scales. N scalers will miss the Charger and Corvette, but will get a 1949 Mercury and a 1953 White COE with a Dump Body. While all of them look nice, the Ford Panel Delivery and the Hudson were my personal favorites among the new products.
Boley was showing their new Navistar International trucks. They offer a wide variety of commercial and professional bodies that will take care of most of the medium-range truck requirements a modeler might have. Itís nice to see Boleyís stuff keep getting better. They really are rapidly making the transition from toy to scale model.
Buschís new Ford E-350 Ambulance made its first appearance in the U.S. The first release has blue warning lights and is decorated for a German factory ambulance but American versions are planned. This model is not an EMS unit; itís more of what would be used for patient transfers or non-critical transport. Still, it is a nice model and is well-detailed.
It wasnít all scale models, either. Olfa Corporation was showing some new products in their line of hobby tools.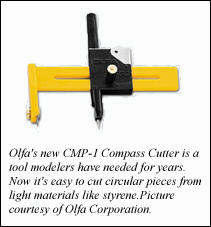 The new CMP-1 Compass Cutter is one of the best ideas I have seen in years. It does away with all the jar lids and other clumsy methods we have used to cut circles from styrene and stripwood. The Olfa Compass Cutter is basically a beam compass with a specially designed blade in the arm. It can easily cut a circle up to 6Ē in diameter in light materials. The Compass Cutter is definitely one of those ďwhy didnít I think of that?Ē kind of products.
One train note: If you have a Harry Potter fan in your family, Bachmann is making the official Harry Potter train set. Bachmann worked with the Warner Brothers, the movieís producers, to supply a real train whose prototype was already produced in model form by their English subsidiary, Bachmann Branchline. The Hogwartís Express set includes a scarlet locomotive and coaches, a loop of Bachmannís E-Z Track, power pack and Platform Nine-and-Three-Quarters. The set should be in hobby shops about the same time the movie opens in theaters. Incidentally, the train is British OO scale so the scale is about 1:76, a bit larger than American HO. It will still run fine on standard HO track, but model railroaders might want to be wary of tight clearances on existing layouts.
As much as it was fun to look at the new products, it was even more pleasurable to have a chance to talk to manufacturers and distributors about business in general and projects that are even farther out.
The show is open only to the trade for most of its duration, but is open to the public on the final Saturday and Sunday. The 2002 show will be held in late August and if you happen to be in the Chicago area, I highly recommend you stop by.
Another recommendation is a dinner at Jamesonís Charhouse at 1702 Algonquin Road in Mt. Prospect. Friday night dinner was one of the best steaks Iíve had in a long time. And we Texans know our steak. By the way, Jamesonís didnít pay me a penny to say this. I didnít even get a discount on my check. Since the idea of these columns is to inform and as long as the topic is ďlittle slices of heaven,Ē I wanted you to know about a place to eat that has great food and service to match.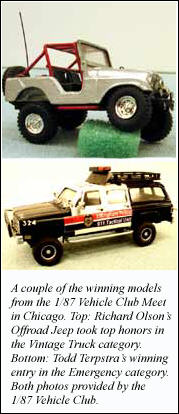 On Saturday, it was time for the 1/87 Vehicle Club Meet across the street from the hobby show. I wrote about the 1/87 Vehicle Club in one of my early Promotex columns and although Iíve been a member for two years, this was my first chance to attend one of the Clubís functions. Although it was a somewhat smaller event, what it lacked in square footage it made up in enthusiasm. I got a chance to meet some first-class model builders and see their work up close and personal. I also had the opportunity to get together with a group of individuals who share my interest, like to talk models and bask in the fellowship. Collecting and model building tend to be very solitary pursuits and social events like this really make the hobby even more enjoyable.
Although the meet ended at 4:00 PM, the fun continued. A large group went out for pizza and then on to visit a fellow club memberís model railroad layout. Vito Larucci has a modern-era layout with a twist. Instead of the mills and mines found on most layouts, Vito has created a bustling cityscape with a fantastic amount of detail and more scale vehicles than would be found on a dozen more common layouts. Even though Vitoís layout isnít large, itís easy to lose track of time while studying the many carefully constructed scenes.
Sunday morning was an early trip to OíHare and a flight back to Houston. I carried a lot of new catalogs, and a couple of nice mementoes, but more important, I carried a lot of wonderful memories.
The 1:87 Vehicle Club and other like-minded organizations have a number of events in different parts of the country. One of the things club members can do to help get the word out to more people is to send a notice of the event to publications like Finescale Modeler or Scale Auto Enthusiast. Thereís no charge for the listing, you just need to give them enough advance notice to get your event up on their web site or in their magazine. Learn more about this handy service by visiting the Kalmbach Publishing web site. FineScale Modeler is at http://www.finescale.com and Scale Auto Enthusiast is at http://www.scaleautomag.com.
- Bill Cawthon
Bill Cawthon is an award-winning modeller and collector. His primary modeling interests are model railroading and vehicle models in 1:87 and 1:160 scales. He has written numerous articles for regional and division NMRA publications and is a contributor to the newsletter of the 1-87 Vehicle Club. He follows both the automobile industry and the European scale vehicle industry.
In real life, Bill is a full-time marketing and public relations consultant for the high-tech industry. He lives in Houston, Texas with his wife and four children.
Bill writes bi-weekly for Promotex Online. To learn more about him, click here.