The Trucknology Generation
July 1, 2001, by Bill Cawthon
In January of this year, MAN's new TG-A range of tractors won the prestigious "Truck of the Year 2001" title. Since its launch in March of 2000, the TG-A has earned the praise of numerous fleet operators and drivers. It has also become the subject of new models from Herpa and Wiking.
Alistair Williamson, Marketing Director of MAN Truck & Bus in the United Kingdom, coined the word "Trucknology" at the rollout and it has caught on as the cornerstone of MAN's advertising and marketing efforts. MAN calls its new line the "Trucknology Generation." Since this is the first product, it is called TG-A.
The TG-A is based on modular technology that allows customers to combine five different cabs with a variety of single and tandem-axle chassis, and several engine and transmission choices to get a custom configuration at a mass-produced price.
All TG-As are powered by MAN D28 six-cylinder turbocharged and intercooled diesel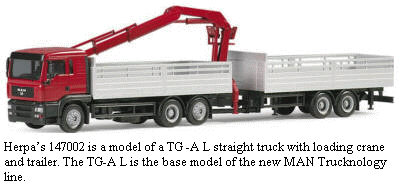 engines developing up to 510bhp. Standard transmission is a ZF 16 S 181 16-speed, but an automatic transmission is optional. Depending on where the truck will be operated, engines meeting either Euro II or the stiffer Euro III emissions requirements are offered.
Like most large trucks, the TG-A is designed to have its cab appointments specified by the owner. Options like walnut trim, leather seating and a pullout refrigerator are available. The TG-A cab comes standard in white, although other colors are available.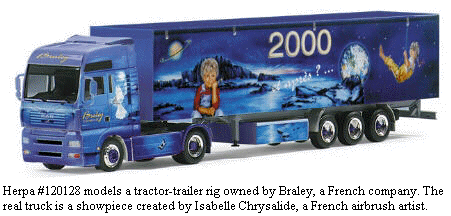 As a look through the Promotex Online catalog will prove, European truckers do not lack for imagination when it comes to custom paint jobs.
The MAN F2000 Evolution, also offered by Herpa, was the 1995 Truck of the Year winner. In the 25 years the award has been presented, MAN has been honored five times, a record unbeaten by any other manufacturer.
MAN is based in Munich, Germany and is one of Europe's leading truck makers. It got its start 1844 with the opening of a machine shop in Augsburg. In 1889, another machine shop opened, this time in Nürnberg. In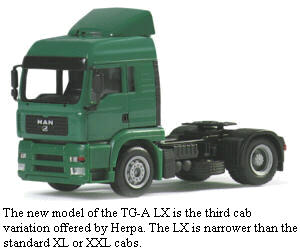 1908, the two shops merged to become "Maschinenfabrik Augsberg – Nürnberg" or "M-A-N."
It was at the Nürnberg shop in 1897 that Rudolf Diesel perfected the engine that bears his name. MAN produced the first direct-injection diesel engine in 1923 and put it into a truck the following year. MAN introduced its first turbocharged diesel truck in 1951.
In 1971, MAN took over Büssing Automobilwerke, a rival German truck maker. Since then, MAN has also acquired Austrian truck makers ÖAF and Steyr, Poland's STAR and British truck company ERF.
Last October, Herpa became the first modelmaker to offer a model of the MAN TG-A and Herpa still offers the largest variety. Straight trucks and tractors with both XL standard height and XXL extended height cab roofs are offered. While tractor models are only offered of the single axle version, the TG-A is actually manufactured in a variety of configurations. These include tractor and chassis-cab with single or dual rear axles. A choice of high or standard roof is available in all ranges.
In June, Wiking introduced its own model of the TG-A XXL in combination with model of one of the promotional trailers used by MAN to promote the "Trucknology Generation."

If you've never treated yourself to one of Herpa's European truck models, you've been denying yourself a real treat. There's lots of great detailing to enjoy and a wide variety of accessory parts including brush guards, mirrors and a steerable front wheel assembly to make a good model even better. In my opinion, one of the MAN TG-A models would be an excellent introduction.
(MAN truck models can be found here, in the Promotex Online Catalog)
- Bill Cawthon
Bill Cawthon is an award-winning modeller and collector. His primary modeling interests are model railroading and vehicle models in 1:87 and 1:160 scales. He has written numerous articles for regional and division NMRA publications and is a contributor to the newsletter of the 1-87 Vehicle Club. He follows both the automobile industry and the European scale vehicle industry.
In real life, Bill is a full-time marketing and public relations consultant for the high-tech industry. He lives in Houston, Texas with his wife and four children.
Bill writes bi-weekly for Promotex Online. To learn more about him, click here.