Welcome to Oddball's Autos
May 15, 2001, by Bill Cawthon
A couple of years ago, I presented a clinic at one of the National Model Railroad Association's regional conventions. My topic was models of foreign cars that would be prototypically accurate for U.S.-themed model railroad layouts.
As a convention display and visual aid for my clinic, I built a small diorama of a gravel-topped used car lot, complete with shady salesman. After looking through catalogs, I made room for 18-20 vehicles and hoped I could fill the lot without duplicating models or loading up on modern BMWs and Mercedes. As it turned out, I really needed to build a much bigger lot.

When it comes to light trucks, Americans are devoted to Detroit iron, but passenger cars are another story. Last year 48 of every 100 cars sold in the United States wore foreign nameplates. Adding up total sales from 1990-1999, the best-selling car was the Honda Accord. Toyota's Camry has been the U.S. sales leader for the last four years. In 2000, the Volkswagen Jetta outsold the Dodge Intrepid,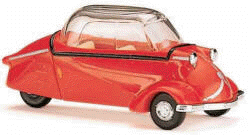 Chrysler's best-selling brand, and BMW's 3-Series outsold every upscale car except the Cadillac DeVille.
A lot of people think this is a fairly recent phenomenon but import cars have been a part of the American automotive scene since the dawn of the auto age. It was a German car that inspired Henry Ford to try his hand at car building at the end of the Nineteenth Century. And for the last fifty years, their share of the American market has grown steadily.
From the end of the Nineteenth Century to the Great Depression most foreign cars found in America were upscale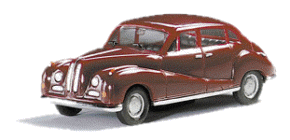 vehicles purchased by the well to do. This was especially true of German cars, whose manufacturers resisted the idea of a mass-market car. Even for their fellow Germans.
This all changed after World War II. For one thing, returning GIs brought back a taste for the light roadsters they had discovered in Europe. This was the beginning of the sports car craze that lasted for many years. For another, Europe had been devastated by the years of fighting and North America was really the world's only viable automotive market. When civilian vehicle production resumed, many European manufacturers vied to satisfy the American appetite for new cars (the Japanese came later). In addition to the return of old standards like Mercedes, there were new cars like the VW Beetle and
Porsche. There were also many brands and car lines we barely remember today. It was these lesser-known marques and models that inspired me to call my scale car lot "Oddball's Autos."
Next time and from time to time in the future, I'll be presenting some background and history behind the models in Oddball's inventory. You may well be as surprised as I was at some of the cars that Americans bought (and still buy). To even things out, I'll also be sharing some American car history. I hope you'll enjoy finding out more about these cars and will be inspired to expand your horizons the next time you're looking for something to add to your collection or layout. Right now, the inventory at Oddball's Autos lists 40 cars and trucks. There are lots more to go.
- Bill Cawthon
Bill Cawthon is an award-winning modeller and collector. His primary modeling interests are model railroading and vehicle models in 1:87 and 1:160 scales. He has written numerous articles for regional and division NMRA publications and is a contributor to the newsletter of the 1-87 Vehicle Club. He follows both the automobile industry and the European scale vehicle industry.
In real life, Bill is a full-time marketing and public relations consultant for the high-tech industry. He lives in Houston, Texas with his wife and four children.
Bill writes bi-weekly for Promotex Online. To learn more about him, click here.