The NHRA at 50
May 1, 2001, by Bill Cawthon
The National Hot Rod Association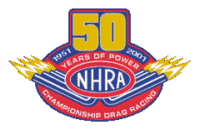 is celebrating its silver anniversary in 2001. Today, the NHRA is a large, well-respected organization, but it all started with an unlikely alliance of Southern California police and a guy who wanted a club for "people who like to do funny things with their cars."
Wally Parks had been building hot rod Fords since high school. He and hundreds of other young Californians would hold time trials on the flats in the Mojave Desert and drag races on the streets around Los Angeles. In the years after World War II, the action moved to the new highways in the San Fernando Valley. The long, straight roads were perfect for weekend races and cars would hit 140 mph. Clubs quickly formed and in 1947, Parks established Hot Rod magazine.
While there weren't many accidents and serious injuries were rare, drag racers still got a bad name. Citizen complaints brought official attention, driving the races underground. After receiving a suggestion from a reader in 1951, Parks decided to approach the police to help him create an organization that could both allow speed events and promote safety. This was the beginning of the National Hot Rod Association.
Five decades later, both the organization and its founder are doing fine. The NHRA boasts 85,000 members, sanctions 140 tracks across the United States and has a nationally televised tour. Wally Parks is now 88, but he is still involved with the sport and the organization. You can learn more about the NHRA by going to www.nhra.org and browsing around. There's a detailed history of the NHRA's 50-year history as well as event, participation and membership information.
This year Jordan Products introduced a 1:87 scale hot rod kit. I don't know if they intended for it to coincide with the NHRA anniversary, but it got me to thinking. Why not build your own? Jordan offers some vintage cars but hot rods weren't just old Fords and Chevrolets and the era didn't end with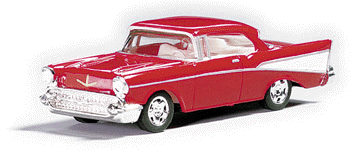 the "Little Deuce Coupe." The '57 Chevy is still one of the most popular starting points for a hot rod or a street rod. A Herpa model 021982, some accessories and a new paint job can be the beginning of your own scale street rod.
While lots of people think of them as collectibles or model railroad accessories, 1:87 scale plastic models are just as customizable as their larger brethren. Since most hot rods had to be "street-legal," radical changes were fairly uncommon. A nice paint job, a bit of detailing and a new set of wheels and tires will turn your '57 Be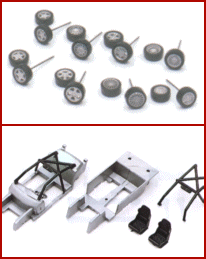 l Air into a good-looking street rod. Beyond that, your imagination is the only limit. Thom Taylor and Boyd Coddington started with a '57 Chevy and created the Chezoom. Herpa offers wheels, tires, roll cages and bucket seats in their accessory line. Bodies can be chopped, suspensions lowered or raked. Side pipes and other performance parts can be easily fabricated from styrene or brass
And the '57 Chevy isn't the only option. There are '56 Corvettes and Thunderbirds. Fast-forwarding a few years, there are Mustangs, Shelby Cobras and more ready for you to turn into quarter-mile contenders or boulevard cruisers.
Whether it's in full size or miniature, the hot rod is alive and well. In an interview David Gershwin, spokesman for L.A. city councilman Alex Padilla, said. "They'll keep running and running until they run out of road, and in southern California you'll never run out of roads."
Sounds good to me.
NOTE: Wayne Calder is an award-winning performance car modeler specializing in 1:87 scale. He has an excellent article, with photos, on building hot rods in issue #12 of the 1/87 Vehicle Club's newsletter. Back copies are $5.00, including postage and are available from the Club.
- Bill Cawthon
Bill Cawthon is an award-winning modeller and collector. His primary modeling interests are model railroading and vehicle models in 1:87 and 1:160 scales. He has written numerous articles for regional and division NMRA publications and is a contributor to the newsletter of the 1-87 Vehicle Club. He follows both the automobile industry and the European scale vehicle industry.
In real life, Bill is a full-time marketing and public relations consultant for the high-tech industry. He lives in Houston, Texas with his wife and four children.
Bill writes bi-weekly for Promotex Online. To learn more about him, click here.